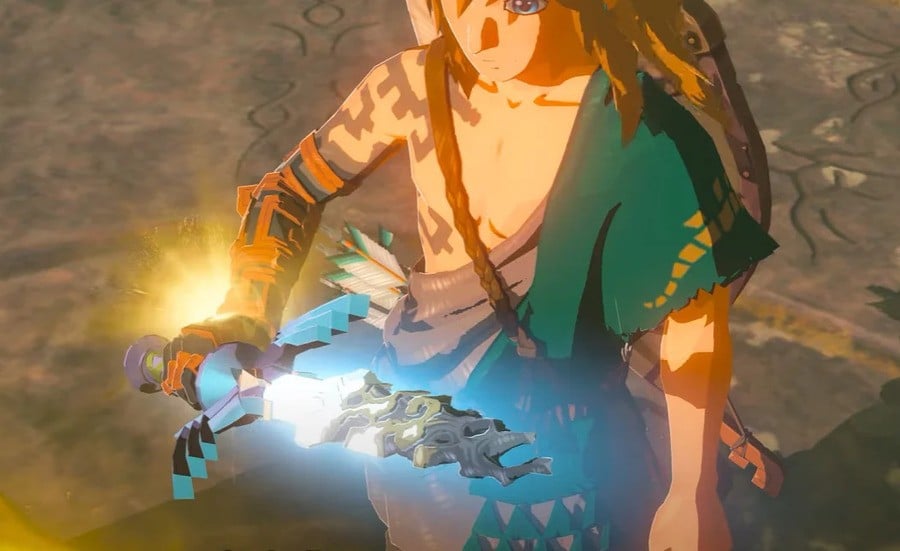 The Legend of Zelda: Tears of the Kingdom release is fast approaching, and while we won't be posting spoilers or leaks here on Nintendo Life, we're still sharing officially released materials. The latest is a translation in the form of a Nintendo ad in the latest issue of the Japanese publication Famitsu.
Now, if you really don't want to know anything, we suggest you click now – otherwise read on…
According to several translations of this new ad — including one by former Nintendo Life contributor Steve Bowling — the Swordmaster in Tears of the Kingdom is in a "ruined"/"damaged" state and undergoing a "major transformation." Admittedly, this isn't all that surprising given what we've already seen a number of official Nintendo trailers.
@SteveMBowling: "The master swordsman who accompanied Link on his adventures undergoes major changes in the latest installment of The Legend of Zelda series!"
As you can see, this Famitsu ad also covers the "Swordmaster story" all the way up to Heavenly sword (which was re-released on Nintendo Switch in 2021) as well A breath of wild nature.
Again, the new state of the swordsman has already been shown several times, but we haven't had descriptions like this until now. However, it remains a mystery as to exactly what happens with him and Link, so we'll just have to wait until then May 12 to see how it all unfolds.
Nintendo also provided us with a few sneak peeks, including this one from the game's official page:
"In this sequel to The Legend of Zelda: Breath of the Wild, you'll make your own way through the vast landscapes of Hyrule and the mysterious islands floating in the vast sky. Can you harness the power of Link's new abilities to fight against the evil forces that threaten the kingdom?"
What do you think of the above ad? Any theories about the sword master in Tears of the Kingdom? Leave your thoughts below.