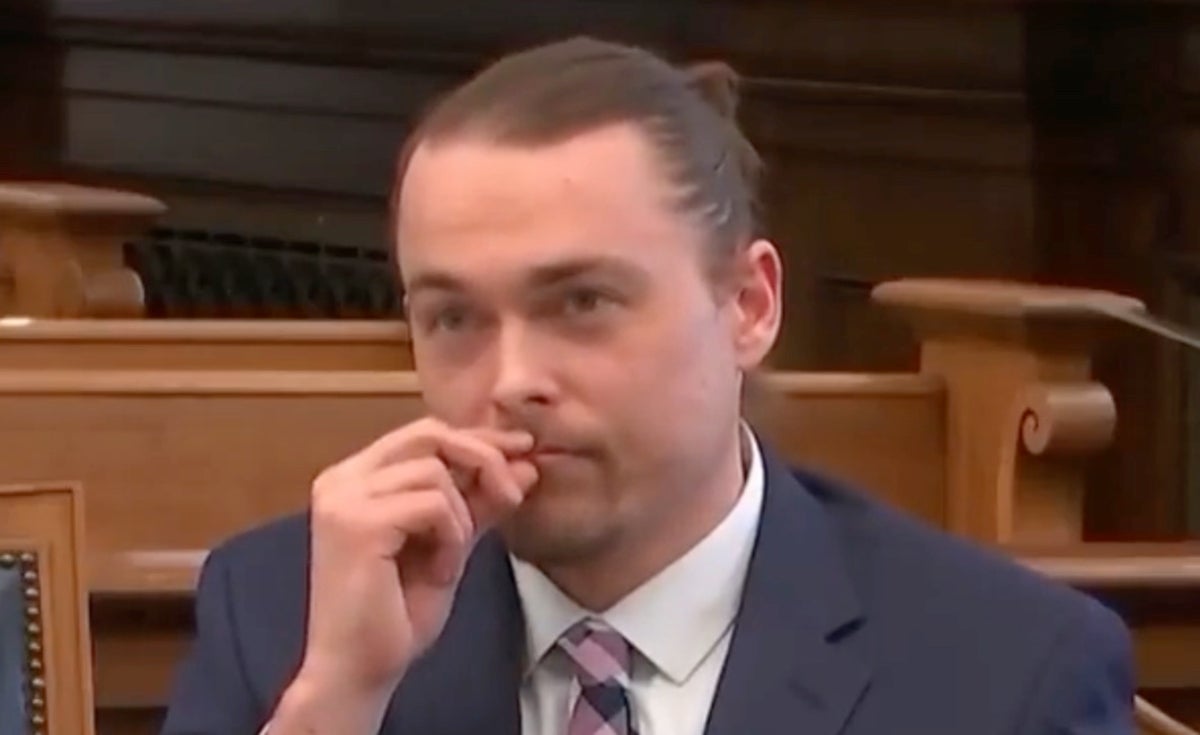 A Wisconsin father is currently on trial for the brutal murder of his former partner's new lover, whom he allegedly stalked and beat to death with an object before disposing of her remains.
Zachariah Anderson, 42, is accused of killing Rosalio Gutierrez Jr., 40, in his Wood Creek apartment back in May 2020.
Gutierrez, 40, had been dating Anderson's former girlfriend Sadie Beacham – with whom the accused killer shares three children.
Prosecutors claim Anderson was jealous of the new relationship and stalked her love rival.
Meanwhile, Anderson's defense claims the state did not investigate any other potential suspects.
The 42-year-old is now on trial in Kenosha County Circuit Court on charges of first-degree murder, concealment of a corpse and stalking. He faces life in prison.
Here's what we know about the case:
Disappearance
Guttierez was last seen or heard from on May 17, 2020.
Two days later, a concerned Ms Beacham visited his home to check on him after she was unable to get in touch with him.
When she arrived at his apartment, she discovered the patio door open and blood on the floor, furniture and ceiling of the home.
A rug was also missing from the property, she told investigators.
Ms. Beacham contacted police who conducted a welfare check inside Gutierrez's home.
Inside, investigators found large amounts of blood and signs of a struggle, according to a criminal complaint.
The victim's body has never been found but investigators believe he is dead based on the large amount of blood found in his apartment.
Murder
On the evening of May 17, 2020, prosecutors allege Anderson went to Gutierrez's apartment and brutally killed him with blunt force because he was jealous of his relationship with his former partner.
He then allegedly disposed of Gutierrez's body.
The morning after Gutierrez was last seen alive, he was seen on surveillance footage making a local WalMart purchase of trash bags, latex gloves and bleach wipes.
He also bought cans of sardines.
Investigators suspended Anderson when Ms Beacham revealed she believed her ex was tracking her movements.
In the days Guttierez's death was discovered, police found fire pits smoldering in both Mr. Anderson's home and his yard, with the remains of a bleach bottle and the accused killer's clothes among the ashes.
Prosecutors said Guttierez's DNA was then found inside Anderson's work car and there was evidence the interior had been scrubbed with bleach.
Parts of the vehicle's interior carpet had also been removed.
Bizarrely, two opened and uneaten cans of sardines were also discovered under the front passenger seat, the criminal complaint states.
Arrest
On May 21, 2020, Anderson was arrested and charged with two counts of aggravated stalking.
That December, he was then also hit with accusations of murder and hiding a corpse.
He has pleaded not guilty to all charges.
Jealousy and stalking
During his high-profile trial, jurors have heard that Anderson was jealous of his former partner's new relationship and spied on the couple.
On March 15, Anderson's 15-year-old daughter took the stand to testify that her father had asked her to spy on her mother and record "every time my mother would get upset."
She testified that he would "often" bring up Guttierez when she saw him.
Then, not long before Guttierez disappeared, Anderson also allegedly brought his daughter to spy on the couple.
On the night of April 24 – less than a month before the murder – she said her father had driven them both to her mother's home to watch Ms Beacham and Gutierrez through the window.
Anderson also went through Gutierrez's truck and took pictures of the vehicle's license plate and registration, she said.
The accused killer appears to be signaling the daughter to stop talking as she testifies against him
He then rang the doorbell of the home and fled, she said.
The teenager also testified that her father told her of his plans to follow his love rival – who he referred to with a racial slur.
"He said something about showing him who the man was, and I didn't really understand, but you kind of picked up on things my dad was referring to or implying," she said.
"My dad told me, he said 'I can just watch him or follow him to his house once just for fun.' Those were his exact words to me."
Chaos in the courtroom
A dramatic moment unfolded inside the courtroom on March 15 when Anderson appeared to send a signal warning his teenage daughter to stop talking as she testified against him.
Mr. Anderson was seen putting his hand over his mouth and pursing his lips as he stared at his 15-year-old daughter on the witness stand in Kenosha County Circuit Court.
The prosecutor accused the defendant of signaling to his daughter when she testified.
Meanwhile, the defense also accused Beacham of using sign language to communicate with his daughter on the stand.