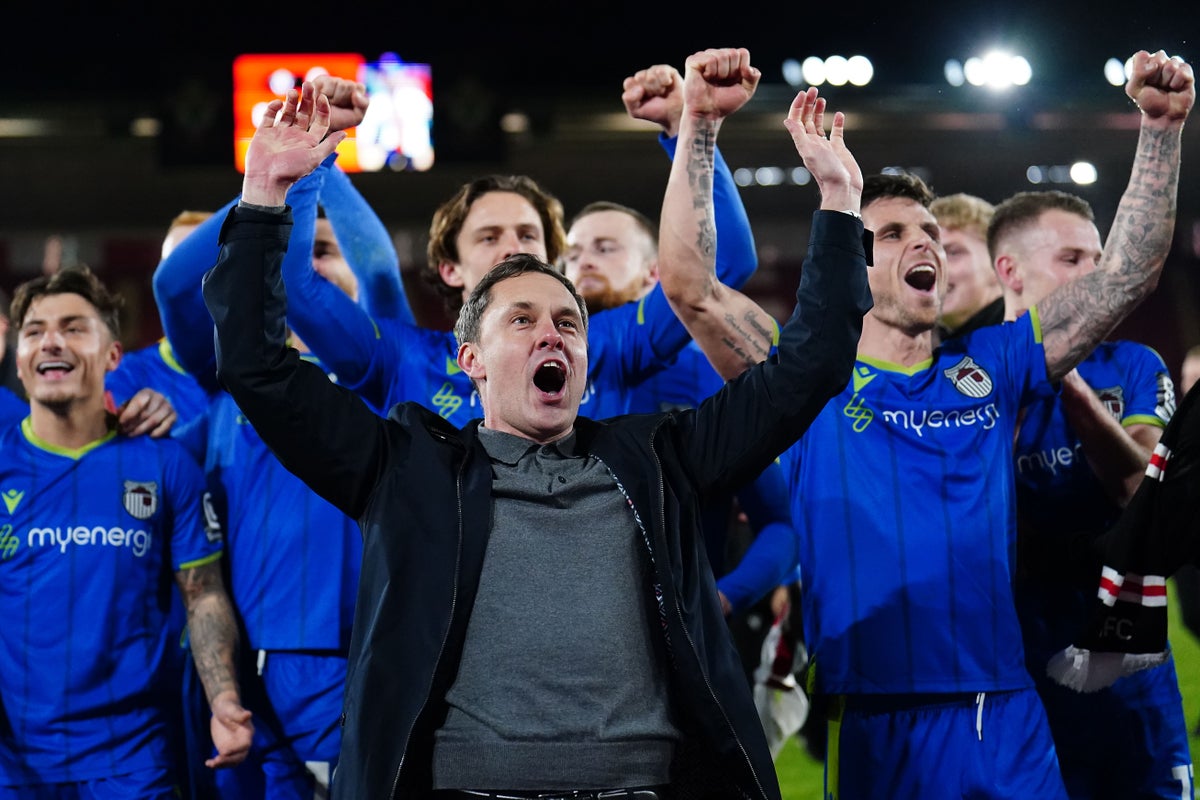 Paul Hurst believes Grimsby Town's players will go into the history books after reaching the top. FA Cup quarterfinals shock 2-1 with success On Premier League contenders Southampton.
Gavan Holohan converted two penalties at St Mary's to kick the League Two Mariners into the final eight of the competition for the first time since WWII.
Duje Caleta-Car has withdrawn one for the underside of the top flight, but Town has memorably upset the delight of more than 4,200 traveling fans by arranging a trip to Brighton on the next round.
Manager Hurst, who led the club to promotion from the National League in the playoffs last season, revealed that there were some confused faces in the locker room.
"Maybe they deserve more celebration than they get," he said of his team, who went to Carlisle on Saturday.
"There are quite a few of the group that enjoy the experience of gaining promotion and returning to the league.
"They had fun in the locker room. When they looked at a few of them, they were shocked, probably too tired.
"But there were a few songs and some music as well. I'm just happy for them.
"It's a memory for them, for the owners, for the fans, and we're making history because of the way we made it to the quarterfinals."
Grimsby beat League One clubs Plymouth, Cambridge and Burton as well as Championship side Luton on their way to the fifth round.
The Mariners came to the south coast to seek their first FA Cup quarterfinal since 1939, and were given a massive boost at halftime by some inexplicable Southampton defending both sides.
After a lengthy VAR review, Lyanco admitted that the first-pointer misjudged a header and tackled Josh Emmanuel center before Caleta-Car slapped Danilo Orsi grumpily in the 18-yard box immediately after the restart.
Hurst said Irish midfielder Holohan was only appointed penalty shooter after Saturday's 2-2 draw with Leyton Orient, joining Anthony Glennon in a 12-yard loss this term to Mariners teammate John McAtee.
When asked about the significance of the result, he continued: "I don't underestimate it because for the opposition it's a one-off, it's probably for the best.
"But last season we clearly stepped up on an incredible lineup of games that would never reach the top. It's definitely there."
Hurst played an important role on the south coast, admitting that he forgot VAR would be in use.
After Lyanco's breach was received under review, Theo Walcott, instead of the Saints, was denied a late equalizer due to an offside detected at Stockley Park.
Southampton boss Ruben Selles lamented the costly frenemy moments but denied blaming anyone for turning his attention back to top relegation scrap.
"I am very disappointed with the performance and the result," said the Spaniard.
"It's very difficult when you accept such penalties. He wasn't good enough for us. Both penalties were very, very frustrating. We must not let that happen."