Weeks of dry winter weather have raised concerns that Italy could face another drought last summer's emergencywhere the Alps have received less than half their normal snowfall, according to scientists and environmental groups.
The warning comes as Venicewhere flooding is normally the primary problem, is facing unusually low tides making it impossible for gondolas, water taxis and ambulances to navigate some of its famous canals.
The problems in Venice are blamed on a combination of factors – the lack of rain, a high pressure system, a full moon and ocean currents.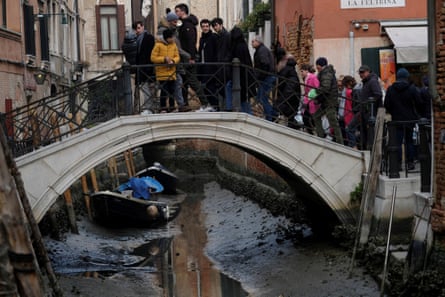 Italian rivers and lakes are suffering from severe water shortagesenvironmental group Legambiente said on Monday, with attention focused on the north of the country.
The Po, Italy's longest river that flows from the Alps in the northwest to the Adriatic Sea, has 61% less water than normal at this time of year, it added in a statement.
Last July, Italy suffered its worst drought in 70 years and declared a state of emergency in the Po region, which accounts for about a third of the country's agricultural production.
"We are in a water deficit situation that has been building up since the winter of 2020-2021," climate expert Massimiliano Pasqui of the Italian scientific research institute CNR told the daily Corriere della Sera.
"We need to recover 500 mm in the northwestern regions: we need 50 days of rain," he said.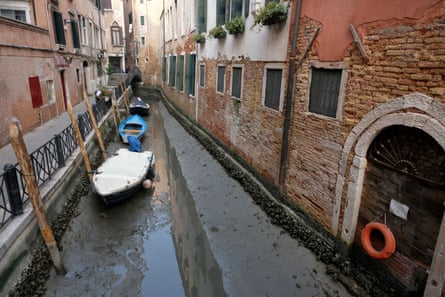 Water levels in Lake Garda in northern Italy have dropped to record lows, making it possible to reach the small lakeside island of San Biagio via an exposed road.
An anticyclone has dominated the weather in the west Europe for 15 days, bringing mild temperatures more typically seen in late spring.
However, the latest weather forecasts signal that much needed precipitation and snow will arrive in the Alps in the coming days.