The ambassadors were briefed by UN Special Envoy Hans Grundberg, who reported on his ongoing engagement with representatives of the internationally recognized government, backed by a Saudi-led coalition, and opposing Houthi rebels, as well as regional and international actors.
Mr. Grundberg said he was encouraged by the positive and detailed discussions, noting that all interlocutors showed a willingness to engage constructively on the way forward.
Hoping for an agreement
"There is clear determination on all sides to make progress towards an agreement on humanitarian and economic measures, a permanent ceasefire and the resumption of a Yemeni-led political process under UN auspices," he said.
"While progress is being made, there are still issues that require further discussion. With the sustained determination of the Yemeni parties, supported by a coherent and coordinated regional and international community, I think the remaining issues can be resolved and that the parties will be able to commit to an agreement," he added.
Expired ceasefire still delivers
Meanwhile, the landmark April 2022 ceasefire that expired seven months ago continues to bring benefits to the Yemeni people, as evidenced by commercial flights to and from the capital Sana'a and the entry of fuel and other commercial vessels through the port of Hudaydah.
Mr. Grundberg said that while sporadic military incidents continue to occur, levels of hostility are significantly lower than before the ceasefire.
"But the fragility of the military situationthe dire state of the economy and the daily challenges faced by the Yemeni people provide us with constant reminders of why a more comprehensive agreement between the parties is so important," he stressed.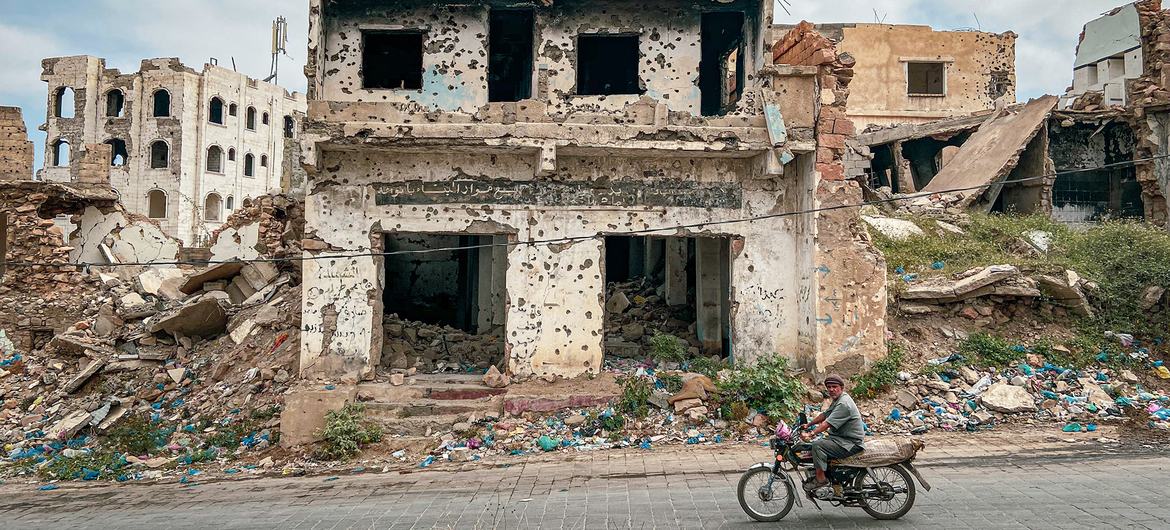 Violence and economic misery
He said there are continued reports of violence across the front lines, particularly in Al Jawf, Ta'iz, Ma'rib and Sa'ada governorates, highlighting the fragility and underscoring the need for a formal ceasefire.
The envoy also expressed concern about the deteriorating economic situation in Yemen and restrictions on free movement.
He said the government is struggling to meet its obligations to its own citizens, due to an inability to export oil, which accounted for more than half of all revenue last year. In addition, inconsistent financial and economic policies in different parts of the country have hit both citizens and businesses hard.
He warned that a lack of cooperation between the parties on critical monetary and financial issues means that these challenges will worsen and potentially become more entrenched.
"Cautious Optimism"
"Despite these profound challenges, there is room for cautious optimism, said Mr. Grundberg to the Council. He pointed to recent positive steps by the parties, such as the release of hundreds of conflict-related prisoners, and urged the sides to continue these efforts.
The Special Envoy was convinced that Yemen's myriad challenges cannot be resolved through partial or temporary solutions, underscoring the importance of an inclusive Yemeni-led political process under UN auspices.
"Only one inclusive and comprehensive political process can sustainably create a new political partnership and hold the promise of a secure and economically stable future, where state institutions function effectively and Yemen returns to peaceful relations with its neighbors, he said.
Hope for peace
The Council also received an update on the humanitarian situation in the country, where millions lack access to basic services.
"There are many hopes for what is happening in Yemen. Hope that there can finally be an end to this terrible war, and for a lasting peace agreement," said Edem Wosornu, head of the Operations and Advocacy Division at the UN Office for Humanitarian Affairs . AND A.
So far this year, aid workers have reached more than 11 people every month with food and other life-saving aid, she said. However, they continue to be hampered by access restrictions and lack of funding.
Female humanitarians affected
Wosornu reported that "chronic access barriers" occurs mainly in areas controlled by the Houthis de facto authorities.
"In particular, the ongoing restrictions on the movements of Yemeni female aid workers have severely disrupted agencies' ability to operate and reach those in need, particularly women and girls," she said.
In terms of funding, she warned that the shortage is increasingly threatening the ability to provide life-saving and livelihood support.
Humanitarians are seeks $4.3 billion this year to reach more than 17 million in Yemen. Despite the generosity of many donors, around 80 percent of the appeal remains unfunded.
"The economic times are difficult, but we must again call on donors to do what they can to fund the Yemen appeal," she insisted.
[pub1]