The United Nations Water Conferencewhich opened on Wednesday, is taking place as this important natural resource is being depleted, polluted and mismanaged.
The three-day event – co-hosted by the Kingdom of the Netherlands and Tajikistan – is halfway to achieving Sustainable Development Goals (SDG), which includes the pledge to ensure that all people have access to clean water and sanitation by 2030.
"Drain the lifeblood of humanity"
U.N Secretary General António Guterres underlined that water is a human right and critical to development that will shape a better global future.
"But the water is in deep trouble," he warned. "We are draining the lifeblood of humanity through vampiric overconsumption and unsustainable use, and evaporates it through global warming. We have broken the water cycle, destroyed ecosystems and polluted groundwater."
A global crisis
The UN chief noted that almost three out of four natural disasters are linked to waterand a quarter of the planet lives without safely managed water services or clean drinking water.
In addition, 1.7 billion people lack basic sanitationhalf a billion people practice open defecation and millions of girls spend hours every day just fetching water.
Leaders attending the conference are challenged to find game-changing solutions to the global water crisis, which is characterized by "too much water" – such as storms and floods; "too little water", such as drought and groundwater shortages, and "too dirty water", such as contaminated drinking sources.
"This conference must represent a quantum leap in the ability of Member States and the international community to recognize and act on the critical importance of water for the sustainability of our world and as a tool for promoting peace and international cooperation," said the Secretary-General.
Close gaps, increase investments
Guterres called for action four key areasstarting with closing what he called the "water management gap".
He said governments must develop and implement plans that ensure equitable access to water for all people while promoting water conservation, and that they must work together to jointly manage this precious resource.
His second point, on the need for massive investment in water and sanitation systems, highlighted the proposed SDG Stimulus Plan and reforms of the global financial architecture aims to increase investments in sustainable development.
"International financial institutions should develop creative ways to expand financing and accelerate the redistribution of special drawing rights. And multilateral development banks should continue to expand their water and sanitation portfolios to support countries in desperate need," he said.

Increase investments
His third point focused on resilience because "We cannot handle this 21st century emergency with infrastructure from another age."
Guterres called for investment in disaster-resilient pipelines, water delivery infrastructure and wastewater treatment plants, and in new ways to recycle and conserve water.
The international community will also need climate- and biodiversity-smart food systems that reduce methane emissions and water use, and a new global information system to forecast water needs in real time.
Investment also means ensuring every person worldwide is covered by early warning systems against climate or weather disasters, as well as exploring new public-private partnerships.
Tackling climate change
The Secretary-General also called for addressing climate change, his final point. "Climate action and a sustainable water future are two sides of the same coin," he said.
He urged countries to "Spare no effort" to limit global warming to 1.5 degrees Celsius and deliver climate justice to developing countries.
Guterres recalled his proposal to the G20's most industrialized countries to establish a The solidarity pact for the climate where all major emitters make extra efforts to reduce emissions.
Rich countries would do it also mobilize financial and technical resources to support emerging economies.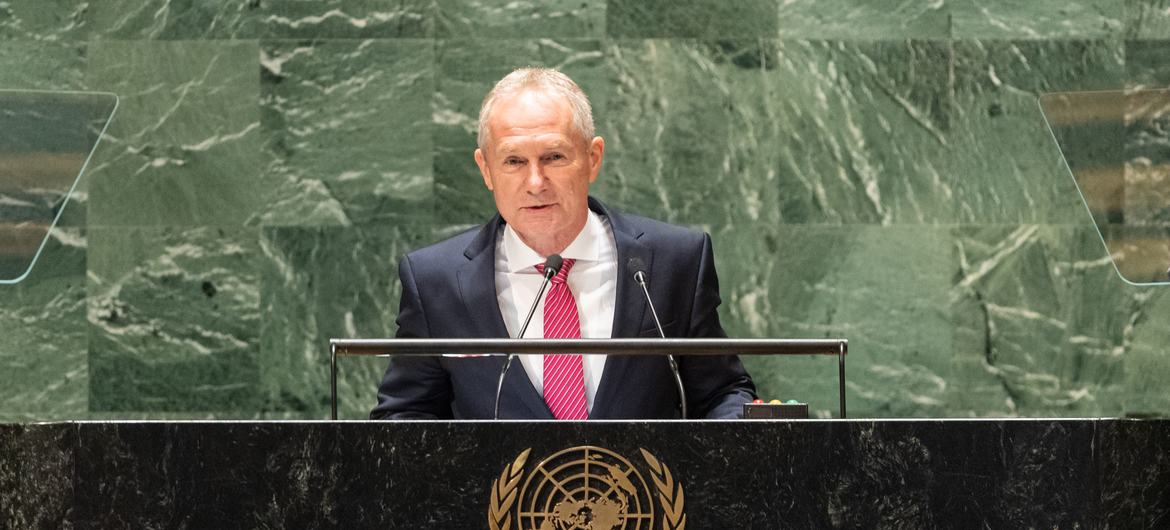 "A Watershed"
In his remarks, UN General Assembly President Csaba Kőrösi noted that the international community is now at "a watershed".
"We know we cannot fulfill our promise of sustainability, economic stability and global well-being by accelerating conventional solutions," he said. "We don't have enough time or the plane. There just isn't enough fresh water left anymore."
"A global common good"
Mr Kőrösi said the international community must recognize that water is "a global common good and adapt policies, legislation and funding accordingly", urging countries "to work for the benefit of people and the planet, not procrastination and profit."
He called for an integrated land use, water and climate policy, which would make water "a lever for climate mitigation and adaptation", which will also build resilience, for both people and nature, and address growing hunger worldwide.
"We can work together to empower states and stakeholders through the global water information system which is our life insurance to solve the dilemma of water supply, demand and storage," he said.
Mr. Kőrösi emphasized that the conference "was not a place to negotiate positions, advantages and compromises", and urged the leaders "to conscious solutions that are science-based, sustainable, pragmatic and solidary."
At the start of the conference, Tajikistan's President Emomali Rahmon and King Willem-Alexander of the Netherlands were elected presidents of the event.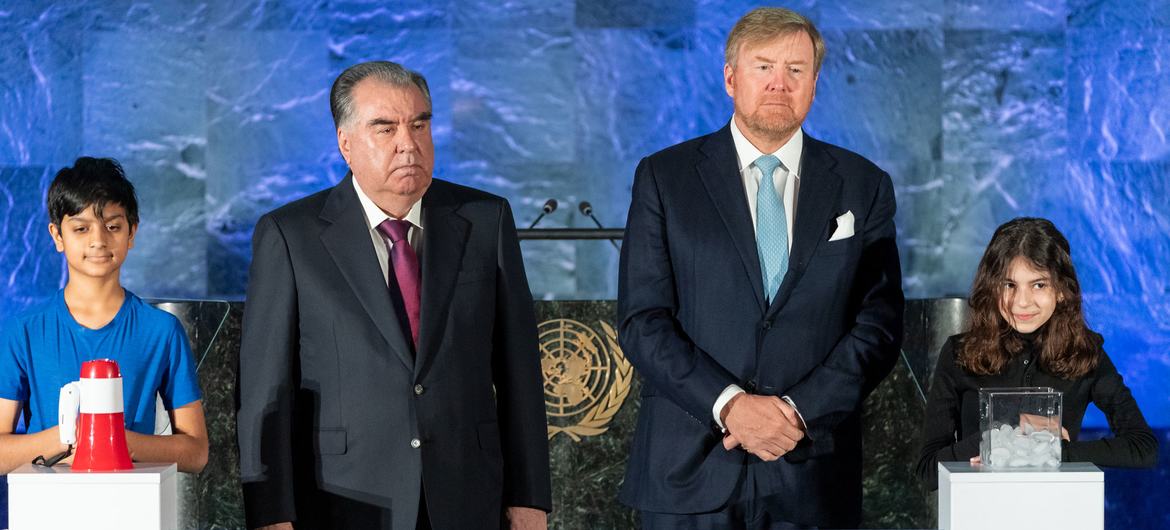 Meet international expectations
President Rahmon said the conference was truly historic – both in promoting clear understanding of the serious challenges posed by the water crisis and in exploring effective solutions to address it.
"In this regard, we must make joint efforts to achieve specific results and follow up on the agreement reached in order to decently meet the expectations of the international community," he said, speaking through an interpreter.
He also spoke about how Tajikistan has abundant sources of drinking water, which are threatened by climate change. Thousands of glaciers have melted in recent decades.
Conserve water resources
He suggested establishing specific national, regional and international programs for the conservation and efficient use of all water sources.
"Running this initiative is really comply with our commitments in the implementation of the global climate agenda and requires fruitful collaboration with all partners," he said. "Therefore, reliable modern mechanisms for water supply and effective management of water-related issues should be developed and implemented."
The president also proposed that the next UN water conference be held in Tajikistan in 2028.
Strong stakeholder support
King Willem-Alexander said that while his low-lying coastal country, which includes several islands in the Caribbean, and mountainous, landlocked Tajikistan "may seem like an odd couple," together they represent "practically the entire water world."
He was encouraged that so many UN member states are participating in the conference, along with stakeholders from entities such as businesses, cities, indigenous groups, women's organizations and scientific institutes.
"I am also glad to see that the younger generation is very motivated and ready to help find solutions," he added. "But as they themselves have said, we cannot leave all problem solving to them. It is our responsibility to do everything we can."
Find common ground
The Dutch king gave a tip to the participants, urging them to "seek company with those who are outside your fields." For example, diplomats should meet engineers, while a representative of civil society should have coffee with someone who works in finance.
"If you're over 50, talk to someone younger. And if you live in Europe, turn your attention to Africa or Asia, or vice versa," he advised.
"Follow the example of the Republic of Tajikistan and the Kingdom of the Netherlands. See cooperation in the murky waters of contrasts. Water is our common foundation. There is so much to discover and achieve."