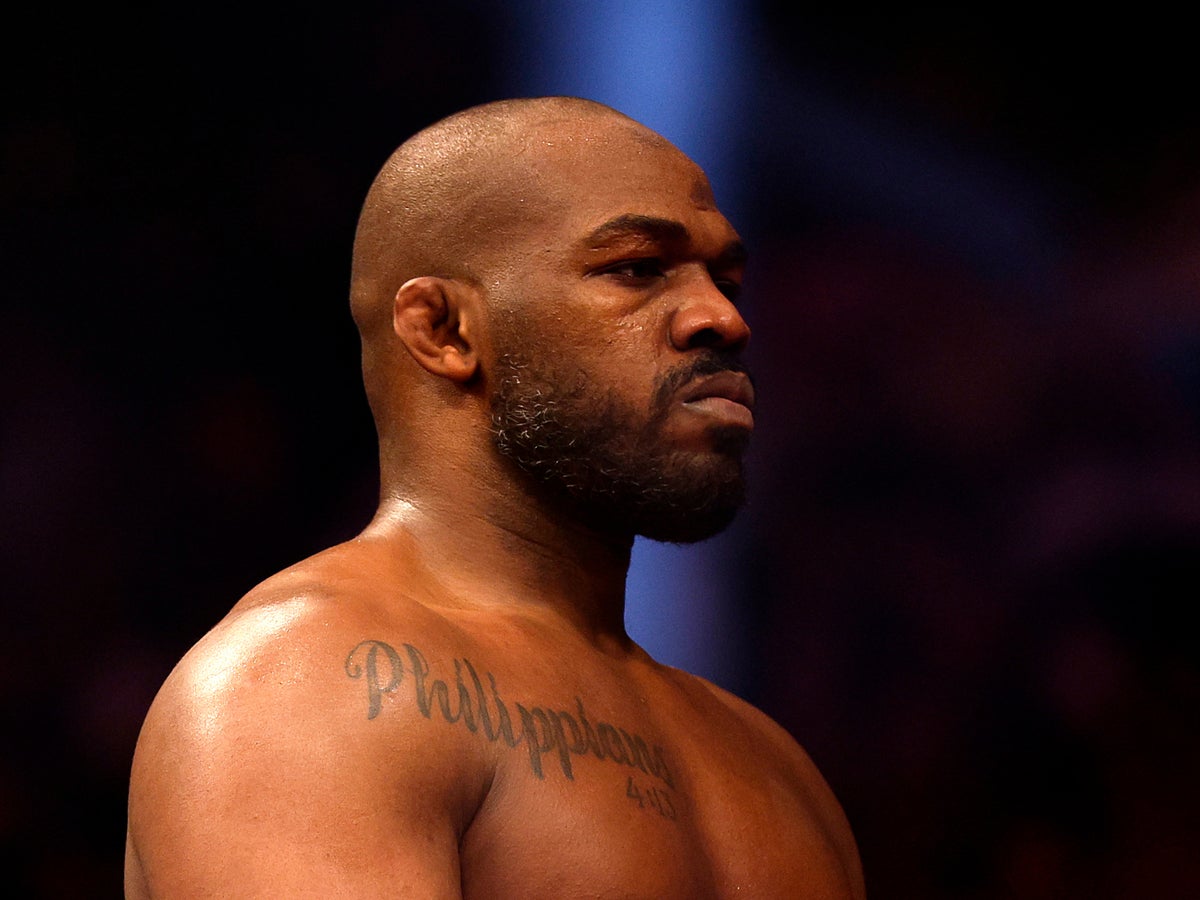 Like Jones He pressed his finger to his lips and strode through the cage, Cyrillic Gane He leaned back against the fence and looked in surprise—at his swift conqueror, the shrinking image of Jones' bulky torso.
Three years in the making, Jones' UFC return raised a lot of questions. Some would need a full 25 minutes to respond; others Only answered because the fight just lasted two minute.
As Jones swung Gane's straight fist and dragged the Frenchman to the canvas, pinning him to the fence and nearly blowing his head off with a guillotine shock, the questions answered were: Would the greatest light-heavyweight in MMA history know how to do it? does he use his new heavyweight body? Yes, all 247 pounds. Does the same body show signs of spotted red ring rust? None. Would 35-year-old Jones show his former grudges and hunger for an outcome, or the casual point-fighting approach of his last few outings? Well, The American devoured Gane like a lion feasting on a wounded gazelle..
However, "Bones" not only fulfilled a ten-year promise to move into heavyweight, the American also took the title that Francis Ngannou gave up when he left the UFC in January. Yet Ngannou still wears the crown of the lineal heavyweight champion.
Cameroonian football player tweeted "Well done Jonny Boy". Jones demoted Gane to spectator status at the main event of UFC 285. Saturday. "Best regards, the heavyweight king." Jones responded quickly at the post-fight press conference, no matter what. It was as short and rude as an in-ring performance minutes ago: "Francis is a big p***y."
Still, Ngannou's virtual arrival at UFC 285 raised some questions that Jones didn't have time to answer on Saturday; and the de facto arrival of Stipe Miocic at the T-Mobile Arena upped the rest.
First, there's a lingering fascination with Jones' transition to heavyweight that has been intriguing for a decade: the question of whether a single heavyweight punch could wipe out all of Jones' seemingly impenetrable assets—his reach, height, speed, creativity, and versatility. Gane was as heavy and tall as Jones in Las Vegas, and few would argue that the 32-year-old was slower than "Bones"; however, a single missed hit was enough for Gane to forfeit the opportunity to showcase any of his skills or test any of his opponent's skills.
Perhaps the same would have happened if Ngannou had stood up to Jones, yet there is certainly an argument that where Gane failed, the Cameroonian might have the power to neutralize the American. And then what? While Jones has beaten multiple champions over the years, Ngannou has done the same with even less effort, thanks to "Predator"'s unique punching power. There is still an imaginary scenario where Ngannou touches Jones' chin and the American ceases to exist as a competitor like almost everyone else who stands before Ngannou.
Some are hopeful for a superfight between them, despite Jones and Ngannou leaving the UFC and a payment dispute with Dana White. But the UFC president said last week: "We negotiated with him for years. Finished. It will never be in the UFC again. I never say 'never' but I will give you 'never' on this one. We tried." Interestingly, Jones had his own dispute with White over money, and that dispute was resolved—but perhaps only after Jones accepted the ground that Ngannou wouldn't.
In any case, Jones and Ngannou may be one of the most fascinating competitions to ever meet, while Jones and Miocic is a very real possibility – one that could become a reality in July.
"Would you like to see me beat up Stipe?" Jones said after defeating Gane. "Stipe Miocic, I hope you're training man. You're the greatest heavyweight of all time and that's what I want. I want you so much (…) There has never been a more important fight to me than beating Stipe Miocic. I don't think I've ever fought a GOAT. " Known for his in-ring skills rather than his speech, Miocic He later told ESPN: "It's a fight, he won.. Well done for him, hats off, but unfortunately he has to fight me in July."
Then, at International Fight Week, Jones may finally be asked how his chin will hold up against a heavyweight. Miocic, the 40-year-old American, doesn't have Ngannou's strength—no mixed martial artist has—but he hits harder than Gane, is one of the greatest heavyweight wrestlers, and his experience dwarfs Gane and Ngannou's combined.
Miocic might also ask the unanswered question about Jones' resilience in his new episode. A former two-time UFC heavyweight champion, Miocic has rarely needed to go the distance over the years, but the part-time firefighter hit a wrestling clinic for 25 minutes to beat Ngannou in 2018, outpacing Jones' elder. Daniel Cormier in five rounds in 2020.
But Miocic has his own questions to answer. Heavyweights tend to have a later expiration date than most fighters, but Miocic would get into a fight with Jones at age 40, after two years out of the ring and on his back. Disastrous knockout loss in his rematch with Ngannou. In some ways, the questions about Miocic are similar to the questions surrounding Jones at UFC 285 – "Bones" is back at 35, after a three-year hiatus, with new weight and a string of crushing performances.
As impressive as Jones' defeat of Gane was, it left a lot to be revealed. Gane failed to test Jones, and Ngannou may never have a chance to do so. All eyes are on Miocic now.
Click here To subscribe to The Independent's Sport YouTube channel for all the latest sports videos.