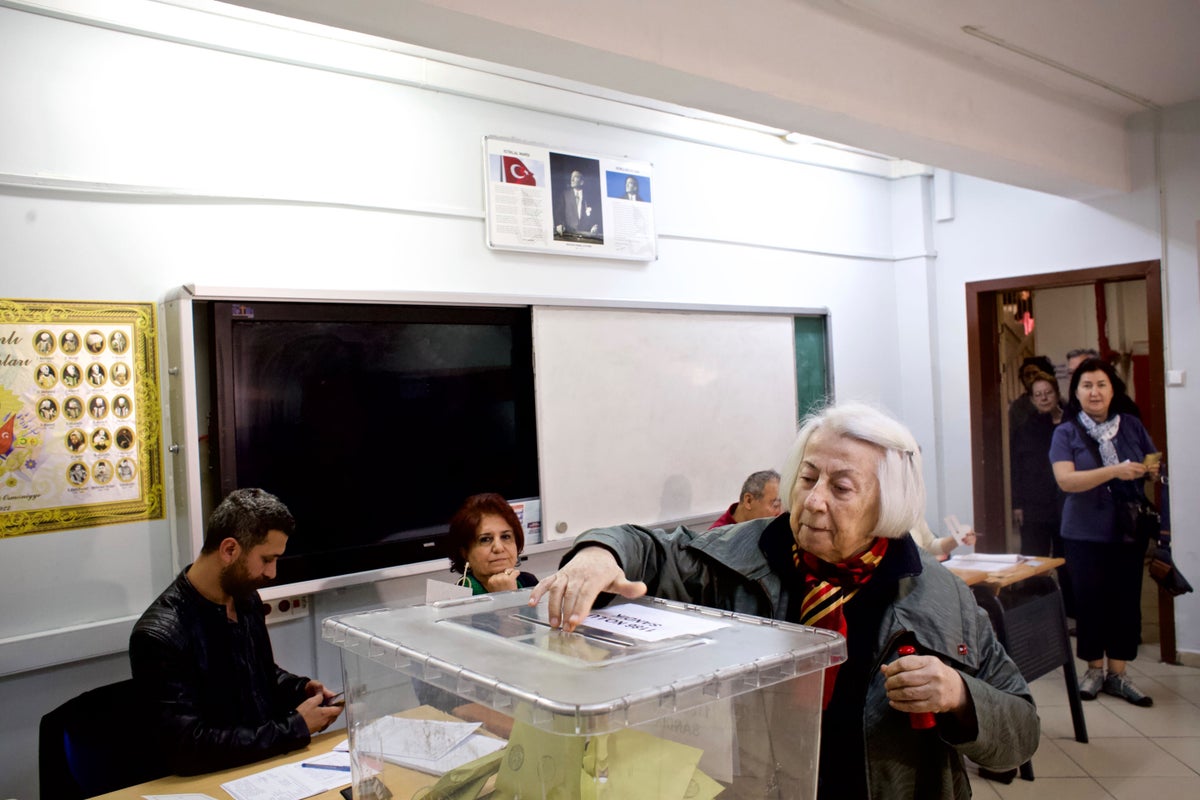 After a tense campaign season punctuated by violence and divisive rhetoric, voters departed calmly polls today in crucial elections that can decide Turkey's future.
Long queues formed at schools converted into polling stations. Turks normally vote very heavily in national elections and today's voter turnout looked even higher than previous ballots.
Voters have cited concerns about the economy as the primary issue driving their votes.
But there are also concerns about the authoritarian nature of the country under the rule of President Recep Tayyip Erdogan, whose Justice and Development Party (AKP) has dominated the country's politics for more than 20 years.
"Without democracy and freedom, you can have no economy," said Nil Adula, a 74-year-old voter at a polling station in central Istanbul.
"The most important thing is that the justice system works as it should."
Polls show the opposition in a very strong position, with center-left Republican People's Party (CHP) leader Kemal Kilicdaroglu poised to beat Erdogan and possibly secure a first-round victory that would avoid a divisive runoff on May 28.
Polling stations are scheduled to close at 5pm local time on Sunday, with results likely to trickle out several hours later. With a high election, the result is likely to depend on slivers of swing voters that include ethnic Kurds, who have traditionally voted for either the AKP or leftist parties, Turkish nationalists and at least 5 million first-time voters whose loyalties remain unclear.
Erdogan has struggled to connect with Generation Z voters who seem moved by his appeals to conservative and Islamic values.
"I see voting as a tool to change and influence the government from within," says Idris Sinan, an 18-year-old high school student and first-time voter wearing a nose ring as he emerges from the polling station.
"We have been ruled by this party, the AKP, for 20 years. We start our country, become poor and more lawless."
But many voters also mobilized to vote for Erdogan, persuaded by his appeals to nationalism and security, including his attempts to associate the opposition with the West and the Kurdistan Workers' Party (PKK), an outlawed separatist group.
"We are not for America. We are not for the PKK," said Faruk Baba, a 67-year-old clothing store owner in Istanbul's Fatih district.
When reminded that Afghanistan's Taliban had supported Erdogan, he replied: "The Taliban are Muslims. We are Muslims."
But the country's faltering economy threatens the unwavering support that conservative Turks have given Erdogan for years.
On a side street in Fatih, optimistic CHP organizers gathered meals to give to their volunteers observing polling stations throughout the district.
"Before there were certain neighborhoods we couldn't go to campaign," said Cigdem Gulduval, a local opposition party official.
"Now they are more receptive. They all pay high prices at the same butchers as us. They all pay the same gas bills. They will have to wait three or four months to get an appointment with the doctors."
[pub1]