UN High Commissioner for Human Rights Volker Türk appealed to leaders of the Sudan Armed Forces and of the Rapid Support Forces, locked in conflict since April 15, to "give clear instructions" to those under their command that sexual violence will not be tolerated, and to ensure that all perpetrators are held accountable.
Mr. Türk called reports of sexual violence in Khartoum and Darfur "very disturbing" and said that while his office knew of at least 25 cases, he feared that the real number may be much higher.
"General al-Burhan, General Dagalo… you must stop this senseless violence now," he insisted, stressing that efforts to end the conflict "must have human rights" at their core.
Crackdown on women's rights
At a press conference in Geneva, in a broad overview of human rights hotspots and "dangerous" anti-rights trends on the rise, Türk called misogyny a "disease" and criticized the crackdown on women's rights in Afghanistan.
"I will never understand how anyone can so cruelly trample on the spirit of girls and women, take away their potential and drive one's country deeper and deeper into abject poverty and despair," he said.
He also commented "intensified" harassment of women in Iranand calls on the country's authorities to repeal regulations criminalizing non-compliance with mandatory dress codes, and condemns the continued use of the death penalty "in significant numbers".
Actions against disinformation rights
The UN rights chief warned against it "peddlers of lies and disinformation" fueled anti-rights movements, especially against LGBTQI+ people. He sounded the alarm against the "curse of sections of society" and said that turning people against each other was always harmful to society as a whole.
Türk particularly lamented the deterioration of laws criminalizing LGBTQI+ people, such as recent legislation in Uganda, which he had previously called "devastating".
The High Commissioner too shouted hate speech against migrants and refugees, as well as anti-migrant laws and policies, citing recent developments in the UK, US, Italy, Greece and Lebanon. He highlighted the need for solidarity and respect for the rights of all people in vulnerable situations.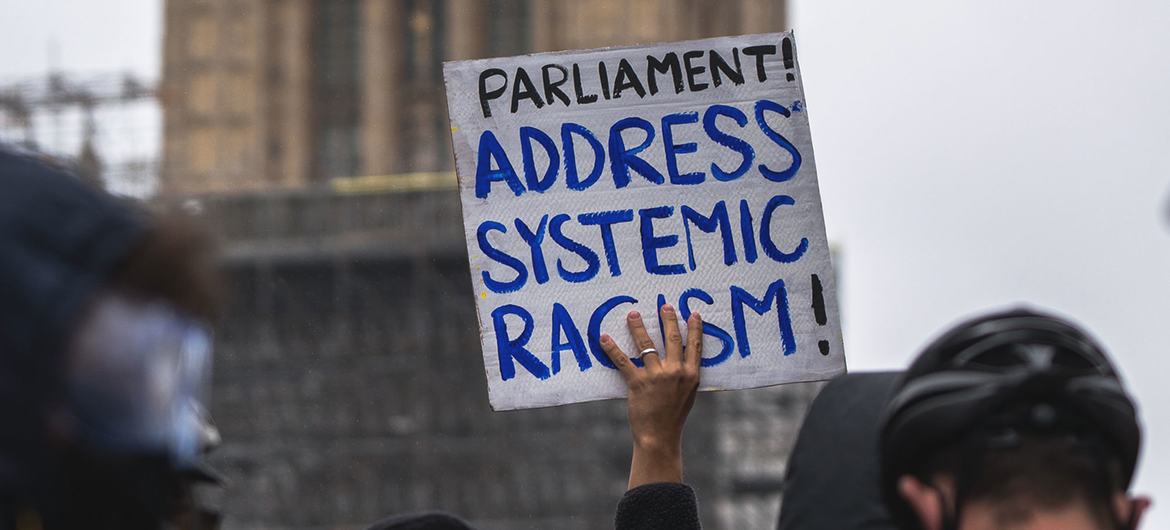 "Systemic Racism"
Recalling that Thursday will be three years since the killing of George Floyd by a police officer in the United States, Türk said he was deeply concerned by regular reports of deaths and injuries of people of African descent "during or after interactions with law enforcement in a number of countries", and that this targeted police brutality pointed to "systemic racism".
Racist taunts against Real Madrid
Highlights the latest case of Brazilian soccer player Vinícius Júnior as a "stark reminder" of the existence of racism in sport, the UN rights chief called on sports organizers to redouble efforts to eradicate racial discrimination and stressed the need to listen to and involve people of African descent in the search for solutions.
Vinícius Júnior, a Real Madrid player, was the victim of racist abuse by football fans last week. Spanish police arrested several suspects on Tuesday for their involvement in alleged hate crime incidents targeting the soccer player.
A stronger rights system
With human rights in dire straits in so many places around the world, Mr. Türk that he saw an urgent need to strengthen the UN rights office (OHCHR) through additional funding.
He said his ambition was to double the budget to $800 million, which would enable a strengthening of OHCHRs field presence. He recalled that while human rights were one of the UN's three pillars, it only mobilized one very small part of the organization's regular budget.
The High Commissioner explained his belief in the office's presence on the ground, saying he saw "great value" in an OHCHR acting as "the bridge between civil society, human rights defenders, victims and state institutions".
'Back to basics'
Türk emphasized the universality of human rights, calling it "a concern for everyone, everywhere".
"All states can and should do better when it comes to human rights," he insisted.
Mr. Türk also expressed his "fervent" hope that 75th anniversary of The Universal Declaration of Human Rightsmarked this year, will "provide space and inspiration for all of us to go back to basics – to find the roots of human rights in each of our cultures, histories and beliefs, and unite in pushing back against the instrumentalization and politicization of human rights within and between countries'.
[pub1]