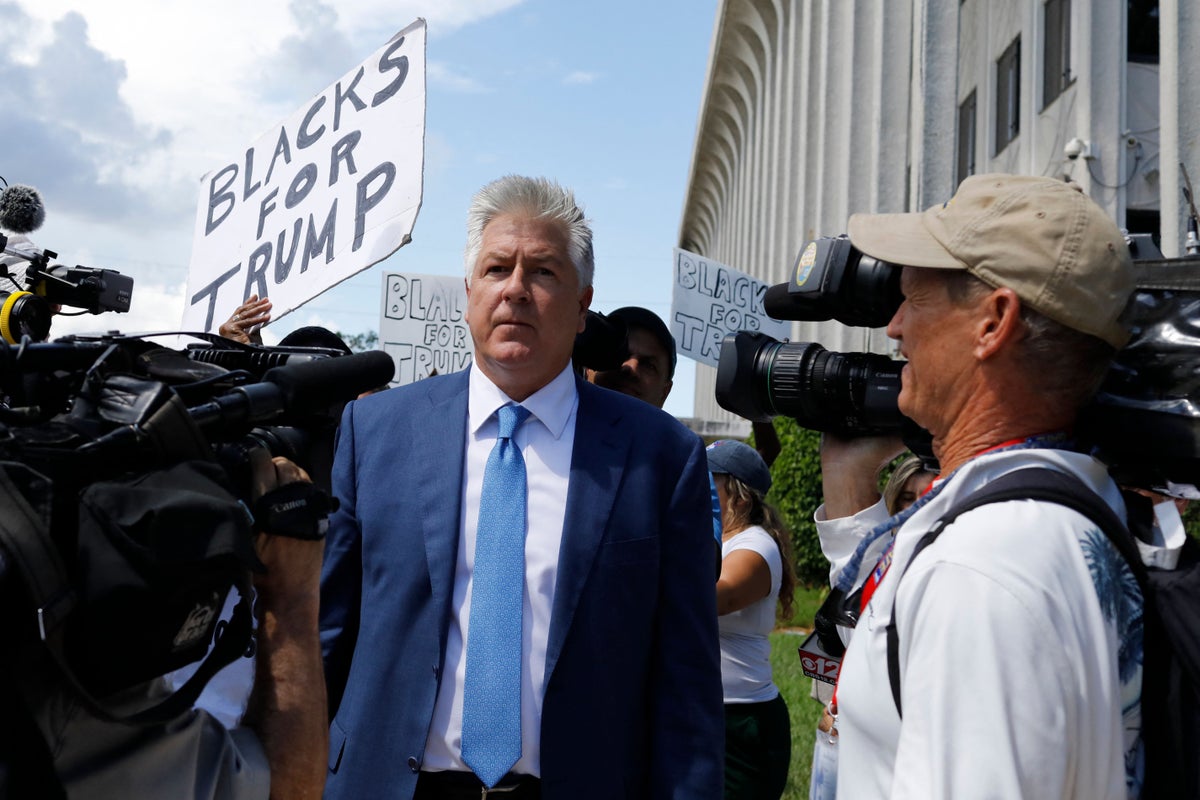 The chief judge in Washington, DC's federal district court has ordered Evan Corcoran, the Maryland-based attorney who represented former President Donald Trump in the weeks leading up to the August 8 FBI search of his property in Palm Beach, Fla., to testify before a grand jury regarding Call he had with Trump about efforts to find and return classified documents to the US government.
According to multiple reports, Judge Beryl Howell granted a request from Jack SmithDOJ special counsel overseeing multiple investigations into Mr. Trump, to pierce the attorney-client privilege Corcoran would normally enjoy as a member of the ex-president's legal team.
The indictment — filed and argued in secret because it relates to grand jury proceedings — asked the judge to compel Corcoran to testify under something called the criminal fraud exception to the attorney-client privilege. Mr. Corcoran had argued that the privilege should protect him from answering certain questions when he previously appeared before the grand jury investigating Trump's alleged illegal storage of classified documents by him. Mar-a-Lago residence.
But the criminal fraud exception requires a judge to find that the conversations in question should not be protected because it is more likely than not that the lawyer participated in a crime with his client, or that the legal advice he gave was used to commit another crime.
According to Washington Post, Trump's legal team has not seen the ruling and won't be able to see it until the government can propose redactions to keep classified information describing investigative procedures, sources or methods.
They are also expected to ask the incoming chief justice, James Boasberg, to stay Judge Howell's decision pending the appeal when he takes over as chief justice on Saturday.
But the ruling is a major victory for Mr. Smith, who was appointed by Attorney General Merrick Garland last year with a charge to investigate crimes possibly committed by Trump, including his alleged illegal storage of classified documents and his alleged obstruction of another investigation into how they Documents that FBI agents found on his property during the Aug. 8 search and in boxes that Trump turned over to the National Archives last January ended up there.
In response, a Trump spokesperson said The independent the ex-president and his team "will fight the Justice Department on this front and any others that endanger basic American rights and values".
"Interfering with Americans' right to an attorney is a serious and weighty matter. For a judge to do so in violation of due process, without allowing any real hearing, and within hours of her expiration date — as chief judge overseeing the grand jury — is un-American and unacceptable, says the spokesperson.
The spokesman also suggested that the effort to compel testimony from lawyers like Corcoran is "usually a good indication that their underlying case is very weak."
"If they had a real case, they wouldn't have to play corrupt games with the Constitution. Every American has the right to consult with lawyers and have frank discussions — this promotes compliance with the law," they said.