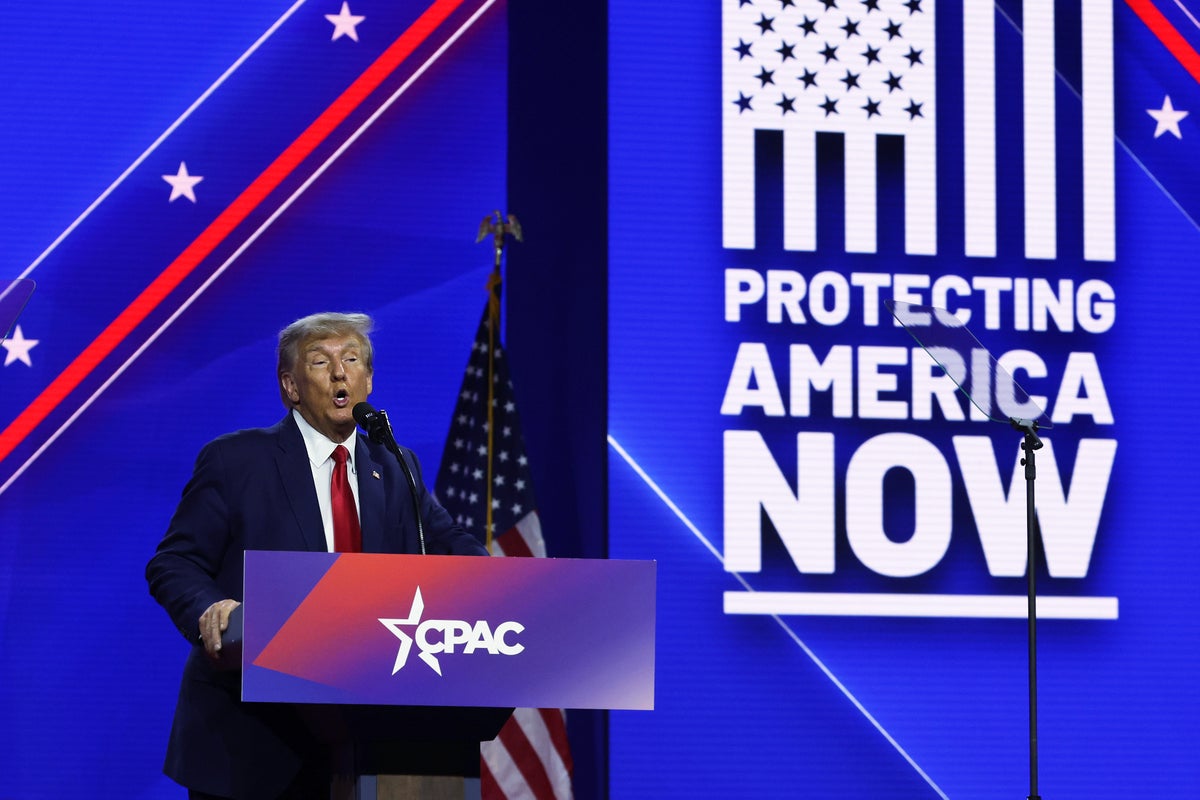 Former President Donald Trump gave the 2023 closing speech Conservative Political Action Conferencewhere he targeted his enemies not only in the Democratic Party and media, but also the Republican Party.
The former president spoke in earnest before a crowd at the Gaylord National Resort & Convention Center in Oxon Hill, Maryland on the third full day of the gathering of far-right elected officials and activists.
"This is the final battle," Trump told the crowd at CPAC about the 2024 presidential election and the fate of the country itself. "This is it."
And if he loses the race in 2024, Trump warned "we no longer have a country."
Throughout the speech, he also called out Republican establishment figures such as former Speaker Paul Ryan, who led the House of Representatives for the first two years of his presidency, and Senate Minority Leader Mitch McConnell, whom he has often criticized for not helping him overthrow the 2020 presidential election results. .
"The Republican Party was run by bastards, con artists, open border fanatics and fools," he said. "We will never go back to the party of Paul Ryan, Karl Rove and Jeb Bush."
Trump also dismissed the numerous investigations, including his first impeachment as well as criminal and civil investigations in Manhattan, New York state and in Fulton County, Georgia.
His speech came shortly after the conference revealed that 62 percent of attendees favored him for president in 2024. His closest potential challenger, Florida Gov. Ron DeSantis, received just 20 percent of the support. The governor chose not to attend the conference after hosting the last two annual conferences in Florida.
For years, CPAC served as a launching pad for conservative talent and a place for potential Republican presidential candidates to test the waters — Trump gave his first major policy speech at CPAC in 2011.
Mr. Trump's dominance over the Republican Party — and the nascent 2024 race — was on full display throughout the conservative confab. Nikki Haley, who served as ambassador to the United Nations during the Trump administration and is so far the only major Republican candidate to declare her candidacy against him, also spoke at the conference. But her speech, along with that of former Secretary of State Mike Pompeo, received little fanfare.
"BYou can't knock Trump out, right? You have to be your own candidate," Hogan Gidley, a former Trump White House press aide, told The independent. "And I have yet to see whether it will be sold here or not."
Throughout the conference, many attendees wore shirts bearing the former president's likeness, and one woman did speed paintings of Trump. Others wore shirts in memory of Ashli ​​Babbit, who was shot by police during the January 6 riot. When someone tried to interrupt Trump's speech by playing hip-hop music, attendees chanted "USA."
The only other figure to receive as much fanfare was Kari Lake, the failed Arizona gubernatorial candidate who lost to Katie Hobbs, who hosted the Ronald Reagan dinner on Friday and then gave a speech Saturday afternoon before Trump's speech. During that speech, she claimed someone showed up at her house and offered to bribe her to quit politics.
Trump also used the venue to criticize President Joe Biden and tout his new initiatives, promising to stop "World War III" while criticizing aid to Ukraine and NATO.
Throughout the speech, Trump touted his record as president. But at the same time, he and CPAC as a whole largely sidestepped two of his greatest accomplishments — the nomination of the Supreme Court justices who helped overthrow Roe v. Wade and Operation Warp Speed, his initiative to create a Covid-19 vaccine. However, the conference held a panel titled "A Real Heartstopper" that featured Ronny Jackson, the former White House physician turned Texas congressman, who called for an investigation into the vaccine's effectiveness.
Rather, much of the conference and panels focused on attacking transgender people, with conservative pundit Michael Knowles calling for "transgenderism" to be "eradicated".
In fact, Trump received some of his biggest applause when he announced his policy on the subject.
"And will repeal every policy of chemical castration and sexual mutilation of our children," he said, drawing a standing ovation. "It will happen on day one."
Trump held the right to the end. Even as people left the speech, some shouted "We want Trump."