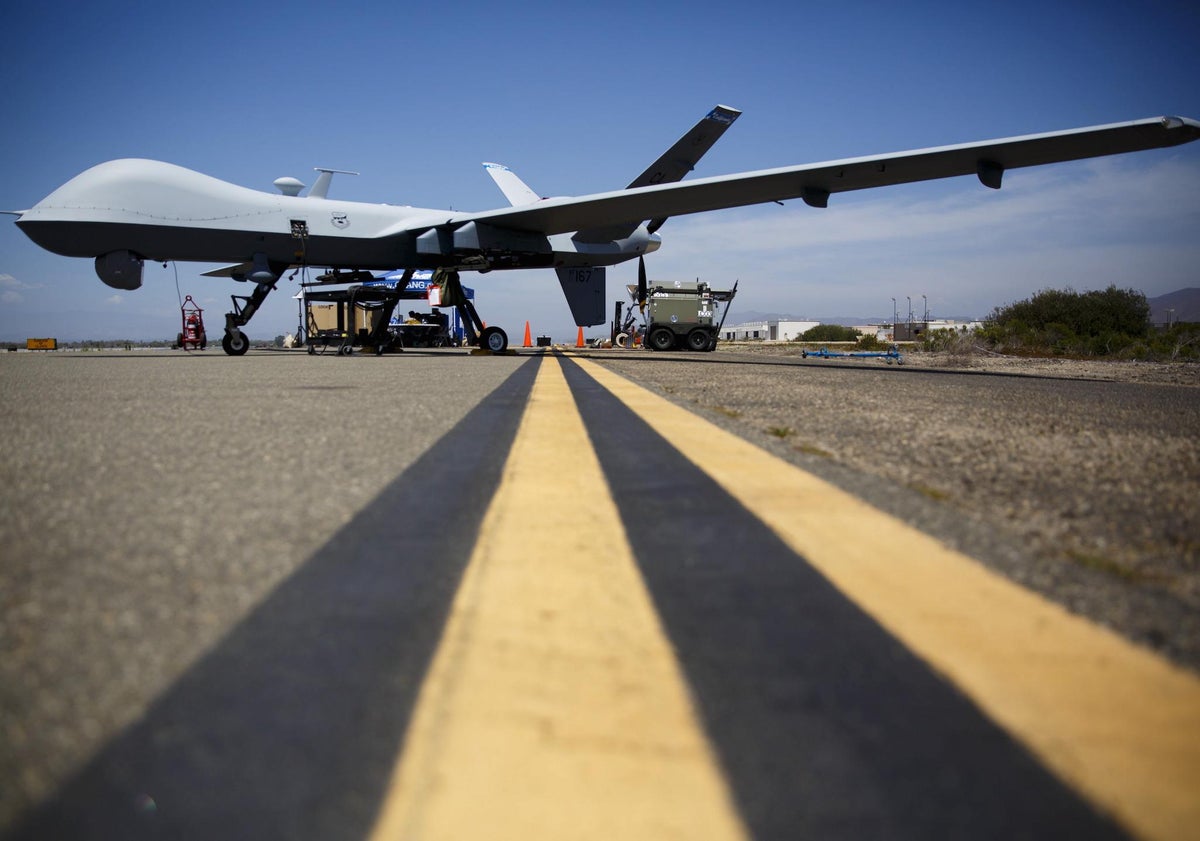 Russian warplanes forced a U.S. drone to fly over international waters in the Black Sea out of the sky on Tuesday, according to U.S. officials.
US Air Force General James B Hecker of the branch's European Command told CNN in a statement that a pair of Russian Su-27 aircraft performed a "reckless, environmentally unsound and unprofessional" set of maneuvers, dumping fuel and damaging the propeller of a US Air Force MQ-9 "Reaper" drone, forcing US officials to bring it unmanned craft down.
"In fact, this unsafe and unprofessional action by the Russians almost caused both aircraft to crash," he Added.
European Command warned that "these aggressive actions by Russian aircrew are dangerous and could lead to miscalculations and unintended escalation."
Aircraft from both countries have been operating over the Black Sea, which borders Russia and Ukraine, since the former fully invaded the latter in February 2022.
The independent has contacted the Russian Ministry of Defense for comment.
Interactions with Russian aircraft are common during operations in the area, but National Security Council spokesman John Kirby told reporters in Washington on Tuesday that this incident "is notable because of how unsafe and unprofessional it was, really reckless that it was."
Drones have become an important part of the war in Ukraine on both sides.
The United States has provided more than 700 small Switchblade drones to Ukraine as part of its various security assistance packages. The craft are not armed, but can be carried in backpacks and used to crash into targets, becoming a key weapon for Ukrainian forces, The Wall Street Journal reports.
So far, the US has declined to supply Ukraine with long-range, armed US drones such as the Reaper or Grey, due to fears that Russia could gain access to the technology on board if one were to be shot down. according to DefenseNews.
Overall, the U.S. has provided Ukraine with about $34 billion in security aid since 2014, when Russia first invaded the country, according to the Congressional Research Service.
US military officials told NBC News they regularly fly air operations over sovereign and international airspace in accordance with international law and with the approval of the relevant host countries in an effort to "strengthen collective European defense and security" and "support allies, partners, and US national objectives."