Key events
France sends dozens of armored vehicles, light tanks to Ukraine
France will send dozens of armored vehicles and light tanks to Ukraine in the coming weeks, including AMX-10RC combat vehicles, according to a joint statement issued after President Emmanuel Macron's conversation with the President of Ukraine, Reuters reports.
After a working dinner that lasted more than three hours between Macron and Volodymyr Zelenskiythe French presidency hinted that Paris was also concentrating its efforts on supporting Kiev's air defense capabilities against Russian attacks.
After securing a new $3 billion military package from Germany over the weekend, Zelenskiy said in Berlin on Sunday that Kiev and its allies could make a Russian defeat "irreversible" as early as this year.
A source at the French presidency told reporters that additional, more modern defense systems would be made available to Ukraine.
G7 leaders to target Russian energy, trade with new sanctions steps
Leaders of the Group of Seven (G7) nations plan to tighten sanctions on Russia at their summit in Japan this week, with measures aimed at energy and exports that help Moscow's war effort, officials with direct knowledge of the discussions said. Reuters reports.
New measures announced by leaders during the May 19-21 meetings will target sanctions evasion involving third countries, and seek to undermine Russia's future energy production and curb trade that supports Russia's militarysaid the people.
Separately, US officials also expect G7 members to agree to adjust their approach to sanctions so that, at least for some categories of goods, all exports are automatically banned unless they are on a list of approved goods.
That change could make it harder for Moscow to find loopholes in the sanctions regime.
The exact areas where these new rules would apply are still being debated.
Hello and welcome back to our coverage of Russia's war on Ukraine, now in its 446th day. My name is Jordyn Beazley and here is a look at the latest.
The leaders of the Group of Seven (G7) countries plan to tighten sanctions against Russia at their summit in Japan this week, with measures targeting energy and exports helping Moscow's war effort, officials with direct knowledge of the discussions told the Reuters news agency.
Meanwhile, France has announced dozens more light tanks and armored vehicles for Ukraine's army, along with training for the soldiers who use them, following talks between the Ukrainian and French presidents in Paris. Volodymyr Zelenskiy and Emmanuel Macron also called for new sanctions against Russia over its invasion of Ukraine. The leaders' joint statement also said Paris would focus its efforts "on supporting Ukraine's air defense capabilities".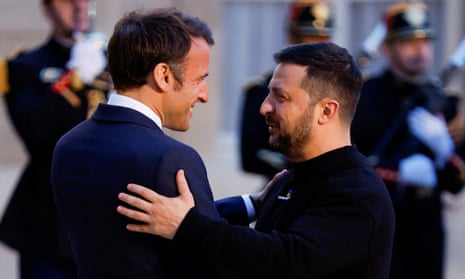 More on both stories soon. In other developments:
The two leaders' comments came after Zelenskiy flew into France late Sunday on a whistle-stop tour of Europe and joined Macron for a dinner at the Élysée Palace. Zelenskiy had tweeted earlier when he arrived in France at an airbase in Villacoublay, southwest of Paris: "With each visit, Ukraine's defense and offensive capabilities expand."

Zelenskiy thanked Germany for its support and what he called the largest military aid package since the beginning of Russia's invasion when he met President Frank-Walter Steinmeier and German Chancellor Olaf Scholz in Berlin on Sunday. The trip came after the German government announced a new military package worth 2.7 billion euros as Ukrainian forces prepare for a counteroffensive to retake territory captured by Russia.

During Volodymyr During Zelenskiy's visit to Germany, he was awarded the prestigious Charlemagne Prize on behalf of the Ukrainian people in honor of services to Europe. The Ukrainian president received the award, which honors services to European unification, in the western city of Aachen with Olaf Scholz after their talks in Berlin.

Russia has said two of its military commanders were killed in eastern Ukraine, as Kiev forces renewed efforts to break through Russian defenses in the embattled city of Bakhmut. The Russian Defense Ministry said on Sunday that Commander Vyacheslav Makarov of the 4th Motorized Rifle Brigade and Deputy Commander Yevgeny Brovko of a separate unit were killed while trying to repel Ukrainian attacks.

Russia has "already geopolitically lost" its war in Ukraine and is turning into a vassal state of China, Emmanuel Macron has said. "De facto, it has entered a form of subservience with respect to China and has lost its access to the Baltic Sea, which was critical, because it prompted the decision of Sweden and Finland to join NATO," the French president said in an interview with The opinion paper was published on Sunday.

Russian forces are greatly reduced since the war beganthe The British Ministry of Defense has said so, with troops consisting of mostly poorly trained mobilized reservists and increasingly dependent on outdated equipment. Many of its units were severely underpowered, it said.
[pub1]