We haven't heard much about THQ Nordic's Alone in the Dark reboot since its reboot an unexpected discovery last yearbut now the promising project is back with an October 25th release date and — for the impatient among us — a playable prologue already available.
The original Alone in the Dark, for those too young to remember, came out in 1992 and offered a truly groundbreaking journey into the unknown. It is considered by many to be the progenitor of the survival horror genre, pioneering the fixed-camera ghost formula that later influenced Resident Evil and Silent Hill.
THQ Nordic's reimagining of Alone in the Dark, which is being worked on by Swedish developer Pieces Interactive with Soma and Amnesia: The Dark Descent writer Mikael Hedberg at the helm, uses the basic premise of the 1992 original, aided by private investigator Edward Carnby. Emily Hartwood investigates her uncle's suicide in the bleak Derseto mansion and spins the southern gothic, trying to filter the original mix of exploration, battles, puzzles and history through a more modern lens.
As previously reported by THQ, its reboot will feature segments that take place outside of the mansion, taking Carnby and Heartwood to forgotten cemeteries, backwaters, and more. And now it's been confirmed that our main characters will be played by Stranger Things' David Harbor and Killing Eve's Jodie Comer respectively (resolving one lingering mystery). Depending on the character you choose, you'll get a different perspective on the story, with alternate events and unique NPC reactions that will make you play twice.
There's a lot about THQ's reboot, from its striking Southern Gothic aesthetic to its Dark Jazz soundtrack (courtesy of musician Jason Koenen) that absolutely wowed my horror fans, and equally curious gamers can take their first tentative steps in the new Alone in the Dark through the prologue episode steam, PlayStation 5and Xbox Series X/S from today.
The decision to release the prologue is said to be partly inspired by the Jack in the Dark demo from Alone in the Dark 2, and will introduce players to a young girl, Grace, exploring the Derseto mansion in an attempt to send a letter to Emily Heartwood for her uncle's will. Pieces Interactive suggests that this should give players an idea of ​​the general atmosphere they're aiming for in the full version of Alone in the Dark, but notes that combat is not featured due to the age of its protagonist.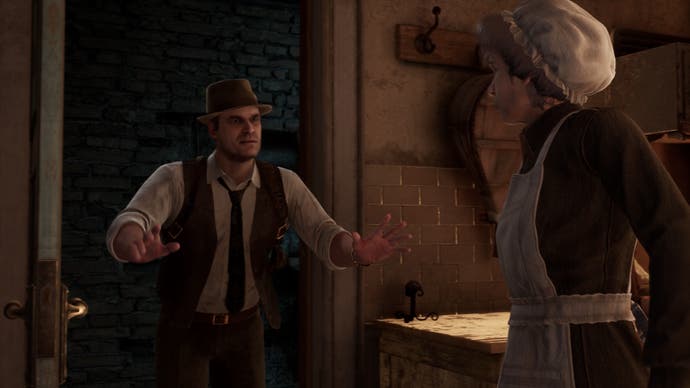 And if the prologue has you hooked, THQ Nordic wants to highlight the Alone in the Dark pre-order bonus DLC, which I'll admit is pretty good. Called the Deceto 1992 Costume Pack, players can replace the rebooted version of Carnby and Hartwood with their original 1992 character models, in all their gorgeous, bright retro blocky glory.
Alone in the Dark will be available in two versions when it launches on Xbox Series X/S, PS5 and PC on October 25; there's a standard edition (costing £49.99/€59.99/$59.99) and a deluxe edition which, along with the aforementioned costume pack, includes an art book, a vintage horror filter pack, and a commentary mode for featuring reboot director Mikael Hedberg and, in particular, Frédéric Reynal, who created the original game.