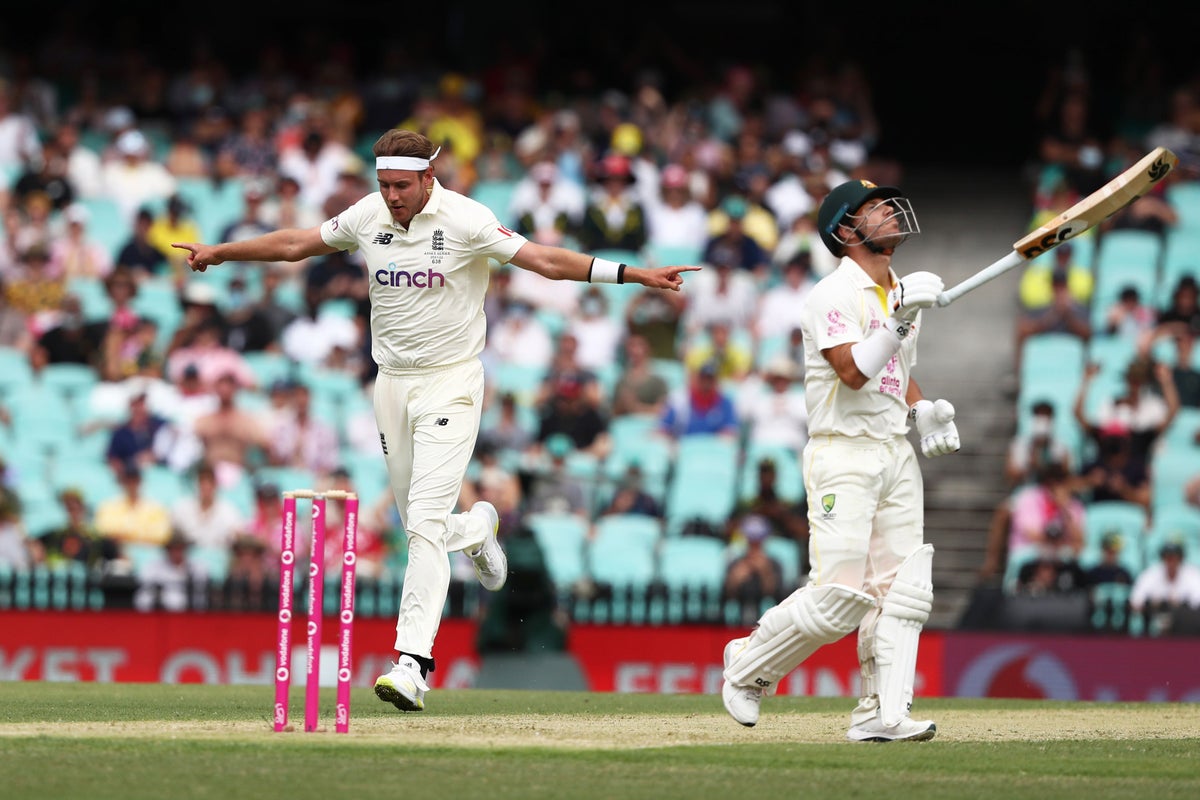 Stuart Wide long preparing to "go to war" with the enemy David Warner this summer AshesHe admits he can't get rid of his test cricket addiction.
Broad and Warner have faced each other in 26 Tests dating back to 2013, and the British kicked the Australian out of the game 14 times – more than any other bowler on the planet.
Half of those wickets came at the 2019 Ashes, when Broad flanked the left-handed player and drove him away seven times in 10 innings, averaging a miserable 9.5.
Broad also had the last laugh at their most recent head-to-head encounter, and ended with Warner convicting a duck in Hobart, with both men contemplating the end of their shared story.
At Bellerive Oval, they discussed the possibility of a post series drink, but are ready to finish again 18 months later, in the first Test to be held on June 16 in Edgbaston.
"Obviously I'm looking forward to fighting Davey again. We've had incredible battles," Broad said.
"I'm really looking forward to getting on the field against him. I have to admit that we shared a glass of red at the end of Hobart last time and didn't know if we could play against each other again. I hope we can.
"He was ahead of me for a long time, scoring a hundred points in Brisbane and WACA (in 2013) and ultimately the biggest compliment I can give Davey is the fact that I had to completely study him and change my style from bowling for his success against me.
"He's been a great opponent, someone I really enjoy playing against. It's hot, highly competitive, and these types of characters bring out the best in me too."
Broad readily admits that the excitement of tackling the best players the world has to offer is a habit he can't kick even after 161 caps and nearly 14 years at the highest level.
He admits it's in the last part of his career, but Broad has made it clear that he wants to lead the offensive, even though recent injury fears mean James Anderson and Ollie Robinson will be in the lurch for next week's Test against Ireland. and revived under the leadership of coach Brendon McCullum and captain Ben Stokes.
"What do they call him, twilight? It's kind of the end of his career, right? But I'm still very hungry," he said.
"Ultimately, I play sports and cricket for the competitive side. I love the competitive impulse that bowling in the batter gives you. You beat the outside edge and it's no payoff, but then you slam someone back and it's through the door. That kind of feeling is so addicting to me.
"The addiction to being in this locker room is pretty strong. Big thanks to Rob Key (cricket director), Baz McCullum and Stokesy – they've done everything about playing for them. England 10 out of 10. I'm 36, I'm turning 37 but I've always said that if my competitive burn goes, then I won't be the cricketer I was then, but my competitive burn is alive.
Broad is known for his ability to lead the crowd during key passages of the game, often garnering support at the top of his goal and enjoying fan-favourite status for his ability to liquidate the Australian troop.
He's long been credited with the "he's big, he's bad, he's better than his dad" chant – a reference to dad Chris, an outstanding opening batsman and now ICC match referee.
Now Barmy ArmyShe tore up the songbook with Marmite and worked on a new song to the tune of Abba's Voulez-Vous, and Broad is looking forward to hearing her voice from the stands in the coming weeks.
"I played the song to my wife, Mollie, this morning. We've both been whistling the song since morning," he said.
"I'm looking forward to Barmy Army singing the song for the first time. I can talk to them and time it well, maybe when I get a wicket… the first Ashes Test in Edgbaston will be electrified.
"It's also good to raise my father's morale. Being told that I was better than him bought him enough time."
[pub1]