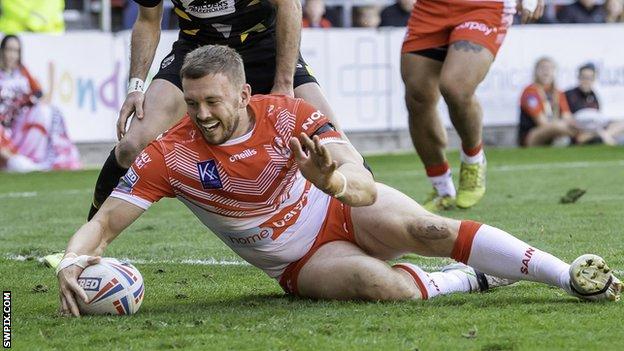 St. Helens (13) 19
Trials:
2nd batch, Bennison
Goals:
makinson 3
Target drop:
lomax
Salford (6) 12
Trials:
Watkins, Brierley
Goals:
Sneyd 2
St Helens built on Salford's enthusiastic second half effort to win the Super League semi-final and book a Grand Final date against Leeds.
Joe Batchelor's first-half double and Jonny Lomax's goal gave Kristian Woolf's team a 13-6 lead, which was responded by Kallum Watkins' score.
Ryan Brierley brought Salford back by one point with a second half goal.
Jon Bennison was late to make sure the job was done for the Saints.
This victory means the Saints are able to continue sending out departed coach Woolf with a Grand Final to remember, as they hit a fourth consecutive showing.
Under Queenslander's rule, the Saints became a defensive force to continue with their sparkling attack, and they needed all that determination and courage to crush a stubborn Salford.
Lomax kept the ball on the string throughout his short-kick game, freeing Batchelor and Bennison to score, and bravely played down the line despite a wild slit in his head.
It looks like Salford could have had a tough afternoon early on as they rode the storm thrown at them by the Saints and were only pulled back by seven after Watkins counterattacked grain from Marc Sneyd pass.
When they first caught the Saints with a rebrand, he produced invaluable points for pulling them into a spot, Tim Lafai scorching Joe Burgess from the left and freeing Brierley to go under the posts.
As a result, the negligence of key quarterback Brodie Croft through concussion protocols and the subsequent loss of influential hooker Andy Ackers during the game for the same reason left Salford uncrafted to go with their unmistakable graft.
St. Helens: Bennison, Makinson, Percival, Hurrell, Welsby, Lomax, Roby, Mata'utia, Batchelor, Knowles, Sironen, Paasi, Lees.
Changes: Lussick, McCarthy-Scarsbrook, Wingfield, Bell.
Sin-bin: Knowles (24), Makinson (75).
Salford: Brierley, Sio, Watkins, Lafai, Burgess, Sneyd, Atkin, Ackers, Wright, Taylor, Vuniyayawa, Ormondroyd, Cross.
Changes: Luckley, Bourouh, Gerrard, Dupree.
Judge: Chris Kendall (RFL)