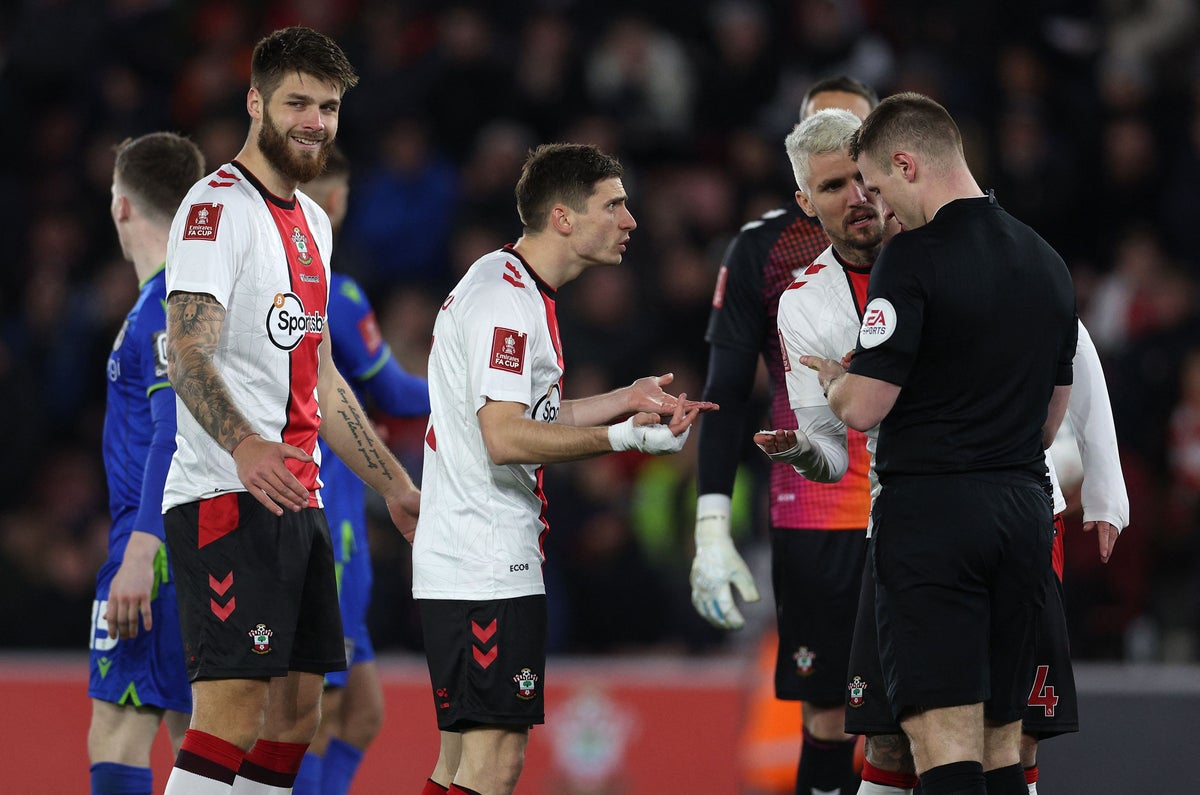 To join Southampton captain Kyle Walker-Peters waiting for teammates Lyanco and Duje Caleta-Car to regret the unexplained mistakes gifted to League Two. Grimsby Town ONE FA Cup Sad at St Mary's.
The Premier League bottom club suffered another big drop in a miserable season and the Mariners advanced to the quarterfinals with a 2-1 win thanks to Gavan Holohan's penalties at halftime.
Lyanco conceded the first point-blank, mistaking a header, without pressing a Josh Emmanuel cross, just after the restart to give Holohan a 12-yard second chance, before friend Caleta-Car grumpyly slapped Danilo Orsi in the back.
Full-back Walker-Peters captained the Saints on an embarrassing evening, and regular captain James Ward-Prowse started the fifth round draw on the bench as part of nine substitutions by manager Ruben Selles.
"I always felt we were going to score and we were in control, until we dropped a little bit, we didn't keep the pressure high and they went to the other end and we gave a bit of a sloppy penalty," Walker told the website of the Peters club.
"I didn't really see the second[penalty thing]but if they have a VAR and they give it, then there must be something in it.
"It's something Lyanco and Duje will definitely be upset about, but they know that things like this can't happen because we have to win every game possible."
Lyanco's mistake was spotted by VAR, and after a long wait of about six minutes, Holohan calmly put Grimsby ahead.
Referee Thomas Bramall didn't need Stockley Park's help for the second decision and was a little hesitant to mark the spot after Caleta-Car attacked unnecessarily after already extinguishing the danger.
The Croatian international cut the lead in half with 25 minutes left in Ward-Prowse's corner, but Southampton were unable to prevent a humiliating exit after Theo Walcott knocked out a possible equalizer for offside during the review.
British international Walker-Peters insist, starting with Saturday's visit to Leicester, that the Saints must quickly move away from the humble event to avoid relegation.
"It's always difficult when you lose 2-0 to a lower league team because they defend everything with their lives and they honor Grimsby, they did it," he said.
"Right now we have to focus on the league because we want to stay in the league.
"Every game is vital, we need three points and we have to take the positive aspects of this game and try to put it into Saturday's game.
"No match in the Premier League is easy. I expect a difficult match. We will be ready for it and hope to win."