Wild storms have caused South Australia's worst power outages since the entire state went dark in 2016, as flash floods wreaked havoc in parts of New South Wales and Victoria.
More than 423,000 lightning strikes were recorded in South Africa on Sunday. Strong winds brought down trees and SA Power Networks received more than 500 reports of downed wires.
About 163,000 homes and businesses were left without power as SA was cut off from the national electricity grid after the interconnector with Victoria went down. Some will not be connected until Wednesday.
SAPN spokesman Paul Roberts said in one sense the outages over the weekend were worse than the 2016 event because it would take "much longer" to fix as the network had to be rebuilt, not just reconnected.
"The statewide power outage has essentially reorganized the supply in the grid … brought us back from zero supply," he told ABC radio on Monday morning. "This is really about rebuilding the network."
NSW towns flooded
People stuck in floodwaters in a flooded NSW town have been rescued after storms hit the central west, bringing widespread rain that led to flash flooding as more people were told to evacuate as rising waters left towns isolated.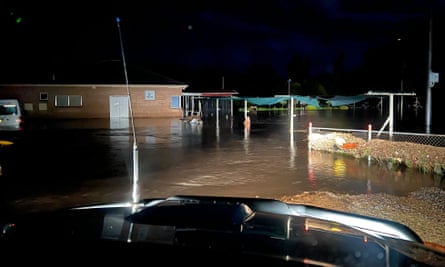 The force of the flood smashed shop windows and collapsed the back wall of a local supermarket in the central western town of Molong, Fire and Rescue NSW said in a statement on Monday.
Fire and rescue crews in Molong rushed into action around midnight, helping the National Emergency Service and other agencies to knock on the doors of threatened homes and evacuate people.
A makeshift landing strip, with flashing lights, was set up on the Molong Central School oval to guide ADF helicopters to help rescue people trapped in floodwater and conduct medical evacuations.
Fire crews also rescued two people and their dog from knee-deep water inside the home and another couple from the top floor of the motel.
Firefighters and a police officer waded through chest-deep water to reach another woman who was stranded in her flooded home.
At least two large shipping containers were carried by the flood through the center of the historic city and are blocking the Mitchell Freeway.
Roadblocks were set up to prevent heavy vehicles from passing through the flood waters and causing further damage, and an evacuation center was opened at the RSL club.
Firefighters say the floodwaters are receding and have begun clearing a large amount of mud and debris from the streets of Molonga.
Agencies warned over the weekend that storm watch cells across eastern Australia were likely to bring additional stress to many already flooded regional areas in NSW and Victoria.
The weather system would bring further thunderstorms, heavy downpours and likely river rises to inland NSW on Monday, a concern for NSW SES, Assistant Commissioner Nicole Hogan said.
"We understand this is the last thing you want to hear, as flooding affects multiple communities in inland NSW," she said.
A cold front across NSW on Sunday continued into Monday, bringing storms and bad weather. Snow is expected in the Alps and central highlands.
Flooding continues across western and southern NSW, in towns including Collarenebri, Walgett, Bourke, Condobolin, Hay and Albury.
In the east, around 61mm of rain fell on the Northern Rivers town of Grafton in just one hour on Saturday night, leading to flash flooding and five calls for SES assistance.
Flash floods hit Victoria again
Flash floods have hit Victoria's Mornington Peninsula, where residents have been warned to stay indoors during a sudden early morning downpour.
A watch and act warning was issued for Mount Martha, Mornington, Hastings and Droman on Monday morning as heavy rain caused localized flash flooding and damage to buildings.
Residents were told to stay indoors and away from floodwaters due to the severe thunderstorm.
Victoria SES Chief Officer Tim Wiebusch said volunteers responded to more than 550 calls for help, 318 of which were for flooding, 104 for downed trees and 44 for damage to buildings.
He said Mount Martha and Mornington were hit with 40-50mm of rain in the space of a few hours and about 38 inland water rescues were carried out.
"The different people that were being rescued this morning were people trying to drive through the flash floods, but also (people) who saw the water level rising around their houses very, very quickly," he told ABC TV.
Wiebusch said there were also significant showers overnight in the northeast of the state, including 60 to 70 mm of rainfall in some areas.
There was extensive flooding on the Murray River at Albury-Wodonga and was expected to flow downstream to Yarrawonga and Tocumwala as more rain falls.
Wiebusch said flash flooding is expected to turn into major river flooding in the coming days as already saturated watersheds feel the impact of the additional water.