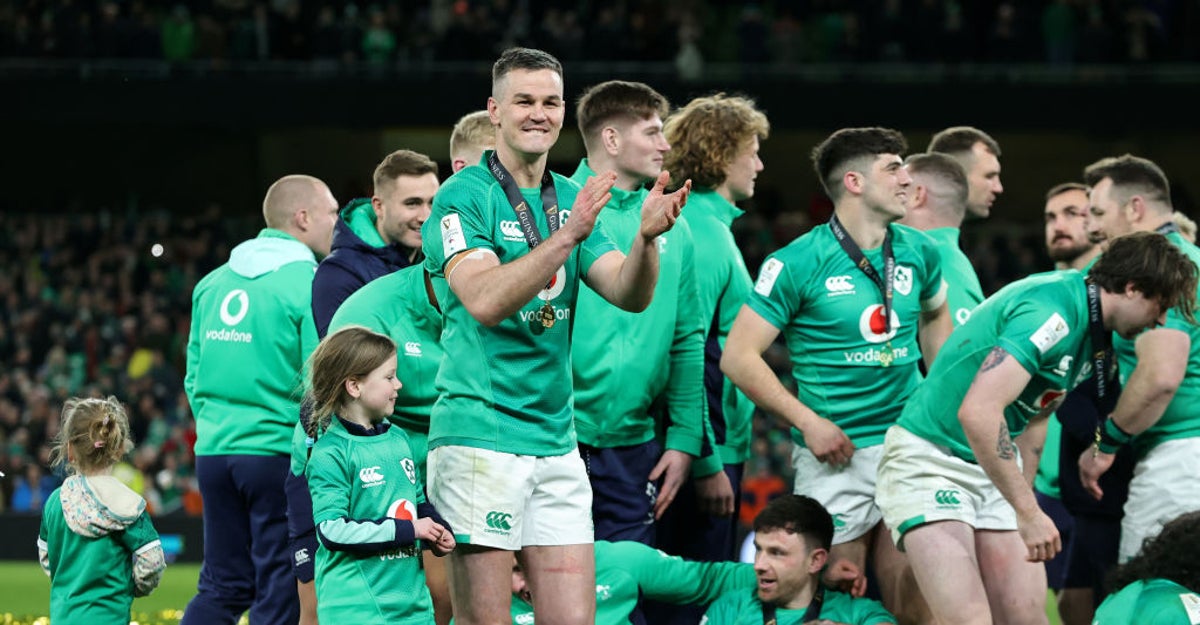 Like Ireland pushed the intruders out the door, the celebrations could begin properly. It was strikingly familiar to England's players – just as it was in Paris 12 months ago, left to watch from windows without being invited to the hottest party in town. This Six Nations In the end, the grand slam may have been more difficult than expected, but no one can dispute that Ireland's victory was well deserved.
"This is a high point, but I hope not the highest point" johnny sexton he said after raising the trophy, before the carousel came to the next challenge. "Move on to the World Cup – that's what we need to focus on now."
Who knows how the game would have turned out if Freddie Steward hadn't been fired, but you think Andy Farrell's successful players will find a way no matter the circumstances.
Ireland may have been dragged into a scrap on Saturday evening, but each of their five wins in the tournament came with a margin of at least 13 points. Over the past three years, Farrell and his team have meticulously placed the puzzle pieces with a few missteps and crowned a commanding campaign with a clean sweep in the belief that there is more to be gained.
HE England We would only be able to play a game of spoils, talking about the structural superiority that Ireland currently has. The state system continues to produce consistent Champions Cup and URC contenders, but still ensures that the national setup retains overall control. On Sunday, Ireland's Under-20 team signed off to back-to-back Grand Slams – the talent pipes keep flowing.
The non-negotiables, which were occasionally exchanged with England's surrender to France, were available at least at the Aviva Stadium, providing a partial face-saving and some directional signs. Physically and mentally, they were in the fight even after Steward's unfortunate red card.
But the bare facts are that England finished their international season with a record of four wins in ten games, and for the first time only two Six Nations wins in three consecutive tournaments.
Where Ireland is three deep with proven players in many positions, Steve Borthwick still hasn't nailed the bones of his side.
How many of Dublin's top five players are likely to be renamed when England kick off the World Cup against Argentina in Marseille on 9 September? Ellis Genge is a stray, almost certainly. Jamie George, Maro Itoje and Kyle Sinckler maybe, but it's been a while since any of the trio have done their best in a UK shirt. It would come as a surprise now that Owen Farrell was usurped and Freddie Steward nailed to the fullback.
Beyond that? Borthwick's notebook will be full of question marks. Zach Mercer is expected to be at number eight when he returns for four summers of warm-up testing, including another trip to Dublin. The England head coach is considering tweaking the pre-tournament camp plans put in place by his predecessor.
Expanded entry into the tournament reduces player access advantages enjoyed by other nations, allowing for better execution of strategies and improved cohesion. The addition of fitness guru Aled Walters, beloved in Leicester and 2019 winner with South Africa, should make a positive impact. Things are rarely as bad as they seem and England will get better when the World Cup arrives, but as a misguided former British prime minister realized, the idea of ​​quickly closing the chasm over the Irish Sea is exaggerated.
England's Test cricket counterparts show that quick change can be enforced, but divisions in English rugby are easily uncovered. Borthwick has already begun to murmur his displeasure at some aspects of the Professional Gaming Agreement (PGA), a deal that has not worked for him or the clubs he has chosen.
The agreement is currently ready for renegotiation, but any changes will not be implemented until summer 2024. At that point, Premiership will be making a soft relaunch in hopes of attracting more eyes to a consistently fun product. It could be scaled down a bit in the hope that it will better prepare the fighters for international rugby. Now may be the time to take a broader look at the British game and take a bold, fresh direction above Borthwick.
Because it's hard to get rid of the feeling that the UK has completely failed this four-year cycle. The RFU indulged Eddie Jones' World Cup obsession beyond the point of no return, but then changed course without letting the Australian carry out his plan. Worn relationships may have made Jones' position untenable, but this has left Borthwick on a rush job with an ill-equipped roster to challenge the best in the world. While Ireland can look to the fall with the confidence of real contenders, even the fact that England is at the World Cup ball may take a fairy tale or two.
Scotland 26-14 Italy
The final minutes of the last Six Nations game provided a neat recap of Italy's tournament, both very close and far away. A single match point and another wooden spoon is far from being the prize for a campaign where Italy really had trouble on every side they played. It may take a little extra street wit and game sense, but Kieran Crowley's junior cast will come again.
At the start of this campaign, indications were that this would be Gregor Townsend's last Six Nations as Scotland head coach, but now it looks like he could continue beyond the old halftime World Cup. Even as his team continues to improve, retaining a coach who's been in charge for six years feels like a bit of a gamble, and unfortunately a seemingly unlikely group stage exit in France could make any overtime look silly.
France 41-28 Wales
It didn't sound like much for France to follow the Twickenham record, but there were still plenty of sweet moments to beat Wales. Warren Gatland's side was much more developed and seemed to have caught the hosts off guard with a more adventurous dumping game – if that's a Six Nations goodbye for some of their former teams, as Gatland predicted, then at least they finished with a showdown.
Defensively, a few loose moments will haunt the France coaching team, but the way the stadium moves every time their side gets bustling is raising the appetite for autumn, when crowded pitches across the country should only highlight a tournament that promises a lot. .