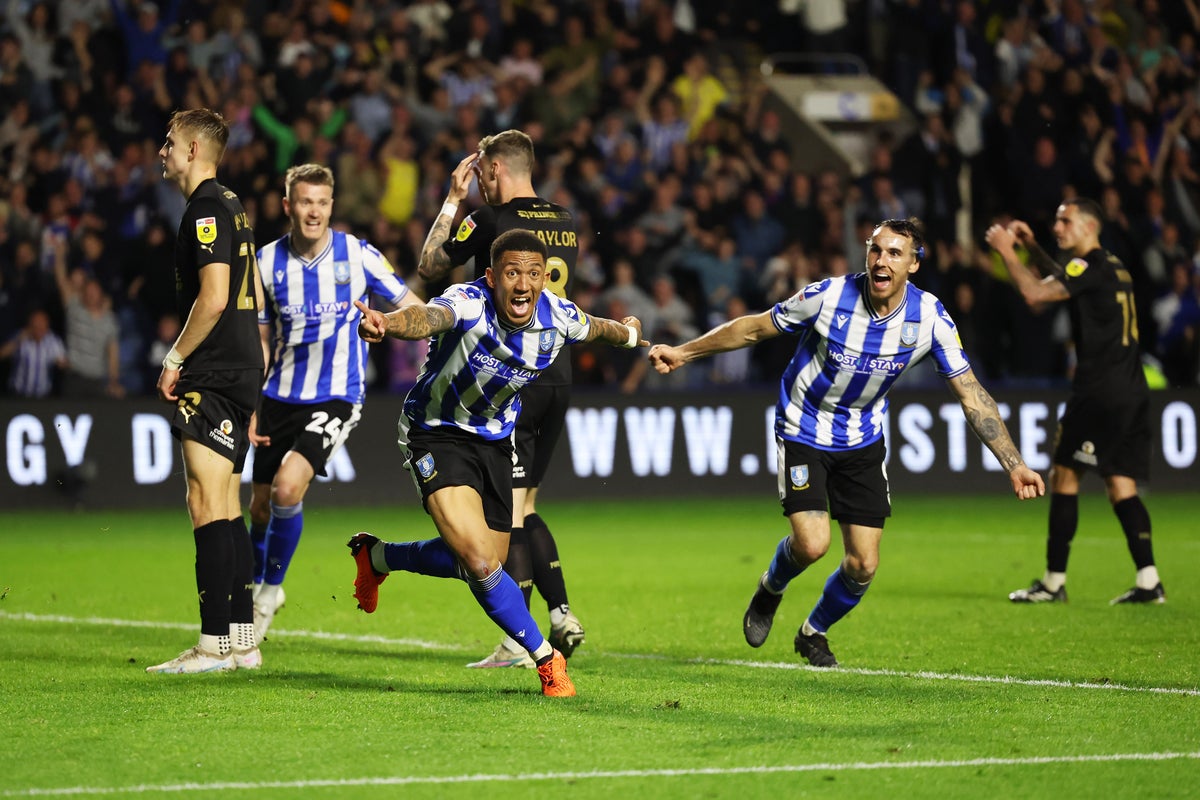 Sheffield Wednesday made the biggest comeback in its history Football League As a stunning challenge, the playoff date has made it into the standings. First Division Final thanks to a 5-3 win on penalties after breaking a four-goal first-game deficit for a 5-1 win after extra time.
Hillsborough needed early goals to rekindle the draw and scored twice in the first 25 minutes thanks to a Michael Smith penalty and Lee Gregory. peterborough Ephron had a chance to break the tie through Mason-Clarke and Kwame Poku, but Cameron Dawson stood strong to reject them.
With 20 minutes left, Reece James pulled the hosts into one of Peterborough's total lead, and Hillsborough's roof was blown off when Liam Palmer finished fourth with the final stroke of regular time.
Peterborough took the lead once again in extra time after Gregory nods to their own net and Wednesday smashed Calum Paterson on penalties in a spectacular way – Wednesday's sensational comeback as Jack Hunt transforms after Dan Butler hits the crossbar with the single miss of the shootout. sealed. .
Wednesday's early goal-scoring wish came true after Marvin Johnson was knocked down the field by Joe Ward – Smith sent Will Norris down the wrong path to cut the deficit to three to bring the match to life.
Peterborough had a chance to regain their big advantage 10 minutes later when Poku found himself in the void inside the field but made an effort directly at Dawson.
Posh was catching on Wednesday when they went looking for an early second and got another shot, but Mason-Clarke's effort from off-site had to be recaptured by Dawson.
The Owls cut Peterborough's overall advantage in half, 25 minutes after Paterson found himself outside with the ball again, turning his low-mid home with Gregory, goalkeeper Norris, in no one.
Peterborough remained a threat on the counterattack and nearly scored the much-needed goal when Mason-Clarke was locked in the ball by Jack Taylor for a break but was rejected by Dawson a second time in the half to keep the score 2-0.
The hosts started the second half in a similar fashion to the first, with Norris making an outstanding save to clear Gregory's bicycle kick into goal.
Waves of Wednesday attacks were coming in on the Posh defense, and this time they seemed to stumble from the draw. Josh Windass' first kick was covered by Norris to deny another goal.
It seemed like it was only a matter of time before Darren Moore's side attacked again, and they did so when James found himself one-on-one with Norris and coldly came home to build a nerve in the last 20 minutes.
The home team thought they had hit their fourth shot, but Dominic Iorfa's head shot from inside the box reached Norris' grateful grasp.
Peterborough looked like they had taken their place at Wembley, but as we entered 98 minutes Wednesday had other ideas, Aden Flint's head hit a long ball into the penalty area and Palmer rallied home to send the game into overtime.
Under pressure from Nathan Thompson, the visitors took the lead when Gregory swung Butler's free kick into an own goal in this spectacular playoff match.
Wednesday looked down again, but came back with another equalizer when Paterson slammed home in the 112th minute and sent the game into penalty shootouts and Butler's miss proved crucial as Hunt's winning shot signaled a pitch invasion.
[pub1]