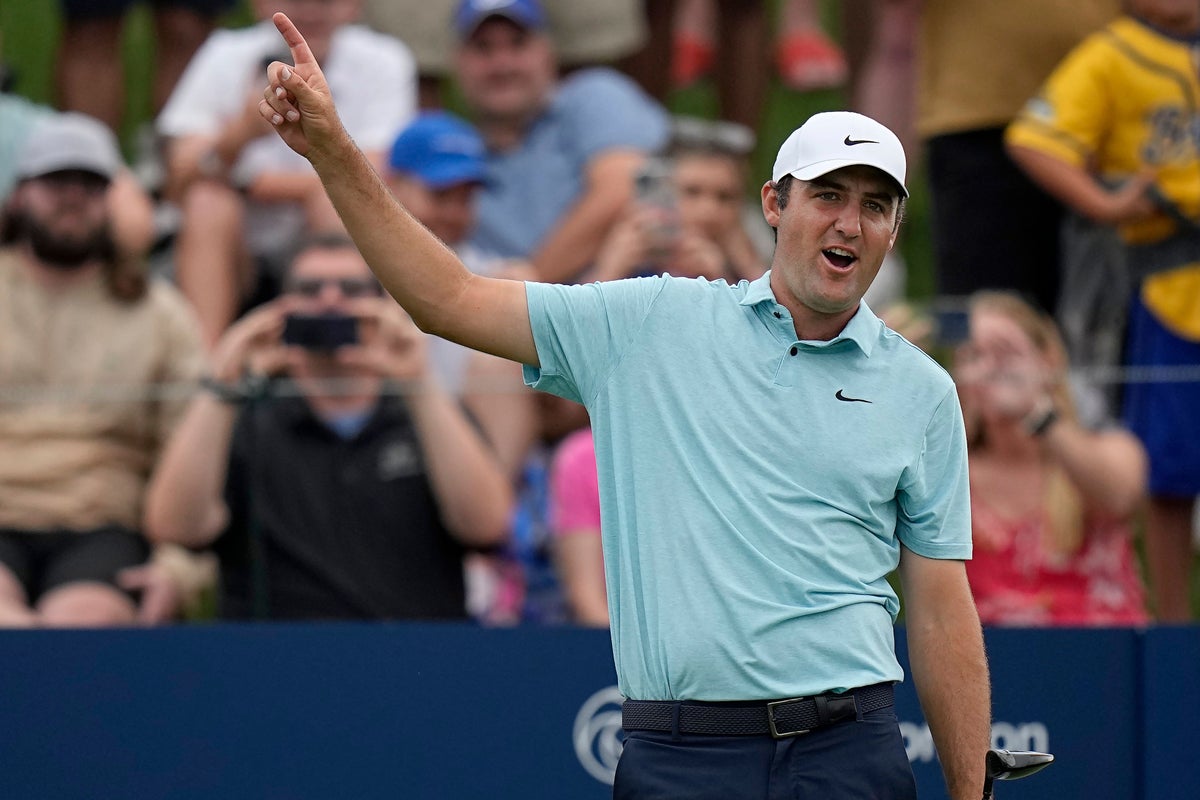 Scottie Scheffler He put on an outstanding performance to regain the world's number one spot with a five-stroke victory in the Players' Championship.
The American responded to a strong challenge as British Tyrrell Hatton took a final 69 shot at TPC Sawgrass on Sunday and won by 17 underscores.
Scheffler effectively secured the victory with an eighth to five consecutive birdie series.
Hatton finished second at 12, after a spectacular 65 that included seven birdies on a course equal to 29 out of 12.
Norway's Victor Hovland and American Tom Hoge finished under 10. Hideki Matsuyamawho briefly threatened Scheffler at nine.
Now replacing Jon Rahm at the top of the world rankings, Scheffler started the day with a two-pitch lead and was relieved to have the job done.
He told Sky Sports: "I did a really good job being patient, not pushing things, and then I warmed up in the middle of the round and tried to put things aside as quickly as I could.
"The last part was pretty tough, especially considering how windy it was. The shots on 17 were tough. I'm so thankful, relieved and a little tired."
Scheffler initially gave his opponents hope with a shaky start.
Game partner Min Woo Lee canceled his advantage in the opening of the three holes.
The Australian flanked the opener and then Scheffler found himself in a share of the lead after missing a short hit to bogey the third.
Pressure was suddenly on the American as Matsuyama sprinted further down the course to strike.
Still, neither Lee nor Matsuyama could continue their challenge.
This JapaneseRaising the leaderboard with seven birds, he took the 14th-place double bogey six and then took another hit in the final.
Meanwhile, Lee ruined the fourth, having to scrape the roughness first and then take a drop after finding water. He eventually finished the triple bogey with a seven, and another seven on the 11th meant his tournament would end in the non-climax eight.
Unable to find his step, Scheffler's lead was back to three, but there was still little room for error as Hatton finished strong.
Hatton came alive after the turn with his powerful run, including birds, on each of the last five holes to set a tough clubhouse goal.
Leaving the last course, he was only two-by-two ahead and may have sensed an unexpected opportunity for victory.
"I just wanted to finish with as many birds as possible," Hatton told Sky Sports after finishing the round in style after a spectacular approach from behind a tree at Turn 18. "Luckily I gave myself some great chances and the shooter cooperated."
It was at this point that Scheffler began to challenge. He stepped in in the eighth place and ignited the victorious run.
He took a shot on the 14th but never seemed to relinquish his dominance and when he found the heart of the green on the always difficult 17th, the celebrations could almost begin.
Hoge, Hovland, Sungjae Im, Max Homa and Cam Davis threatened to get into an argument on various points, but their chances dwindled as Scheffler retreated.
British Tommy Fleetwood and overnight, fourth partner Aaron Rai struggled to find their spark. Rai did four bogeys and a double at the 17th and finished in six, where he was memorably successful on Saturday at the 75th. Fleetwood was one more shot behind after three bogeys and two doubles – again in 17th – in a round of 76.
Justin Rose was never a contender, but seemed poised for a good finish until he picked up five on the 17th. This saw him drop eight-under and eventually a seven-way tie for sixth place.
The 17 wasn't a nightmare for everyone, but Alex Smalley became the third player to punch an all-in-one par-three this week.
His incredible shot didn't even touch the pitch as the ball bounced off the hard floor straight into the hole. Finished one.