Key events
That's it from me. What a finish to what was a scrappy but entertaining game. Scotland take five points after Blair Kinghorn, so often labeled a stand-in, grabbed a hat-trick with Duhan van der Merwe scoring a sub try of his own. Italy gave a good account of themselves and might have managed to take it had they been more accurate when it counted. The scoreline doesn't reflect how close they came but is a fair reflection of Scotland's brilliance for most of the contest.
Hope you liked it. Stay tuned for the report from the threads to come. Catch you again soon.
Here is the Italian captain, Michele Lamaro:

It is the best tournament in the world. I think it's nothing to be ashamed of (finishes last). We showed our rugby, we showed our identity. But we have to improve to start winning at this level.
Correction from previous post. It was from last year. Excuse. All that excitement. I'm told Duhan has broken his own record this season.
Now Scotland captain Jamie Ritchie:
When you win a Test match, it's always a good feeling. Itlay deserved more from this tournament. I'm glad we won this game.

I credit Italy. It was difficult to get the ball away from them.

We had the penalty advantage and we are a team that loves to play. And within the wider context of the tournament we (went for bonkers attempts).

Before the tournament I said one good would be five good performances. We had four and a half. Happy with third place, hopefully, behind the two best teams in the world.
Italy was right there. But Scotland would have the last word with this amazing:
Here are the players of the match, Jack Dempsey:
It was a bit scary towards the end. Thanks to the front line for getting us out of trouble. It was knee-jerk stuff at the end. Credit to the tight five.

Italy is a grumpy team, a nice team, thanks to them.

We attacked this tournament with our eyes on everything. But the French team and the Irish team are a little too classy. It's great to come to this hemisphere and see the quality of rugby in Europe.
Full time: Scotland 26-14
Right at the death, under a golden blanket of Edinburgh sunshine, Scotland secure third place this year Six Nations with Kinghorn claiming a hat-trick after a move that went the length of the field. Scotland weren't great but they were good enough when it counted. Italy were mostly poor and, despite some flashes of brilliance, they will know that greater precision and better execution could have won this. They are close, but today's game shows that they are still in progress. As for Scotland, they are moving in the right direction. Big players, especially player of the match, Jack Dempsey, stood up. BBC panel laments lack of ruthlessness from Italy. What a shame. I thought they were in but wouldn't be.
TRY! Scotland 26-14 (Kinghorn, 80)
UNREAL!!! Oh wow! Blair Kinghorn has just scored a hat-trick in the most spectacular fashion. Ali Price receives the ball from a solid Scottish scrum under his own posts. They have a penalty advantage but instead of kicking the ball out and ending the game, they choose to run it. It is passed on to Van der Merwe who accelerates into space and the field opens up. His inside ball is perfect and Kinghorn runs through to score his third try. He has the final say on the conversion.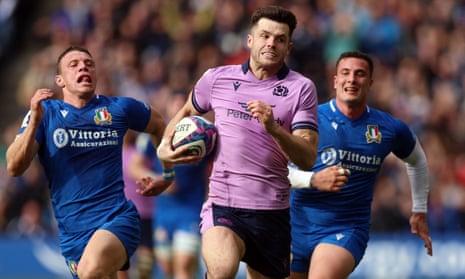 79 min: Press and go. Manfredi carries. So does Lamaro. One meter out. Scotland have the scrum! They might also have the game. It's a call from the assistant referee. It's a knock. Maybe it went straight down, but I don't think so, despite Lamaro's complaints. Inaccuracy from Italy but brave Scottish defence. That should be it. All on this scrum.
78 min: Two huge berries for that close. Garbisi dives and tries to force the ball around a tackler. He's airborne but can't get it down and taps it after a tackle from Steyn. Another Scotland player is offside so Italy have a penalty. Again. Can they do it?!
77 min: Line-out is good but maul goes down. Italy still has it. They are right below the posts. Ritchie reaches but can't get it. Van der Merwe pounces on a loose ball but Dempsey is offside although Scotland looked to be winning it back. What a moment. Italy has another chance. They will push and go from five out.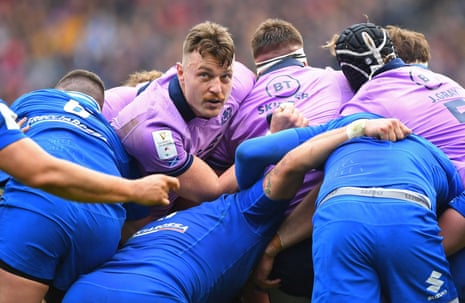 76 min: Brex then the younger Garbisi works the space on the right wing where Bruno breaks upfield. The ball goes back down the line after they manage to win it from a Hail Mary pass. Garbisi is pushed off the ball so Italy get a penalty and the free kick kicks to a corner. Momentum everything with Italy. They have a line-out five out.
75 min: Italy have the scrum deep in their own half. They have to get on the other side and make a try to win it.
74 min: Italy's line-out is stolen. It's a terrible throw and now Scotland have the ball back just outside the Italian 22. However, Italy regroup and a rush defense forces a knock from Matt Fagerson.
73 min: The Garbisi brothers combine before Brex charges in midfield Scotland take it away from him in the collision. Scotland kick. So does Italy. Scotland have it on the left wing. Cummings carries it in. Van der Merwe is looking for work. The price slows down in the middle of the park. He then spots space behind the Italian line and kicks into it. The ball bounces out for an Italian throw.
70 min: Nel on for Fagerson in the Scotland front row. Zanon on for Morisi for Italy in midfield.
69 min: Price grabs an interception as Italy steals a turnover within striking distance. The Scottish 9 runs 50 meters up the field. He drives forward. Italy flaps. He is brought down but the ball is recovered at pace and Scotland have a chance. Healy switches on it. It goes to the right and then to the left. Italy work hard to get back into form before Ruzza makes a huge steal on the ground to win a penalty.
68 min: A kicking contest ends with Scotland calling it quits inside Italy's half. Neither side is showing the same willingness to run from deep, perhaps a sign that this is getting tense. Redpath is in midfield in place of Tuipulotu and Healy comes into fly-half when Smith takes time off. Kinghorn will switch to full back.
Penalty! Scotland 19-14 Italy (Garbisi, 66)
Garbisi gets this one off his left boot just to the right of the posts about 30 yards back. Game on now.
65 min: Strong defending from Italy puts Scotland under pressure. The men in pink are loose and this allows Italy to swarm over the bobbing ball. Tuipulotu gets there first but he is punished for holding on. Italy will go for posts here. This would take them within an attempt to nod it.
It was fantastic from Garbisi. Just a lovely nice touch from the toe.
TRY! Scotland 19-11 Italy (Allan, 63)
An attempt from nothing. Ali Price's clearance kick finds no touch and Brex counters. His relief to Gesi keeps the momentum going. Garbisi takes the ball flat on the line and puts a grubber through on the left win and Allan is sharp enough to collect it on the bounce and dot down. He misses the conversion so Italy are still beyond a converted try away from home, but the comeback is on.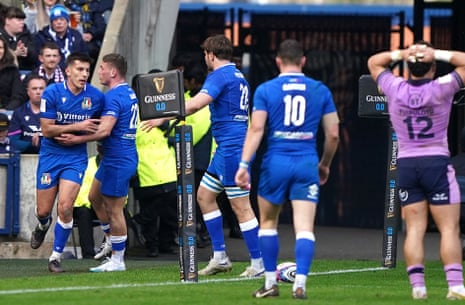 61 min: The Italian line-out is safe this time. The ball worms its way onto the pitch. But they can't stitch together a cohesive move and Dempsey has the ball in his hands.
60 minutes: Allan counters after punching in a kick and lays off to Gesi. He does well to keep the ball in the field on the right wing. Some kick tennis keeps the ball in play. Both teams look snapped. Gray strays offside so Garbisi tries a sweet pop kick to Gesi again, but it's full. And breathe… Penalty for offside. Garbisi takes it into contact.
Price replaces White. Cummings for Grey. Sutherland for Schoeman.
57 min: A bad throw means the line-out is spilled and Italy have it back. Brex and then Allan carry without much success. They are 10 meters into Scotland's half. Morisi accuses. Eight phases before Paolo Garbisi puts in a nothing kick and Steyn settles without pressure.
56 min: Another penalty at the scrum against Italy. Fischetti swings in and then collapses under pressure. Scotland run up the field.
54 min: Italy plunge in line out. Kieran Crowley must be tearing his hair out. White's clearing kick is good. Italy play it quickly and Allan's goal kick finds Morisi. There is a forward pass after contact. Scotland scrum. It's all starting to get a little broken.
53 min: Ruzza takes it down and the maul moves forward. Scotland give away a penalty after an offside tackle. Matt Fagerson to blame for that. It's three quick penalties in a row that have taken Italy from their own 22 right to Scotland's try line. They go to the corner.
52 min: Ashman is offside so Italy have another penalty and kick for a corner. They are within reach. A chance to grind.
51 min: Italy goes over the top in that line-out. Brave right in their 22. They also get a penalty for a high tackle and clear beyond the halfway line. Fagerson the guilty man there.