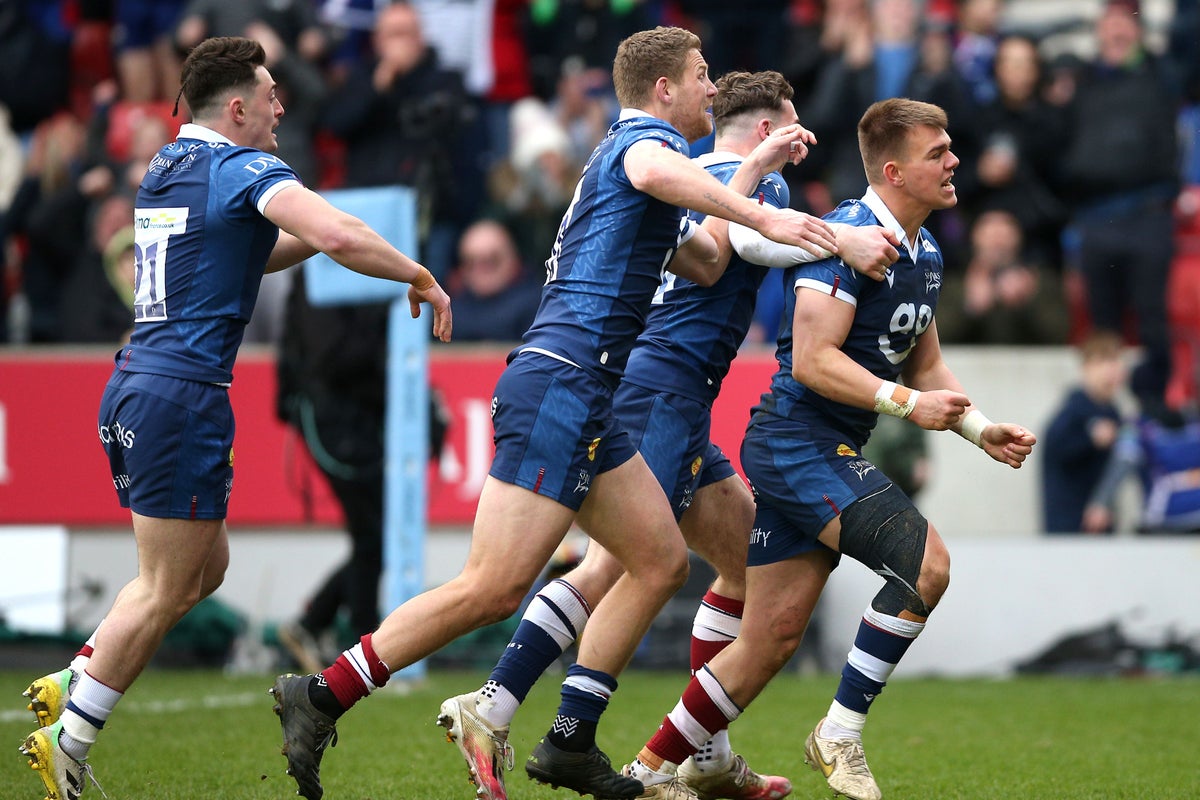 Two tries for fullback Joe Carpenter, Sharks For Sale when they cut the space above Premier League beating the table to six points Saracens 35-24 in the exciting game at AJ Bell Stadium.
Back 16-0, Sale looked unlikely but was shown the yellow card. Alex Goode and a late red for Robin Hislop was ultimately decisive.
Sam James, Jono Ross and Jean Luc du-Preez were also in the trial score, and Rob du Preez converted all five.
Alex Lewington, Theo Dan and Kapeli Pifeleti made the Saracens tryouts, while Goode scored two and Manu Vunipola a penalty.
The Saracens came out of the traps faster and were rewarded with an early lead when Goode scored a simple penalty.
The visitors continued to look sharper in the opening exchanges with both wingers, Sean Maitland and Lewington disturb the defense with his elusive runs.
The trial line was hardly threatened, however, and it was not surprising that the next score was another penalty from Goode.
In the 20th minute, Saracens made an excellent attempt. Always on the alert, Goode was provocative, with several long passes that resulted in Maitland running away for an easy entry into Lewington.
Despite playing in front of the biggest crowds of this season in that opening quarter, an oddly subdued Sale hadn't made a worthwhile shot, and his troubles continued when Dan finished an unstoppable line-out drive for the Saracens' second try.
The sale needed a boost and they got one when Goode was shown the yellow card for blocking Tom O'Flaherty and the hosts took advantage immediately.
They got the ball from a close-range formation and moved the ball wide to create a tryout for Carpenter, but the Saracens soon responded with a penalty from Vunipola.
Goode was still absent when Sale made his second attempt. O'Flaherty rushed to send the defensive pass to James, and despite looking suspiciously ahead, the trial was awarded. A second conversion from Rob du Preez beat the home team 19-14 in the range.
Two minutes after the restart, Goode was back in time and saw Sale nearly score again, and a spectacular run from O'Flaherty was blocked by a breathless tackle from Alex Lozowski.
Sale was a completely different beast from their no longer brilliant opening, and at 54 minutes, Carpenter smashed through the visitors' defenses on his second try and the transformation gave them the lead for the first time.
It was now a one-way traffic, and the hosts had their bonus point attempts when Ross hit.
Sale kept it under control, but his rivals regained some of their momentum with a third attempt when the backup Pifeleti finished a driving line-up.
The game was balanced, but even though prop Hislop was sent to challenge the impressive Carpenter head-to-head with 11 minutes left, the Saracens still finished stronger and took some heroic defense from Sale to keep them out.
At the last minute, Sale broke out as Jean – Luc du Preez scored his fifth goal and deprived the Saracens of a well-deserved bonus point.