Spoke just days after a large majority of the UN General Assembly passed a resolution calls for the immediate withdrawal of Russian troops from Ukraine, The UN chief emphasized that Russia's decision to go to war with its neighbor on February 24, 2022 had unleashed "widespread death, destruction and displacement".
Also present at the opening of the 52ndn.d meeting of the Geneva-based council, the president of the UN General Assembly, Csaba Kőrösi, issued a stark warning that Russia's actions had "effectively paralyzed"the Safety advice in New York, the foremost international forum tasked with maintaining peace and security.
The The Security Council, like the General Assembly, was at a crossroadshe said.
Many countries are still struggling to recover from this COVID 19 pandemic and more than 70 countries are in debt in the midst of a global cost of living crisis, continued Kőrösi, with women and girls "systematically marginalized" in many countries.
Amid such "unprecedented … interconnected" crises, the General Assembly president said nothing less than a fundamental shift in the global response was needed, particularly in addressing climate change, which is already an existential threat to many societies.
Confirmed abuses in Ukraine
In addition to "terrible suffering" caused by repeated shelling of Ukrainian cities and vital infrastructure, Guterres added that dozens of cases of conflict-related sexual violence against men, women and girlshad been documented in Ukraine over the past year.
"Serious violations of international humanitarian and human rights law against prisoners of war and hundreds of cases of enforced disappearance and arbitrary detention of civilians" have been revealed in the past 12 months, the UN secretary-general said Council for Human Rights Member States, as they came together for an unparalleled marathon close to six weeks in Geneva.
As part of the Human Rights Council's planned work, its 47 member states will hear an update from the Council Independent International Commission of Inquiry on Ukraine on March 20.
The inquiry was launched in March last year, after member states adopted a resolution on the human rights situation in Ukraine as a result of Russian aggression. The work of the three commissioners complements the existing UN human rights monitoring mission in Ukraine (HRMMU), which, among other things, collects testimonies about possible war crimes.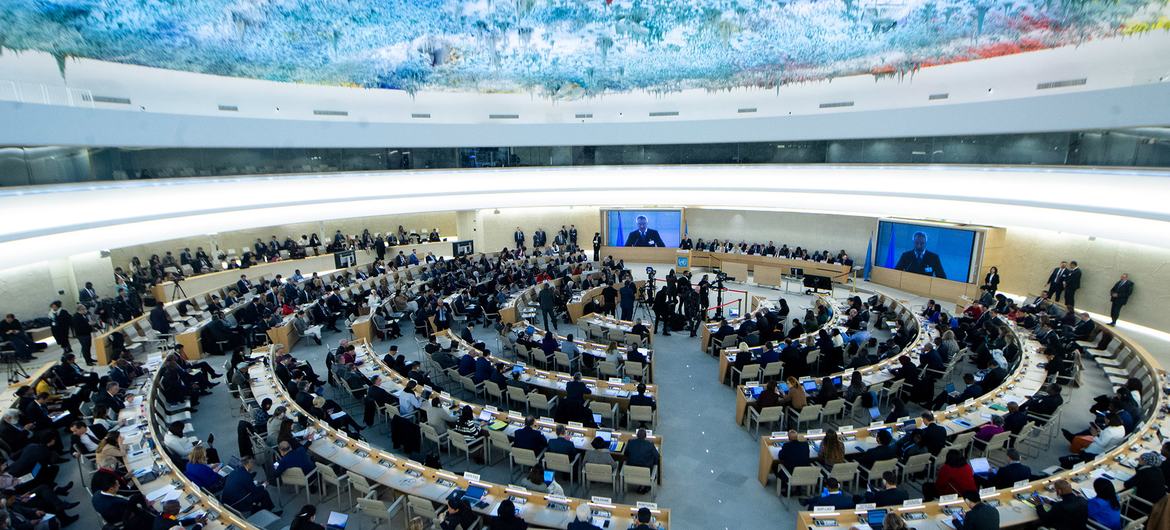 Universal truths
To highlight the enduring value of The Universal Declaration of Human Rights – adopted 75 years ago by the international community after World War II to avoid a repeat of that disaster – Guterres warned that while it should be humanity's common plan, some governments "use it as a wrecking ball".
The UN chief led a call to "stand on the right side of history" and insisted now was the time to "stand up for human rights for everyone, everywhere". We should all "revitalize" the Universal Declaration, which establishes everyone's right "to life, liberty and security; to equality before the law; to freedom of expression; to seek asylum; to work, to health care and education," he said.
Linking a century of progress in human rights to "remarkable leaps" in human development, Guterres noted that in 1900, 80 percent of people around the world lived in poverty, but that figure had fallen to less than 10 percent in 2015.
And although the average life expectancy in the last 100 years has since increased from 32 years to more than 70, the UN chief warned that many 21St the challenges of the century face us today.
"Extreme poverty and hunger are increasing for the first time in decades. Almost half of the world's population, 3.5 billion people, live in climate hotspots… Just yesterday, another terrible shipwreck in the Mediterranean claimed the lives of scores of people who were seeking a better future for themselves and their children," said the UN Secretary-General as he warned that anti-Semitism, anti-Muslim bigotry, the persecution of Christians, racism and white supremacist ideology it was all "on the march".
UN rights chief's call to nations
In line with the Secretary-General's strong appeal to all nations to adhere to the Universal Declaration, UN High Commissioner for Human Rights Volker Türk insisted that basic human rights are much better understood today than ever before.
Still, "oppression…may return, in different guises", the UN rights chief continued, as he pointed to Russia's invasion of Ukraine as representative of "old destructive wars of aggression from a bygone era with worldwide consequences".
Contemporary opportunities provided by digital innovation should be harnessed "to tackle our greatest challenges: poverty, climate change and inequality, Mr. Türk insisted. "If ever there was a moment to revive hope for human rights for every person, it is now."
The very survival of humanity "depends on us finding a way back to the common language", the UN rights chief continued, as he called on member states to "address the rights of your people to freedom from want and to freedom from fear on equal terms".
Calling for global solidarity and underscoring the Secretary-General's observation that the Universal Declaration reflected the wisdom expressed in ancient texts, including the Hindu Vedas, the ancient Chinese Analects of Confucius, the Bible and the Koran, High Commissioner Türk insisted that it "not only expresses ancient wisdom from all cultures but will ensure our survival".