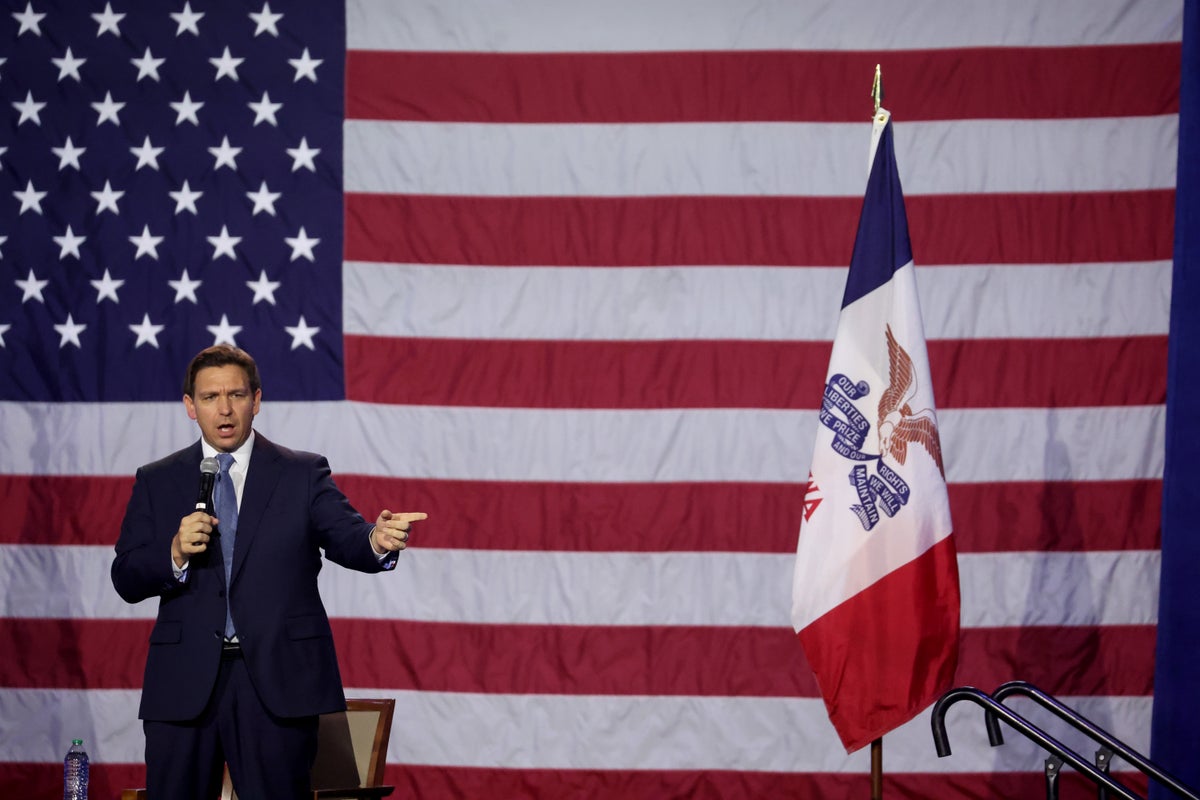 Ron DeSantis has redoubled its attacks on Donald Trump a head of the former president's anticipated prosecution and their likely clash in 2024 for Republican presidential nomination.
Florida's governor told Piers Morgan in an interview that he was not fazed by Trump's taunting and labeling him "Ron DeSanctimonious" in the recent attacks.
"I don't know how to spell the saint. I don't really know what it means, but I like it, it's long, it has a lot of vowels. We go with it, it's good." he continued to Morgan Piers Morgan uncensored.
"I mean you can call me whatever you want, just as long as you also call me a winner because that's what we've been able to do in Florida, put a lot of points on the board and really take this state to the next level."
Mr. DeSantis told Morgan that he has no plans to regularly respond to Trump's personal attacks if he formally jumps into the race for the White House.
"To me, it's just background noise," he said. "It's not important to me to fight with people on social media. It accomplishes nothing for the people I represent.
"So, we're really just focused on winning, day after day, and if I got involved in everything in tow, I wouldn't be able to be an effective governor. So I don't think that's something that makes sense to me."
The latest comments from Mr DeSantis come a day after he failed to publicly endorse Trump amid claims by the former president himself that he will soon be indicted for hush money to adult film star Stormy Daniels.
UPDATE: I spent over an hour yesterday interviewing@GovRonDeSantisat his governor's mansion in Florida. We talked about Trump, Biden, Ukraine, love, sadness, chocolate cake and his likely presidential candidacy. He has never given a more personal or revealing interview. Keep your Eyes open! pic.twitter.com/nDYG5vS4JF

— Piers Morgan (@piersmorgan) March 21, 2023
"I don't know what goes into paying hush money to a porn star to keep quiet about some kind of alleged affair," DeSantis said this at a press conference in Panama City, Florida. "I just, I can't talk to it."
And he added: I have real problems to deal with here in the state of Florida.
Mr. Trump responded by personally attacking DeSantis in a post on his social media platform Truth Social.
"Ron DeSanctimonious will probably find out about the FALSE ACCUSATIONS AND FALSE STORIES at some point in the future, when he gets older, wiser and more famous, when he is unfairly and illegally attacked by a woman, even classmates who are 'minors' ( or possibly a man!).I'm sure he'll want to fight these misfits just like me! Trump wrote.
Morgan told DeSantis he had "made a fatal mistake" in his relationship with Trump by becoming "too popular," which the politician agreed his landslide re-election last November had affected.
"However, my opinion is that we should want the country to do well," Mr. DeSantis said. "I want other Republicans to do well. I want them to eclipse me. We're setting a good standard in Florida, let's all go."