TThe cult of the manager has reached new heights in Cameroon, where Rigobert Song's face looks down from countless roadside billboards and no current national player comes close to rivaling the coach's reputation.
Song certainly radiated an aura of his own as he entered a media theater in Doha on Wednesday evening, albeit fashionably late. Dressed in a shiny white tracksuit and a similarly shiny white baseball cap crowning his trademark long black dreadlocks – complete with a large brim – he looked more like a rock star on stage than a typical football manager.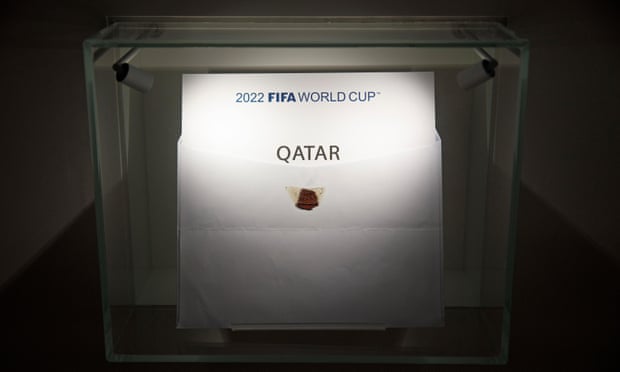 The former Liverpool and West Ham defender summed up his hopes for the Indomitable Lions' opening group game against Switzerland on Thursday, as a seemingly baffled audience took an endless array of photos of Song and his trademark gray goatee on mobile phones. seized the opportunity.
He was in an enthusiastic mood, not giving up on Switzerland's position 28 places above Cameroon in the Fifa standings and suggested that a surprise might be ready. "Switzerland will see our fire tomorrow," he said. "We don't care about the standings, they're just on paper. Who knew Saudi Arabia would beat Argentina? We are completely fit and focused. Our family tree will be revealed tomorrow."
Poor Samuel Oum Gouet is sitting next to the 24-year-old midfielder and Belgian Mechelen manager, barely uttering a word on the sidelines. Indeed, both the manager and the actor burst into laughter when a journalist asked Gouet a rare question.
After the briefing was over, Song descended from the stage and stood patiently, spreading his magic, as reporters and tournament officials lined up to shake hands, pose for selfies next to him, and have a little chat with a man who has played in four World Cups. .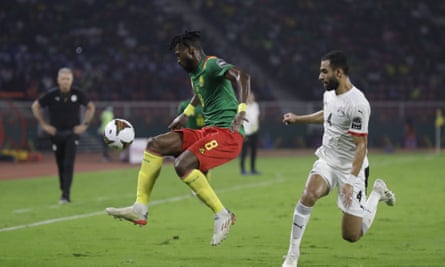 It seemed hard to believe that there was a moment when everything stopped for Cameroon's manager six years ago. Song fainted from a cerebral hemorrhage at the age of 40 and was in a coma for two days. Doctors at Yaoundé's emergency hospital decided that her brain aneurysm required specialist treatment in France and spent the next six months in Paris before returning to Cameroon, eventually resuming her coaching career in 2017.
Fast forward to February of this year and a coach who has spent the last five years working with the Cameroon Federation has replaced António Conceição as head coach of the Indomitable Lions.
Although Song's appointment came after a clear order from Cameroonian president Paul Biya, it looked like a turning point for a country that had imported a long line of foreign coaches – Conceição Portuguese.
Critics of Song—there are a few—may argue that he has no front-line managerial experience and is too comfortable for the role, but the majority seems willing to offer Cameroon's most talented actor the benefit of the doubt. Moreover, this seemingly relaxed demeanor does not seem incompatible, at least so far, with motivating players preparing to face not only Switzerland, but also Serbia and Brazil in the tough Group G, to rise to new heights.
Thanks in part to Song's pull, Cameroon has developed a useful habit of persuading dual nationals to choose to play for themselves, with high pressure and attack-oriented, especially on the flanks. Brentford forward Bryan Mbeumo epitomizes this trend by choosing to turn his back on France, the country where both he and his mother were born.
"We love music and we love to dance; It's amazing in our locker room," says the former French international teenager. "It's so much fun."
While Mbeumo's offensive skills have developed Cameroon, his brightest abilities lie in the midfield.
Part of his summary is to help Karl Brilliant Toko Ekambi score a goal, despite playing heavily on the left flank, who scored 38 goals in 108 games for Lyon and also scored five goals in this year's Africa Cup of Nations.
Significantly, Mbeumo was recruited as president of the Cameroon football federation for dinner in London by former Barcelona, ​​Internazionale, Chelsea and Everton forward Samuel Eto'o, who had flown privately from his home in west-central Africa, where Song is now his boss. .
"We're going to Qatar to win the World Cup," says Eto'o, as Cameroon has only one record of making progress from the group stage of the tournament (when they lost to Sir Bobby Robson's England after extra time in the quarterfinals at Italy 90). did not give up. ). "Other teams don't have the same magic as us."
Although Cameroon narrowly qualified for Qatar and narrowly beat Algeria in a play-off, Eto'o increased the pressure on Song by arguing that an all-Africa final was possible. "We haven't always shown our best face at World Cups," says a man who is sometimes said to be tempted by the manager's temptation to interfere with squad selections. But now the African teams are ready. Cameroon will win the final against Morocco."
At least Song appears completely in the message. "We're on a mission," he said on Wednesday. "And we know how to win."