Key events
The teams are out. The stadium is not completely full, but it is still filling up, Qatari fans waving uniformed flags
Things you might not know: Qatar goalkeeper Meshaal Barsham is the brother of Olympic high jump champion Mutaz Essa Barsham, Gary Lineker on the Beeb tells us.
Before we start …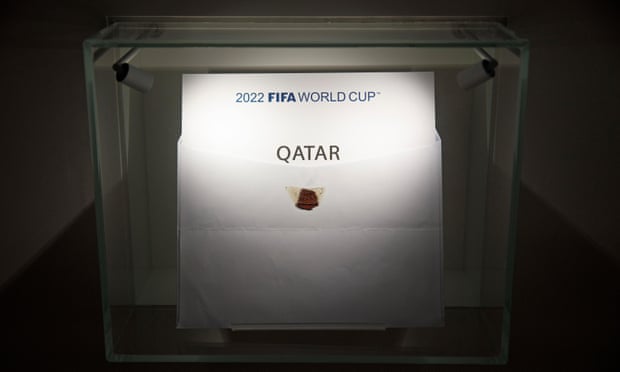 "Now that Wales have lost to Iran can the USMNT beat England today?" asks Kurt Perleberg. They could, yes, if they build on their impressive first half against Wales and England get into the form they were in before Monday. I like the USA to score at least a goal, and while England should get a draw, that's not bad.A win for the USA would rightly reduce Wales' chances, though.
Back to the game ahead, Qatar could take heart from Iran's display: if Carlos Queiroz's side can recover from a disastrous and politically charged opener, so can they.
Off the field, the crusader costumes are the latest items to be allegedly banned, although honestly, I play the smallest violin in the world for anyone in such cheesy and insensitive garb. Here's a guide to what's not allowed.
Want some Senegalese nostalgia? How about one of the best Japan/South Korea games of 2002?
Your lunchtime reading:
Goal! Wales 0-2 Iran. It's getting worse for Robert Page's side, but Iran deserved this – they were excellent. And there is full-time work.
Back to this one, and that line-up: Qatar goalkeeper Saad Al-Sheeb made way for Meshaal Barsham, unsurprisingly after his nervous performance against Ecuador. For Senegal, Ismail Jakobs enters the defense in place of the injured Cheikhou Kouyaté, and Pape Abou Cisse replaces Famara Diedhiou.
Goal! Wales 0-1 Iran – Iran finally won it.
Catarrh: Barsham, Pedro Miguel, Mohammad, Khoukhi, Abdelkarim Hassan, Ahmed, Al-Haydos, Boudiaf, Madibo, Ali, Afif
Senegal: Edouard Mendy, Sabaly, Koulibaly, Jakobs, Diallo, Idrissa Gueye, Nampalys Mendy, Diatta, Diedhiou, Ismaila Sarr, Dia.
Or is it? The VAR check is for him and he has to go for breaking Taremi when the striker went clear. Wales are down to 10 men.
And in group B, the tense old encounter enters its final phase. With Wayne Hennessey somehow getting away with just a yellow card just now…
Some important ones pre-match reading:
Hello everyone and welcome to our second World Cup match today. It pits the Asian and African champions, who each lost their first games 0-2, against each other. At that point, you might say, the similarities end. While Senegal looked lively and competitive against the Netherlands, particularly early on, and were largely undone by a lack of cutting edge in attack, Qatar failed like rabbits in headlights against Ecuador, and they were lucky their opponents declared at half-time. All that Aspire Academy money, all those donated places in other tournaments, including this one as hosts, all that unsavory geopolitical positioning – and for that?
"Emotionally, things were very difficult, and facing the World Cup is completely different. I hope the performance will be competitive against Senegal," admitted their manager, Felix Sánchez, yesterday, adding: "We have prepared for the possibility of an early exit, but that does not mean the end of the project. I am confident that Qatar will continue its project of maintaining a strong team, competing and qualifying for the upcoming tournaments." Ah yes, Projects. Always with Projects.
In any case, Qatar will almost certainly not play as badly again, and they have shown their pedigree recently. Senegal, you think, has more, but they really missed Sadio Mané against the Dutch. Cheikhou Kouyaté and Abdou Diallo, important cogs in the team who were forced to leave the game with snacks in Monday's game, will also be sweating it out. As much as we can generalize, there seems to be an early pattern of African teams struggling to score despite great quality and attacking intent. Will that pattern change here?
Start at 13:00 GMT.