Key events
79 min: That goal came just seconds after Ghana made a double substitution, with Andre Ayew making way for his brother Jordan, while Osman BNukari replaced Mohammed Kudus.
GOAL! Portugal 2-1 Ghana (Felix 78)
Portugal leads again! It was finished off nicely by Joao Felix, who lifted the ball over Ati-Zigi as he advanced down the inside left of Ghana's penalty area.
74 min: Given that he played in his preferred midfield position, Muhammed Kudus looked like a problem in the first half, constantly giving the ball away. Now he is paying even worse, where he is far more effective, just saving a sharp shot before Andre Ayew scored to equalize for Ghana by pulling through the Portuguese defender's legs.
GOAL! Portugal 1-1 Ghana (Ayew 73)
Ghana equalized! Andre Ayew nudges Muhammed Kudus who pulls off the line to bring the African side back on level terms.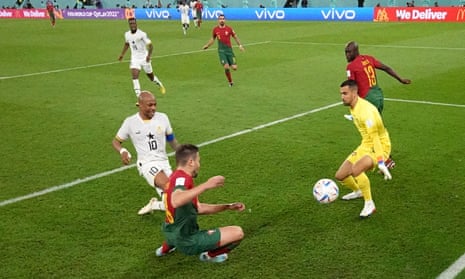 71 min: Clinging to the back heel of Thomas Partey, Muhammed Kudus stung the palms of Portuguese goalkeeper Diogo Costa with a soaring shot.
68 min: Substitution in Ghana: Otto Addo makes an extremely sensible decision to remove Alidu Seidu who is awaiting a red card and replace him with Brighton's Tariq Lamptey.
66 min: I'm not so sure it should have been a penalty, as Mohammed Salisu appeared to get his hands on the ball before touching Ronaldo as he went over him. Having said that, my opinion doesn't matter, and Moroccan-born, Texas-born Judge Ismail Elfath clearly disagreed.
GOAL! Portugal 1-0 Ghana (Ronaldo 65pen)
Portugal leads! After prolonged protests from the Ghanaian players, Ronaldo steps in and buries the ball past Lawrence Ati-Zigi. He has now scored in five World Cups.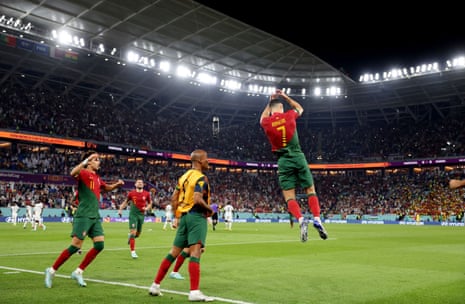 61 min: Ronaldo falls in the penalty area under the challenge of Salisu, and the exceptionally mild referee points to the spot.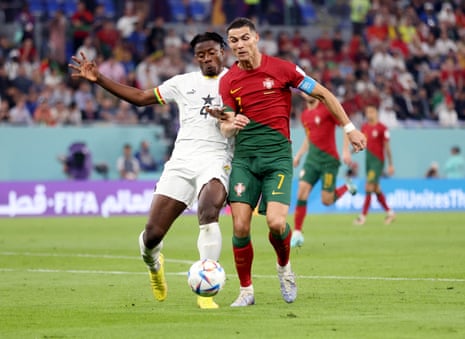 60 min: I can't believe Seidu got away with that. While Felix was the initial aggressor, the defender from Ghana went nose to nose with him and pushed him back with his head. It wasn't the most violent tackle I've ever seen, far from it… but I've seen players get clean red cards for such actions in the past.
58 min: Due to a yellow card already, a violently protesting Seidu was taken away by his teammates after coming face-to-face with Joao Felix, running straight into the Portuguese striker's net and head-butting him. The Portuguese forward goes down theatrically to the ground and Seidu gets away with an extremely lenient referee's tick-off instead of a second yellow followed by a red.
57 min: Portuguese substitution: William Carvalho for Otavi, who seems to have nailed it.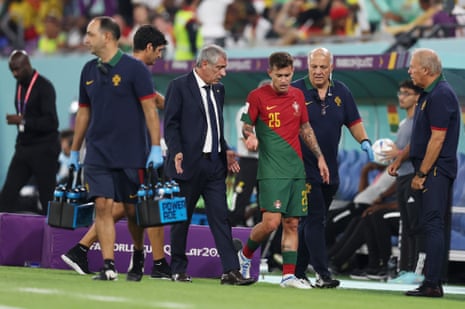 56 min: Muhammed Kudus rushes forward with the ball at his feet and launches a low shot from distance. His decent effort snaps a few feet wide of the upright.
55 min: On the left side of Ghana's penalty area, Ronaldo fails to create an angle for a shot. He decides to cross instead, but his attempt is blocked.
52 min: There is something shocking about Joao Cancelo by the usual high standards we expect from him in a Manchester City shirt. In a promising position wide in acres of space after Ruben Neves passes him the ball, he tries to cut inside instead of passing the ball, loses it to Muhammed Kudus and goes down.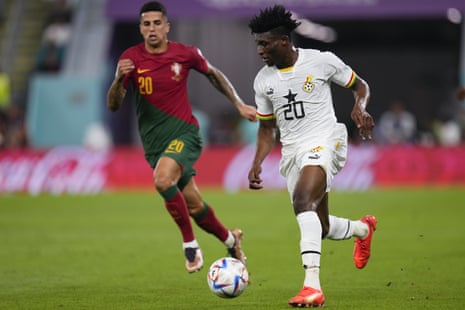 51 min: Nothing continues to happen for long. Portugal continue to dominate possession and do very little with it.
49 min: Andre Ayew is booked for a clumsy challenge on Otavia, who just turned him.
47 min: Bernardo Silva is picked off by Rahman Baba deep in Ghana's half and the left-back moves up. Fun fact: Ghana have yet to enjoy a touch of the ball in Portugal's penalty area.
Second half: Portugal 0-0 Ghana
46 min: Ghana started with no changes in personnel from either side. It's a bit of a surprise as I thought Fernando Santos could shake things up in the Portuguese ranks. At half-time in the ITV studios, Roy Keane said he was getting "angry" watching this game and nobody wants that. Are they? Oh.
Half time: Portugal 0-0 Ghana
Peep! After only two minutes of stoppage time, the teams go to the break without any goals. Portugal dominated and probably should have scored, but Cristiano Ronaldo missed two good chances that came his way.
45 min: Muhammed Kudus received a yellow card for a high boot that caught the equally outstretched leg of Joao Cancelo and sent the Portuguese right-back to the ground with a loud howl of pain.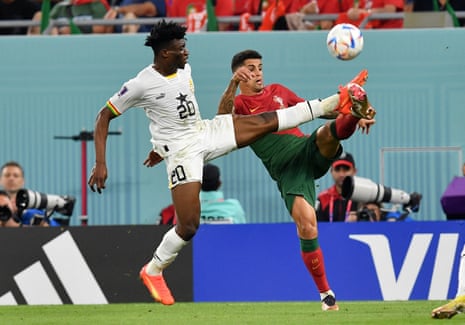 45 min: Ottavio miscued a cross from the right into Ghana's penalty area and sent the ball over the goal.
44 min: Joao Cancelo sends the ball across Ghana's penalty area with great prejudice, but it is behind everyone in the red and green jersey.
42 min: Ronaldo abandons his pursuit of a cross from the right because the ball is too high for him to head. Unaware of the fact that Joao Felix is ​​behind him, he switches off and can't set his feet when his attacking partner sideswipes the ball that falls to him.
40 min: Every time Ghana found themselves with a goal kick, Portugal's front three positioned themselves in such a way as to dissuade their opponents from risking play from the back. It's a tactic that works as, instead forced to shoot the ball long, they continue to win possession straight back to Portugal.
39 min: And they say Ronaldo doesn't defend, huh? Eh?!?!?!?
37 min: Ghana won a corner, their first of the game. Kudus sends the ball to the near post, where Ruben Neves heads it. The ball falls for Kudus, who again sends it into the mixer. Fernandes heads the ball into another corner, which Ronaldo clears with his head.
36 min: An extremely weak shot by Otavi rolled into the hands of Ati-Zigi, who had time to drop to his knees to take it.
35 min: Salisu plays the ball towards Inaki Williams, just to remind the Ghanaian striker what it looks like because it's been so long since he's seen it. The pass is underhit and Portugal regain possession.
33 min: Andre Ayew heads the ball into Portugal's corner, which Otavio takes. He lofted the ball into Ghana's penalty area, where goalkeeper Lawrence Ati-Zigi dived to take it with both hands.