Even if you're on the other side of the console wars fence, you have to admit it PlayStation the selection of first titles over the past decade has been quite extraordinary. It is this power that has made PlayStation such a dominant force in the industry today, and it is still striving to improve its position even now. A recent pitch from the publisher revealed that it aims to cover "every major genre" in an effort to expand its portfolio of first-party offerings.
The the presentation in question was created by Sony CEO Jim Ryan and features a list of genres that the company considers "core," including action, sports, platformers, RPGs, racing, and shooters. There's no indication if PlayStation will try to cover more genres beyond these, like horror or JRPGs, but it's clearly aiming to have a wide selection of titles, trying to cater to almost everyone's tastes.
related: Jim Ryan clearly didn't ask the right "game fans" about the delay in PlayStation PC ports
To do this, PlayStation also says it aims to release at least two big games every year, which is a pretty ambitious goal. These titles will be a mix of single player and live service games, with an equal balance of massive blockbuster franchises and new IP. We know PlayStation is Aiming to release ten live "cross-genre" titles over the next few yearsbut it's nice to see that the company is still committed to its single-player experience.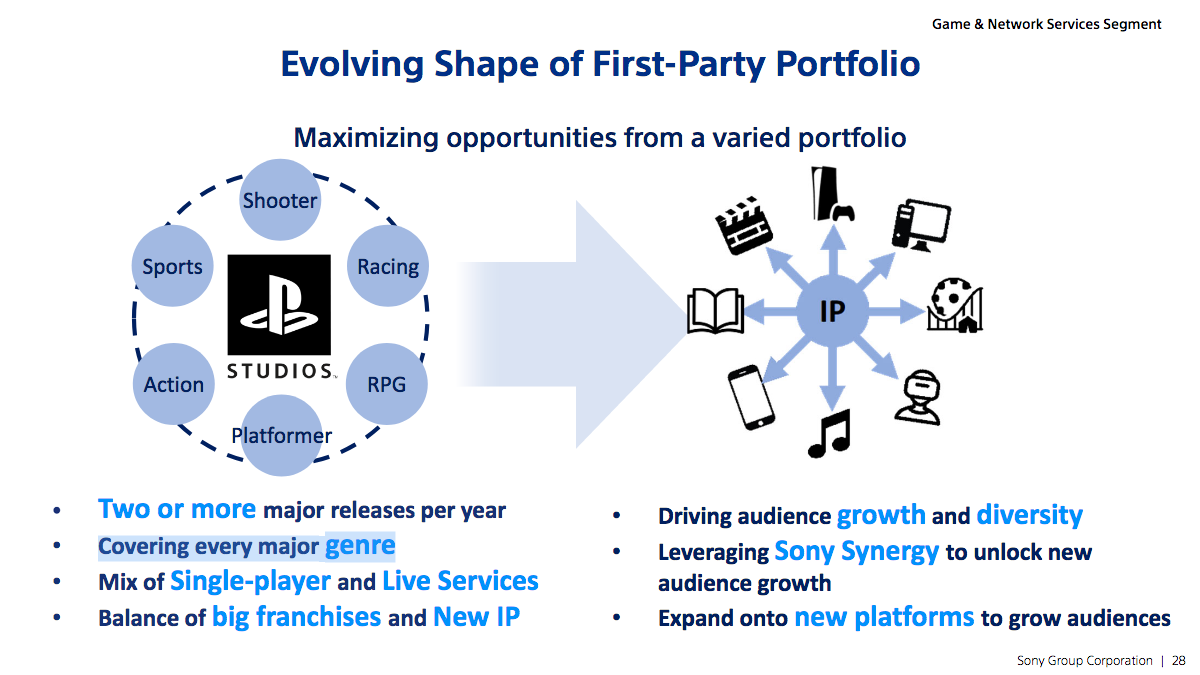 Even though PlayStation already has quite a large lineup of games, it's interesting that shooters and platformers have been listed as the main genres, especially since the company doesn't have much to offer in that regard. The PlayStation's acquisition of Bungie last year means it has one of the most popular live shooters out there at the moment, although it can't really be considered a PlayStation exclusive as it's built to share with the Xbox.
It's a similar story with platformers. Astro Bot and Little Big Planet are hardly the big franchises PlayStation seems to be looking for, and you can't lump Ratchet and Clank into one particular genre. It will be interesting to see if any of these new IPs that PlayStation is promising will address some of its weaknesses. You can't be a PlayStation fan these days without coming across a single-player adventure game, and PlayStation is making the right attempts to diversify.
You never know, we might see some of these new IPs at tomorrow's PlayStation Showcase, though it's expected Metal Gear Solid will take center stage. Still, the future looks very bright for PlayStation fans, and it looks like we can look forward to a great selection of games to play.
further: Ghost Of Tsushima 2 doesn't deserve the huge amount of pressure it's under