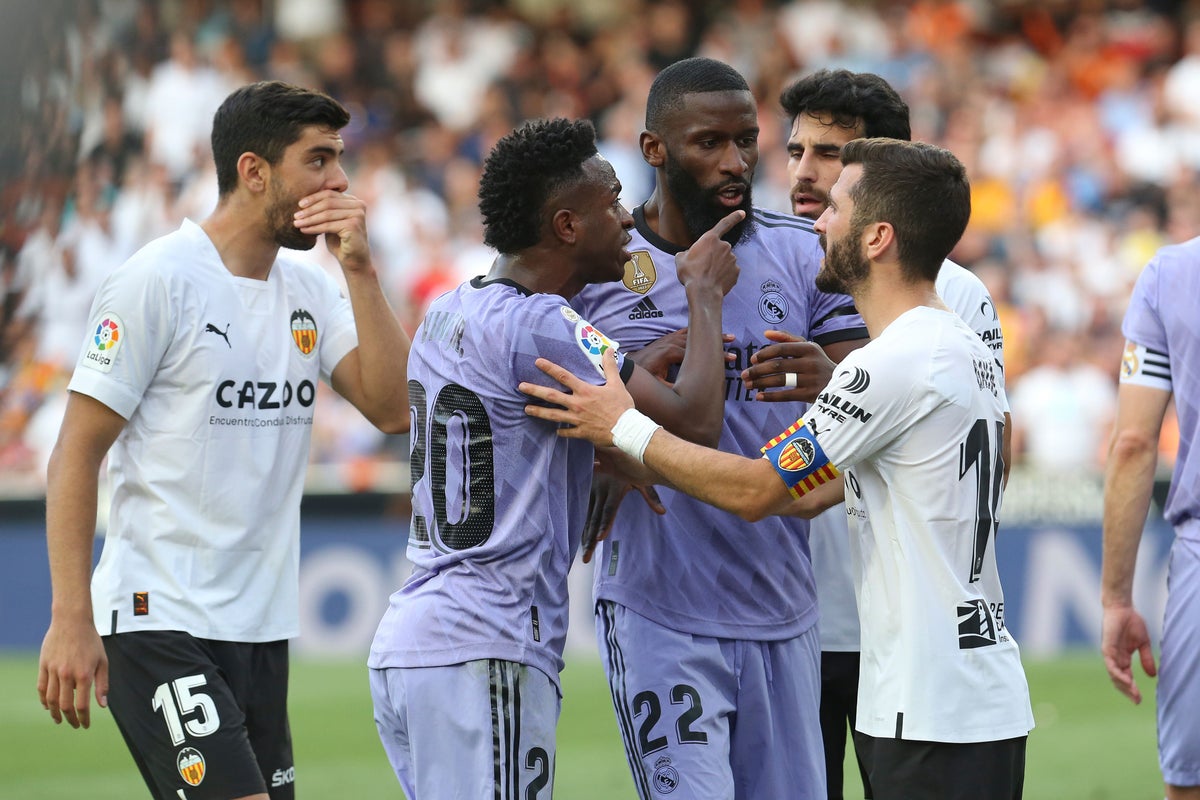 LaLiga players and officials called for a fight against racism. Spain After the latest events, the competition has resumed. Young Vinicius event.
Tuesday night before the game between them celta vigo and Girona, players of both teams and match officials stood behind the banner that read "Racism is out of football".
LaLiga shared the pre-match clip from their official account. twitter Account with the hashtag #JUNTOSContraElRacismo (#TOGETHERagainstRacism).
The footage also shows a fan holding a banner that reads 'No to Al Racismo' (No to Racism).
After a turbulent weekend when Real Madrid forward Vinicius was allegedly subjected to racist chants during Sunday's match, play on the field resumed. Valencia and he later claimed it was an example of "continuous episodes spread over various cities of Spain".
LaLiga will seek more power to punish clubs whose fans have been found guilty of racial harassment due to the lack of sanctions in place following the recent Vinicius incident.
According to country law, LaLiga can only detect and report incidents at this time, and penalties are rarely handed out.
Now he wants the legislation changed to impose penalties such as forcing games to be played behind closed doors or financial penalties.
This came the day in January that four people suspected of hanging a bust of Vinicius from a bridge were arrested in Spain in January.
An inflatable doll wearing a Vinicius shirt was hung on the railing with a banner reading 'Madrid hates Real Madrid' before Real's King's Cup match against city rivals Atletico at the start of the year.
Spanish police confirmed the arrest of four suspects on Tuesday.
They tweeted: "4 people arrested for allegedly hanging a mannequin in a #Vinicius t-shirt on a bridge near Ciudad Deportiva del @realmadrid in #Madrid."
The Brazilian international threatened to leave the field in the second half after being exposed to monkey chants at Mestalla.
Real Madrid said the harassment constituted a "hate crime" and filed a complaint with the Spanish Provincial Prosecutor's Office.
Valencia on Tuesday confirmed that police had identified three fans suspected of racial abuse, but denied that their fanbase was racist.
In a statement from the club, "The match against Real Madrid was broadcast live and it is completely false that the whole stadium is making racist remarks.
"There has been a lot of confusion and misinformation lately. Valencia demands a responsible and serious approach to the issue.
"This is a very sensitive issue and everyone should stay realistic. We cannot accept that Valencia fans are labeled as racist. This is not true. We invite respect.
"Racism has no place in football or in our society. Valencia strongly condemns racism."
Vinicius tweeted on Monday night: "Every round away from home is an unpleasant surprise. And there have been many this season. Death wishes, hanged dolls, many criminal cries… All recorded.
"But the conversation always falls on 'individual cases', 'fans'. No, these are not isolated cases. These are continuous episodes (and even in a television show) spread over various cities in Spain.
"The proof is in the video. Now I ask: How many of these racists have their names and photos posted on their website? To make it easier, I answer: zero. No one to tell a sad story or make a fake public apology.
"What is missing to criminalize these people? And punishing clubs in a sporting way? Why don't sponsors charge LaLiga? Don't the televisions go to the trouble of broadcasting this atrocity every weekend?
"The problem is very serious and communication is no longer working. And don't blame me for justifying criminal acts. You are not football, you are inhumane."
[pub1]