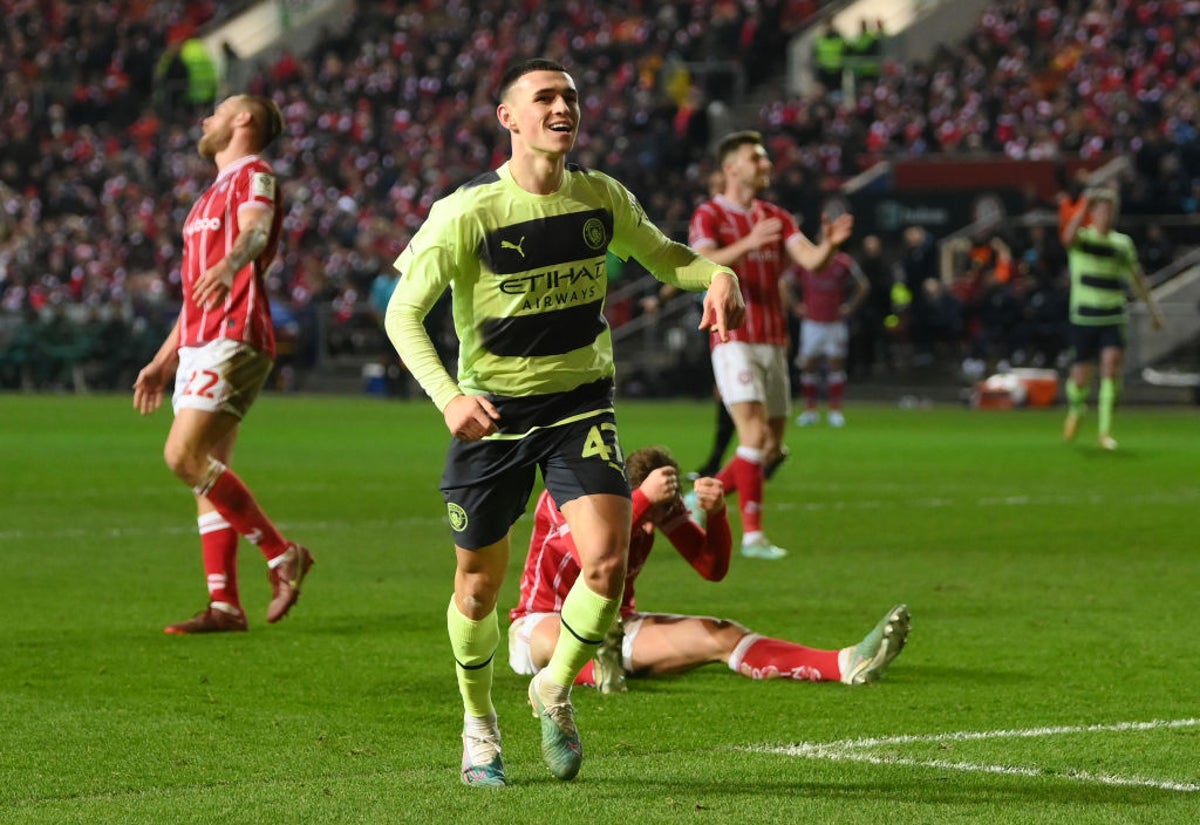 Manchester City i saw brave City of Bristol to advance to the quarterfinals FA Cup They beat Ashton Gate 3-0.
Phil Foden two goals and Kevin DeBruyne The late brilliance was added as the six-time FA Cup winners finished Bristol City's 12-game undefeated streak in front of a crowded crowd in the West Country.
The leaderboard was tough for the hosts, who fell behind Foden's seventh-minute kick and largely remained in the competition until the final quarter.
But 16 minutes later Foden's deflecting shot and De Bruyne's fine finish secured the visitors' place in the last eight.
De Bruyne is back after missing two games due to illness and captained a Manchester City side that had five changes from a Premier League win at Bournemouth on Saturday.
English midfielder Kalvin Phillips has made only his second start since leaving Leeds last summer as Ederson, Erling Haaland, Ilkay Gundogan, Jack Grealish and Rodri started the night on the bench.
Phillips was clearly determined to impress after his injury problems, and only 63 seconds had passed when he hit the crossbar from 25 yards.
Manuel Akanji's slide in a frenetic opening gave Sam Bell a shot opportunity, which bounced wide and soon the visitors took the lead.
Riyad Mahrez made a clever one-two with De Bruyne, and the Algerian's far cross was swept away by Foden, who scored in the second consecutive game.
Bristol City's reaction was a loud penalty kick after Mark Sykes messed up with Rico Lewis. It seemed like a legitimate appeal, but referee Andre Marriner remained indifferent and home fans were frustrated because there was no VAR in the operation.
Julian Alvarez mistaken Foden's midfield in front of the home goal, but Bristol City cleared themselves well and enjoyed quite a bit from their left flank.
Alex Scott shot directly at Stefan Ortega, and Bell fired after Tomas Kalas grabbed De Bruyne in the hand.
Manchester City's threat was also clear as Mahrez saw Kalas' volley go off the line and Ruben Dias tested Max O'Leary with a header.
Mahrez was making his 400th appearance in English football, and Robins boss Nigel Pearson, who signed him from French club Le Havre to Leicester in 2014, couldn't resist speaking a word to the Algerian when he fell to the ground after Cameron Pring's touchline challenge.
Ederson replaced Ortega at halftime and Manchester City took charge of the race without coaching O'Leary until Alvarez forced him into a low save on his right.
Foden was caught late and instantly took revenge on Sykes to earn a yellow card and a word from his manager. Pep Guardiola to stay focused.
The heat was rising both on and off the court as the match became more balanced and Bristol City fans urged their players to seize the moment.
It almost came when Scott took Dias from Andreas Weimann's hand for a cross-reference Bell opened right up.
But it all came to an end when De Bruyne played Nathan Ake before helping Alvarez Foden with a great mid-ball and the Belgian midfielder had the last word from 20 yards.