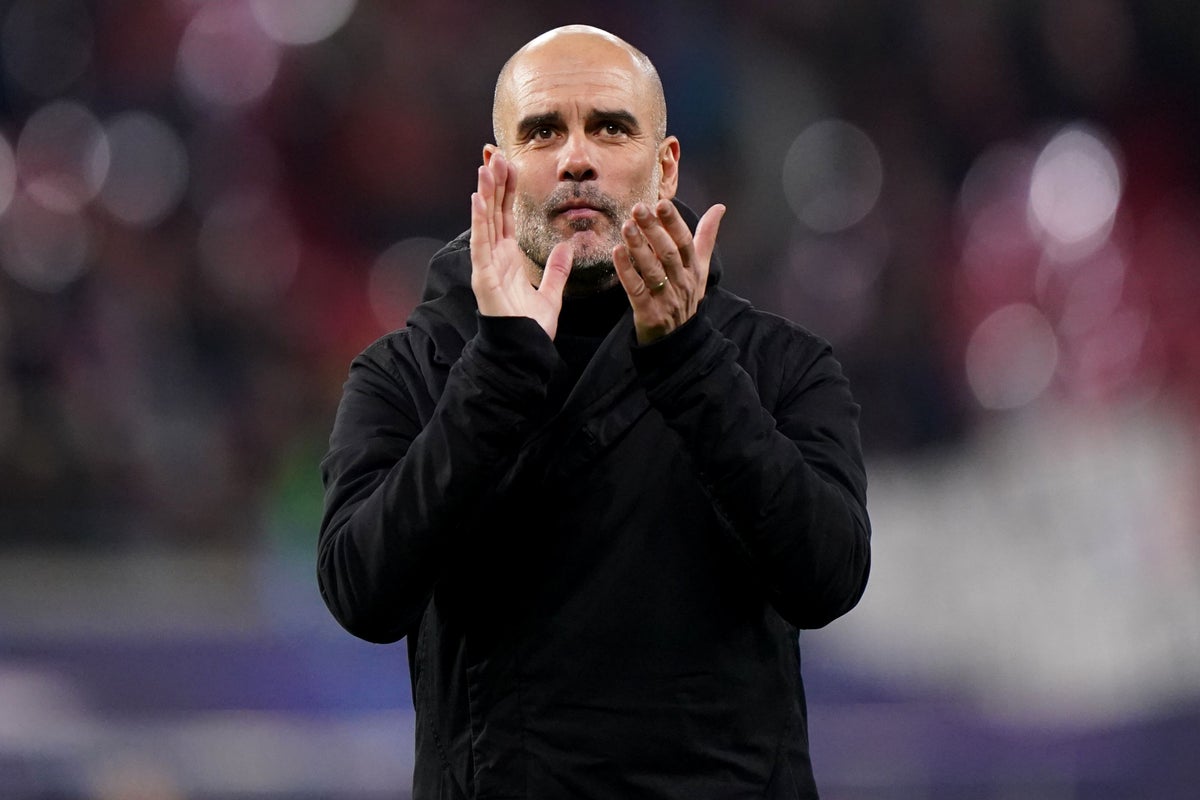 Pep Guardiola Manchester City told players to keep their heads up after draw with RB Leipzig in the Champions League.
City had to settle for a 1-1 draw. Germany After dominating the first half, Riyad Mahrez's hit in the 27th minute was the only reward for their overall superiority in the opening period.
The second half was a different affair with luck on either end, and Josko Gvardiol's header 20 minutes later brought the pair back before the second game. Etihad Stadium on March 14
City manager Guardiola took the final whistle and spoke to his players as a group, later telling reporters: "They had a head start. Why did I say head down?
"I said raise your head, it was really good. (If) people don't like it, it doesn't matter. You played the game you had to play.'"
Guardiola said that Leipzig, who lost once in 20 matches, should be respected by the media for their success both at home and abroad.
"I had the feeling that the match would be determined in the rematch.
"Normally there is a misconception in football, after our game in the first half people will say 'how bad was the second half'.
"But why don't you think Leipzig is a good team? Here they beat Real Madrid, in the second half they were much, much, much better than (against) Bayern Munich.
"I have great respect for Leipzig. You (the press) always talk about how bad a team is.
"Why don't you mention how good the other one is? We played 4 games in 10 days and the Arsenal game was really tough.
We had injured players and I am very happy with the game we played.
Guardiola chose not to make any substitutions, although he acknowledged that he was considering sending the English midfielder. Phil Foden in the second half.
However, City regained control after Gvardiol's equalizer and Ilkay Gundogan came close to grabbing a win before waving a late penalty appeal for handball.
Guardiola said: "I was really happy with what I saw. "Maybe in game two I'll decide to go crazy and play with nine forwards!
"But in this match – and I've been in this country (as Bayern Munich head coach) – I felt that I needed that kind of control. German teams are better than us in such situations."
"It was two different halves," said RB Leipzig manager Marco Rose. We weren't in Champions League mode in the first half and we weren't aggressive enough.
We lost the second balls and it was a bad first half. But the second half was really good, putting more pressure on the ball and creating positions.
"We had good possession and evened the score. So we finally got a draw and we're there.
"We are in the game and there is a lot to learn from the first half we played."