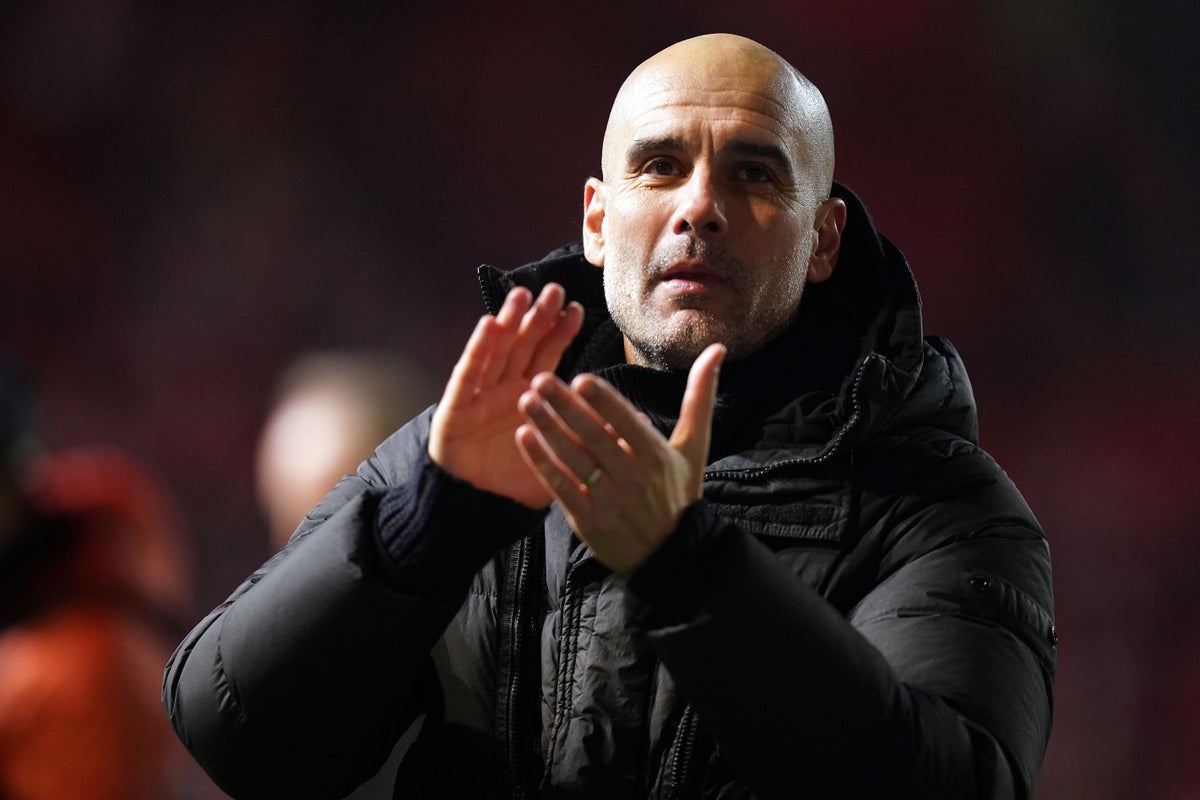 Pep Guardiola He believes the next two weeks will determine whether the Manchester City season will be successful or unsuccessful.
The champions chasing three trophies this term now have a week off before getting back into action with a trip to Crystal Palace next Saturday in the Premier League.
They then face two elimination matches in the following days. RB Leipzig And Burnley Champions League and FA Cup visit respectively.
City boss Guardiola is now taking a short break from his players after their tough 2-0 win over Newcastle on Saturday, but asks them to take a run when they return.
"We have two days for everyone," the Spaniard said. "We got to not see each other for a while, it's been really hard for anyone who has travels and no holidays.
"But after that, before the international break, we have three games that will define our season, each in a different competition.
"We have Crystal Palace, Leipzig and Burnley. They will determine what we want or can do for the rest of the season."
Phil Foden and berdo silva City saw Newcastle at the Etihad Stadium scoring goals as they continued their search for Premier League top Arsenal.
Arsenal's final win at Bournemouth later in the day meant the gap would remain at five points, but City's performance underlined their determination not to give up their titles so easily.
City took Foden's spectacular lead 15 minutes later, but needed to weather a storm after Newcastle countered. In the 67th minute, the guest team was the dominant side until Silva came out of the bench and completed the win.
"It was a very important win against a very, very good side," Silva said. "The match was very difficult, they put us under pressure many times.
"We are very pleased with the three points and to be on the right track (to fight for this title)."
Silva also spoke highly of Foden. The English midfielder has endured a difficult period since the World Cup with injuries and illness leading to a downturn in form, but it looks like he's doing his best now.
His beautiful solo hit was his fourth goal in three games.
"It was a great goal from Phil. He struggled a bit with that injury and everything, but he's back. In this form, sometimes he's unstoppable," Silva said.
Newcastle's fine campaign seems to be running out. The defeat, which came a week after losing in the Carabao Cup final, extended the Premier League streak to five games.
Their top concern is their inability to score in the last three rounds.
Manager Eddie Howe said: "I'm not going to lie and say it's not a concern, because of course it is, but I think if you're still creating chances and we did it here, then that's positive.
"We didn't create a lot of chances as we played against one of the best teams in world football, but we did have our moments and I support the players to start scoring goals again in the long run.
"We need it, that's a fact because the confidence of the team really depends on it. It's definitely something we need to think about."