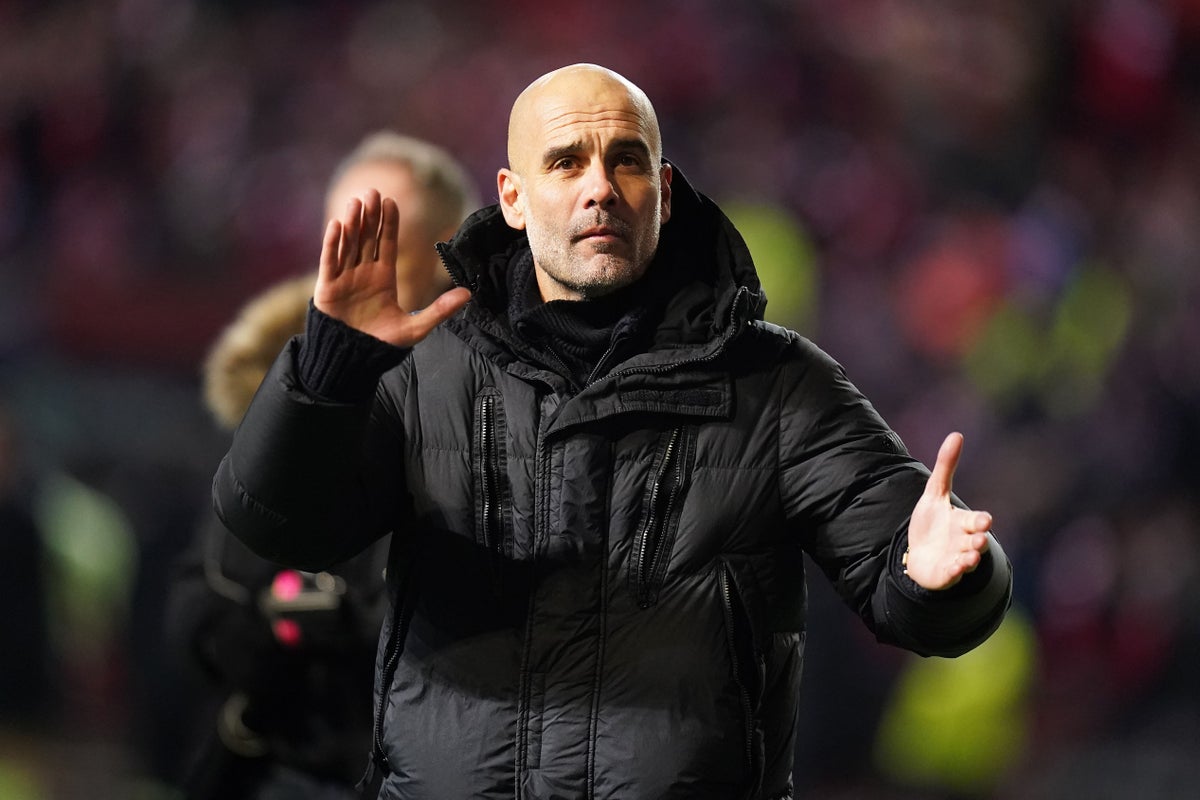 Pep Guardiola Phil praised Foden's work ethic. England the striker's double kick helped Manchester City He reached the quarter-finals of the FA Cup.
Foden scored two goals – once per half – to command the visitors against the Sky Bet Championship side City of Bristol Kevin De Bruyne's excellent late kick led him to a 3-0 win at Ashton Gate before they fit in again.
The 22-year-old has scored a dozen goals in a season that has not always been in Guardiola's starting eleven.
"I said last week that we have no doubts about Phil," Guardiola said.
Phil's influence since arriving has been astounding. It was great, it just got better and better.
"She struggled a bit with her ankle but she's not complaining. She wants to train, she wants to play, she wants to play with problems.
"But it's not about the goal he scored in the last game (at Bournemouth) or the two goals he scored today. It's about how aggressive he is and how he does things.
"He rebuilt the work ethic, the way of education. Every action is 100 percent and will pay off in the end."
The Premier League champions were forced to work hard for their win even as Foden sent Riyad Mahrez midfield in the seventh minute in front of a 25,713-capacity crowd.
The 12-game undefeated Bristol City passed between Alex Scott and Sam Bell, and Mark Sykes could have taken a penalty when it looked like he was being squeezed by Rico Lewis.
But referee Andre Marriner remained indifferent and VAR did not work to review the incident.
"We're satisfied, we started really well. We felt how dangerous they were in the overtakes and Scott is a really good player, and so are the wingers," Guardiola said.
"The second half was much better than the first minute. Everything is clear at 1-0 but we scored the second and third and I'm happy because this match is so good.
"When we didn't perform well, we won one and advanced to three semi-finals.
"As it's been three days after the away games in the Champions League and we are very tired, I hope we can spend this season in better shape and reach one more final in the FA Cup."
In the halftime penalty event, with Bristol City trailing 1-0, Robins boss Nigel Pearson said: "I joked with the fourth referee and assistant referee that they, Premier League players, are a protected breed.
"But I'm kidding. It was an event in the game that didn't go the way we wanted and the score disappointed me because I thought the game was tighter than that.
"The most important thing for us was that we were true to ourselves and tried to play our own way.
"We dominated the game for long periods of time, but the quality finally shined.
But we gave them a good game and they knew they were in a game. It shows how far we've come and we now have a clear identity."