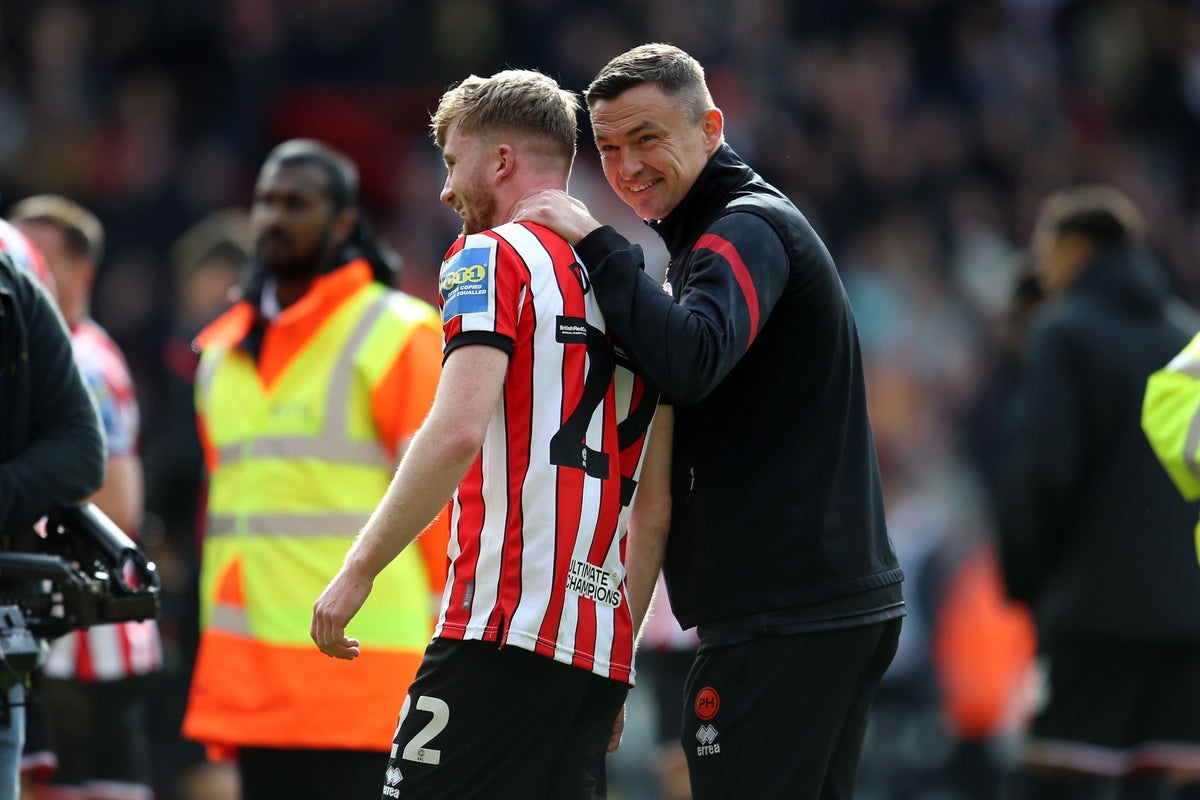 Paul Heckingbottom wants Sheffield United Writing an 'amazing story' after reaching FA Cup semi-finals but facing loan midfielder Tommy Doyle Wembley Heartache after Blades draw with parent club Manchester City.
Doyle hoped to follow in the footsteps of his grandfathers Mike Doyle and Glyn Pardoe by playing at the national stadium after an injury-prone win over Blackburn knocked the Blades into the final four.
The 21-year-old watched video footage of his paternal grandfather Doyle and maternal grandfather Pardoe playing for City at the national stadium in the late 1960s and 1970s.
But the semifinal draw was not polite, pairing the Blades with City; this is a draw in which, according to the competition's rules for loan players, Doyle and the other loaner James McAtee would not be eligible.
The strike was particularly tough for Doyle, who completed a late comeback, with United following goals from Ben Brereton Diaz and Sam Szmodics on both sides of Sam Gallagher's own goal until the final 10 minutes.
oli mcburnie Doyle's heroes took the Blades level at 81 minutes before booking their first FA Cup semi-final spot for the Blades since 2014 in a thrilling draw.
Their trip to Wembley completes a promotion fee in the Championship – they're second on the table – and Heckingbottom looks forward to an unforgettable end to the season.
"Being in April and having the chance to automatically advance and be in the semi-finals of the FA Cup is an incredible achievement for us, it's great and it's a pat on the back of everyone at the club," said the boss.
"I am really focused and intent on achieving something and getting results, not just recognition.
"It's been a great season so far and I'm focused on finishing it, it could be an incredible season.
"It might be an incredible story, but it's just a story that everyone should enjoy, people should enjoy where we are in the league and in the FA Cup semi-finals. And now we're going to tackle that match by match. It's going to be tight and intense."
Blackburn boss Jon Dahl Tomasson believes the game should be stopped on the way to Doyle's winner when Tyler Morton falls to the ground with a head injury following a challenge from Iliman Ndiaye.
"Morton's head injury, they say he just got a finger in the eye, but he should have been standing in the area where the goal came from," the Dane said. "Imagine if it was something really serious.
I said to the referee, 'Normally, you stop the game due to a head injury'. I think he knows. It's not important.
"Of course it had to be stopped, that's the rule, right? This is a big moment, imagine if it's something really dangerous. You can't run when you can't see.
"I think about the outcome, what the consequences might be.
"Think about it, it could have been extremely serious. We all know that in the event of a head injury you have to stop immediately, it can be very dangerous."