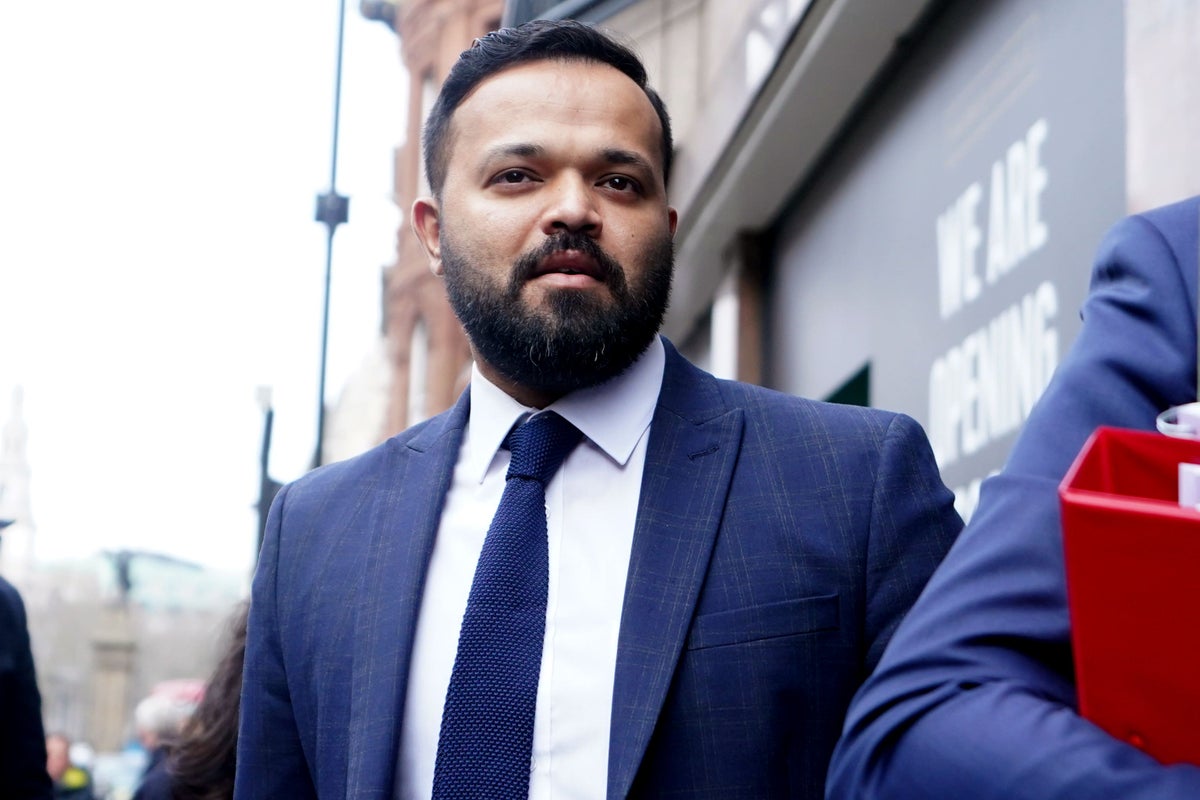 Azeem Rafik He admits that he cannot explain the discrepancy between the two versions of Michael Vaughan's alleged racist comment against him.
Rafiq had told Yorkshire's investigation into the racism scandal at the club in 2021 that former England captain Vaughan had told Rafiq and three others. Asia players before the game: "There are too many of you, we need to do something about it."
But on the second day of the public Cricket Disciplinary Commission in London, Vaughan's lawyer referred to an interview he had with Wisden, where Rafiq supposedly recalled the comment: "There are so many of you, we need to talk a little bit about this."
Saying that this is the second version he remembers, Rafiq said, "There was an obvious mistake in the explanation and I take full responsibility.
"I want to stress that the 'too many of you' thing that discriminates against a group of Asian players is very clear. The second part is an action. There is clearly a contradiction."
When asked by Christopher Stoner KC why there was an inconsistency, Rafiq replied, "I have no explanation."
Stoner questioning both Rafiq and the ex Yorkshire teammate Adil Rashid The interpretation is centered around the narrative and both men's memories of a T20 match between Nottinghamshire and Yorkshire nearly 14 years ago.
Although he could not remember the outcome of the game played at Trent Bridge on June 22, 2009, Rashid, speaking in a video link from England's Bangladesh tour, recalled: "As soon as it was over, people were going to their seats. I remember it being said then.
"Actually, I have a very clear memory. I think you already know the words. "There are too many of you".
"'There are so many of you, you have to have a say, you have to do something about it'. It's the phrase 'there are too many of you'."
Rashid said he wasn't taken by Vaughan's supposed comments, but considered them "bad humor".
Neither Rafiq nor Rashid could remember where Vaughan or the other players stood during the pre-match meeting.
When asked how he knew it was Vaughan who made the alleged comment, Rafiq replied, "Michael's voice. I know how you sound."
Vaughan was indicted by the England and Wales Cricket Board for allegedly commenting on Rafiq, Rashid, Ajmal Shahzad and Rana Naved-ul-Hasan. The 48-year-old denies the claim and will defend himself at the CDC on Friday.
In Rafiq's witness statement, he claimed that Shahzad accused him of "blackmailing" Rashid, which he "categorically" denied.
In an interview with the ECB read out at the trial, Rashid's "close friend" Shahzad, who claimed he did not remember Vaughan's alleged comment, said he thought Rashid was being pressured.
It was also revealed that Rafiq and Rashid became business partners after opening a fish and chips shop together in October 2021, which closed a year later.
But Rashid insisted, "No, no. Azeem didn't pressure me."
Stoner found further inconsistency in Rafiq's statements to Yorkshire's investigation and in what he said to a parliamentary committee in 2021 regarding the term "elephant scrubber".
Stoner said Rafiq had heard Rashid being described as an "elephant scrubber" in Yorkshire, but not by that name himself.
However, during the DCMS investigation he claimed to have it.
"There's something wrong there," Rafiq admitted. "It was ultimately checked by my larger team, but I had to check it out."
Rafiq was questioned about a meeting with Vaughan in which the captain, who won the Ashes in November 2021, apologized. According to Rashid, it was an "apology, not an apology".
"Michael went to Australia and his general conversation about all this was relayed to me," Rashid added. "I felt like I was playing a game.
"I received a call from colleagues about their attempts to discredit me in general while he was in Australia. Although my confidence was low, I did not want to live any longer.
Rafiq finished his appearance before the CDC panel by saying that at the time he wished he had spoken about Vaughan's alleged comments.
Stoner read a statement made by Shahzad in an interview with the ECB and suggested that Vaughan may have used the phrase "you" to describe a group of British players in the alleged incident in 2009.
"Again, in a way, I wish I had the courage to say it in time," Rafiq said.
"Maybe I wouldn't be here and I wouldn't carry the mental scars I carry with me. Difficult. Anyone who has ever done this, talked like me, knows how difficult it is.
"It is disappointing to read this from Ajmal. If he had been here, things might have been different. I wish I had spoken."
Vaughan is the only former Yorkshire player commissioned by the ECB to attend the hearing.
Matthew Hoggard, Tim Bresnan, John Blain, Andrew Gale and Richard Pyrah have withdrawn from the process and are taking their case in their absence. Gary Ballance pleaded guilty to one charge of using racially discriminatory language, and Yorkshire pleaded not guilty to four charges.