Tthe smell of melted butter and muscovado sugar wafts through the kitchen and up the stairs. Vanilla extract and warm oats hang in the air and now it fizzes again with lemon zest – little clouds of citrus among the soft notes of biscuit baking. The kitchen is hot as toast, its surfaces are dusted with flour, its windows are fogged. This is not a very sweet cuisine: baking days are rare and magical delights, which are looked forward to like Christmas Eve or Easter Sunday. Special days that end in a cake pan full of homemade cookies.
This has been a long winter and the first shoots of spring, those long awaited pink buds and green shoots, took forever to appear. Spring always puts me in a hangover – a batch of fruit-dipped buns or a thin brioche, a basket of flatbreads or a bubble pillow of focaccia – but right now I'm craving sweets: soft oatcakes or crunchy lemon biscuits, not wolf gluttony (although it's always an option) without serving with coffee for a mid-morning "coffee" or at 3 pm when my energy takes a dip in the mid-afternoon.
So much of the cooking in this kitchen is about supper: nourishing food to sustain and reward, food cooked to bring people together around the table. It is too rarely about something as frivolous as sugar-dusted treats to put in the lunch box. Still, this week has been a total joy, with every baking sheet in the kitchen getting its moment in the oven, recipes endlessly tweaked and tasted to hit the mark. Delicious to eat, but to be honest I'd do it just for the smell.
Oatcakes with chocolate
As the crunchy, chewy cookies come out of the oven, I like to press the tines of a fork into their still-warm surface to create deep grooves. We tend to eat these within 24 hours, but they will keep for several days in an airtight container if needed. Do 20
Butter 125 g
powdered sugar 85g
light muscovado 85g
egg 1
whole milk 2 tablespoons
flour 250 g
bicarbonate of soda ½ tsp
sea ​​salt ½ tsp
Dark Chocolate 100 g
jumbo oats 120 g
vanilla extract ½ tsp
demerara sugar 5 tsp
Set the oven to 200C/gas mark 6. Line a tray with baking paper.
Mix butter and sugar together until light and latte colored. The most successful results come from using an electric mixer fitted with a paddle attachment. Break the egg into a small bowl and mix lightly with a fork. While the beater is still turning, add the egg to the butter and sugar. Once thoroughly incorporated, stir in the milk (if there are any signs of curdling add 1-2 tbsp of the flour).
Mix the flour, bicarbonate of soda and salt, then fold into the mixture with a metal spoon. Chop the chocolate into small chunks about the size of a shelled hazelnut and add to the mixture along with the jumbo oats and vanilla. Mix lightly but thoroughly.
Place the demerara sugar in a small bowl. Break off pieces of the cookie dough so that they weigh 40g. You should have about 20. Roll the mixture in your hands into balls, dropping each one in the demerara sugar as you go, roll them around until they are covered in sugar, then place them on the baking sheet.
Bake them in the preheated oven for 12 minutes. Remove the pan from the oven and then press down on the top of each cake with a fork to make 4 or 5 deep indentations. Lift onto a wire rack with a palette knife and leave to cool.
Crisp lemon creams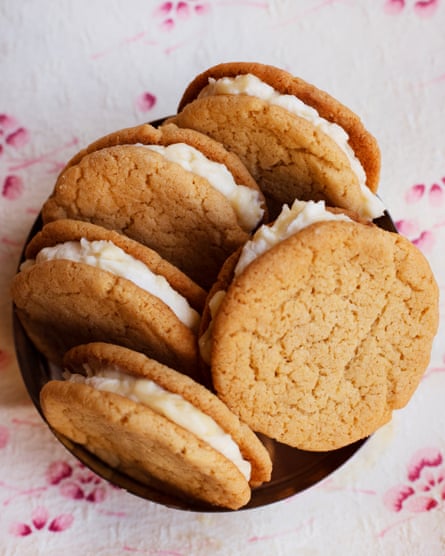 I had never come across the idea of ​​adding condensed milk to a biscuit dough until I discovered a recipe in Rose Prince's wonderful book, Pocket Bakery (Weidenfeld & Nicolson). The thick, sticky milk was something that brought back fond memories and introduced a lovely sugary crunch to the biscuits. Unfilled, in an airtight container, they will keep for a week or more. Once filled with the lemon mascarpone cream, the biscuits are best eaten within a few hours. Worth noting is that the biscuits are soft when they come out of the oven, but crunchy when they cool. Makes 15 biscuit sandwiches
For the biscuits:
Butter 110 g
light muscovado 50 g
powdered sugar 65g
self-rising flour 175 g
condensed milk 50 g
for the filling:
mascarpone 150 g
lemon curd 150 g
Line a baking sheet. Using an electric mixer, beat together the butter and sugar until light and creamy. Mix in the flour and condensed milk. Form the dough into a thick roll, wrap in greaseproof paper or cling film and place in the fridge to rest for 30 minutes. (Do not skip this as your cookies will spread.)
Set the oven to 180C/gas mark 4. Tear off small pieces of the dough and roll them into about 30 small balls (about 15g per piece). Place the balls on a baking sheet, let them spread, then press each ball down with the back of a spoon to flatten slightly. (I do this in 2 or 3 batches.)
Bake for 10-12 minutes until the cakes are pale yellow and slightly soft – leave to cool for 5 minutes before lifting onto a wire rack with a palette knife.
Stir together mascarpone and lemon curd. Divide between half of the biscuits – they should be cooled through – then place the other halves on top and press together gently until the filling reaches the edges.
Follow Nigel on Instagram @NigelSlater