Key events
11 min: There is a quick VAR check. Did the ball roll down, or did it brush Nunez's arm as it went down across the chest? No. He took it down gracefully. That was one heck of an ending. He drove it into the bottom left at 101 mph!
GOAL! Newcastle United 0-1 Liverpool (Nunez 10)
Alexander-Arnold picks up possession to the right of the center circle. He rakes a pass into the middle, where Nunez dives down before slamming past Pope and nearly tearing the net from its moorings. It's simple. What an ending!
9 min: Liverpool take some of the early sting out of the game with some passes around the back, and then…
7 min: Nunez probes down to the left. He cuts back towards Salah but the ball doesn't come through and Anderson intercepts. Both teams look to attack; it may well be the best form of defense for the visitors, who have lost their last three the elite series matches on the road.
5 minutes: Newcastle have started strongly and Saint-Maximin bursts past Alexander-Arnold on the left. He shoots from a tight angle. Van Dijk nods the ball back to him. Saint-Maximin shakes out a snapshot for a goal kick. Liverpool don't look confident on the back.
4 min: Saint-Maximin tunnels down the left and cuts infield. He finds Almiron in an absurd amount of space just to the right of D. Almiron is one on one with Alisson. He tries to force the ball past Alisson but the keeper sticks out a strong arm to parry and claim.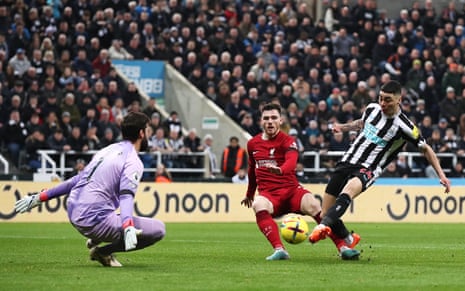 3 min: Trippier curls a clever pass down the inside right channel and almost releases Isak. Van Dijk takes a nap. He is lucky that Alisson has read the danger and runs off his line to choke.
1 minute: Saint-Maximin and Isak combine down left. The latter crosses. Robertson extends a leg to clear. The ball bounds down Liverpool left and Nunez harries after it. He would also be free if Pope hadn't run miles out of his box just to get by. A fast start that promises a lot.
Everyone takes a knee – there is no room for racism – and then Liverpool get the ball rolling. "When Atsu was with Newcastle and he came on as a sub, I remember reacting to the announcement of his name with 'Bless you!'," writes Peter Oh. "Now, for different reasons, I say 'Godvare and bless you Christian' , and the same to his family and friends, in their time of grief."
A warm ovation and a moment of solemn reflection in memory of poor Christian Atsu. The away fans sing You'll Never Walk Alone. A small consolation in that his very last act on a football field was beautiful.
The law is out! Newcastle in their famous black and white stripes, Liverpool in his red floor. A sensational – and indeed emotional – atmosphere at St James' Park. We leave in a few minutes.
A reminder of what happened when these teams met at Anfield early in the season. It remains Newcastle's last league defeat, indeed their only one of the campaign so far.
Jurgen Klopp talks to Sky. "They say we're in a fight for a potential Champions League place but I'm just not there yet to announce it, we have to show consistency… we can't just win one game and everything's good again.. .Newcastle are in that place and if we can close the gap that's always good and that's what we're going to try today."
As well as Atsu's passing, it is also the 90th anniversary of the birth of the legendary Sir Bobby Robson, and Eddie Howe tells Sky: "It will be an emotional game … the crowd will certainly show that before the game in different ways … for the players it is about concentrating on the performance … they cannot be swept up in that emotion … I hopefully we can be the best version of ourselves that we can be … we have to use all the emotions from the audience in a positive way."
This morning's news of the death of former Newcastle player Christian Atsu has hit hard. Sky Sports have spoken to some of the people who worked with, knew and loved him.
Rafael Benitez, who managed him at Newcastle: "I'm really sorry … they said he was good but it wasn't true … he was a nice, nice, special person … a good professional, a very good professional … but I'm not talking about whether he is a good player or not, he was a nice boy, a good player, but especially a really nice person, a special person … you can see the pictures always with a smile … it's really sad for him and everyone involved because it's really tragic news … I was in contact with him last month, we shared messages … it's very bad for me to express myself in English but I tried to contact him … I also don't want to forget the rest of the people, it's a really difficult time … but we have to remember Christian."
Eddie Howe, who loaned him to Bournemouth: "It's a real tragedy … I woke up to the news and was really devastated … a lot of players in our dressing room worked with him for a couple of years … we will pay him a minute's silence and our thoughts are with him … we give him our thoughts and prayers to his family."
Allan Saint-Maximin, who played with him at Newcastle: "It's a very sad day for Newcastle and most of the players because all the players know him well … he was a great guy … I would have a chat with him and a very nice time with him … to see this is very painful … it's hard to talk about but I will never forget him and will fight for him … I'm not going to lie, I'll tell you the truth, I've never seen a guy like that before, when i just came to newcastle, even if we played the same position he always gave me some advice, always a very nice guy … he was always talking and smiling even when he wasn't playing … he was always a great person … it's a difficult day for me but will try to make the best game possible."
Newcastle made one change to the team sent out for the 1-1 draw with Bournemouth this time last week. Elliott Anderson replaces the injured Joe Willock in midfield. Callum Wilson is back from a hamstring injury, starting on the bench.
Liverpool also make just one change from their 2-0 win over Everton on Monday night. Virgil van Dijk returns from his hamstring injury and replaces Joel Matip at the back.
Newcastle United: Pope, Trippier, Schar, Botman, Burn, Longstaff, Joelinton, Anderson, Almiron, Saint-Maximin, Isaac.
Subs: Dubravka, Dummett, Lascelles, Gorson, Wilson, Ritchie, Lewis, Manquillo, Murphy.
Liverpool: Alisson, Alexander-Arnold, Gomez, Van Dijk, Robertson, Fabinho, Bajcetic, Henderson, Nunez, Salah, Gakpo.
Subs: Kelleher, Milner, Keita, Firmino, Elliott, Jota, Tsimikas, Matip, Phillips.
This is a tough call. Newcastle United making a serious bid for a place in next season's Champions League; Liverpool have largely been awful this season. Newcastle have not been beaten in the Premier League since August; Liverpool have already been comprehensively beaten three times in the league since the turn of the calendar year. Newcastle are fourth; Liverpool are nine points behind them in ninth place.
Ah but. Newcastle have struggled to find the net of late, with just three goals in their last six the elite series game; Liverpool rediscovered their attacking flair against Everton on Monday. Newcastle have not beaten Liverpool in 12 Premier League games since 2015; Jurgen Klopp's side are unbeaten in five league games at St James' Park. Newcastle are without their suspended talisman Bruno Guimaraes; Liverpool were the last team to beat them in the Premier League.
So you can make a case for both teams. That's why we love football, huh? Kick-off is 17.30 GMT. It's on!