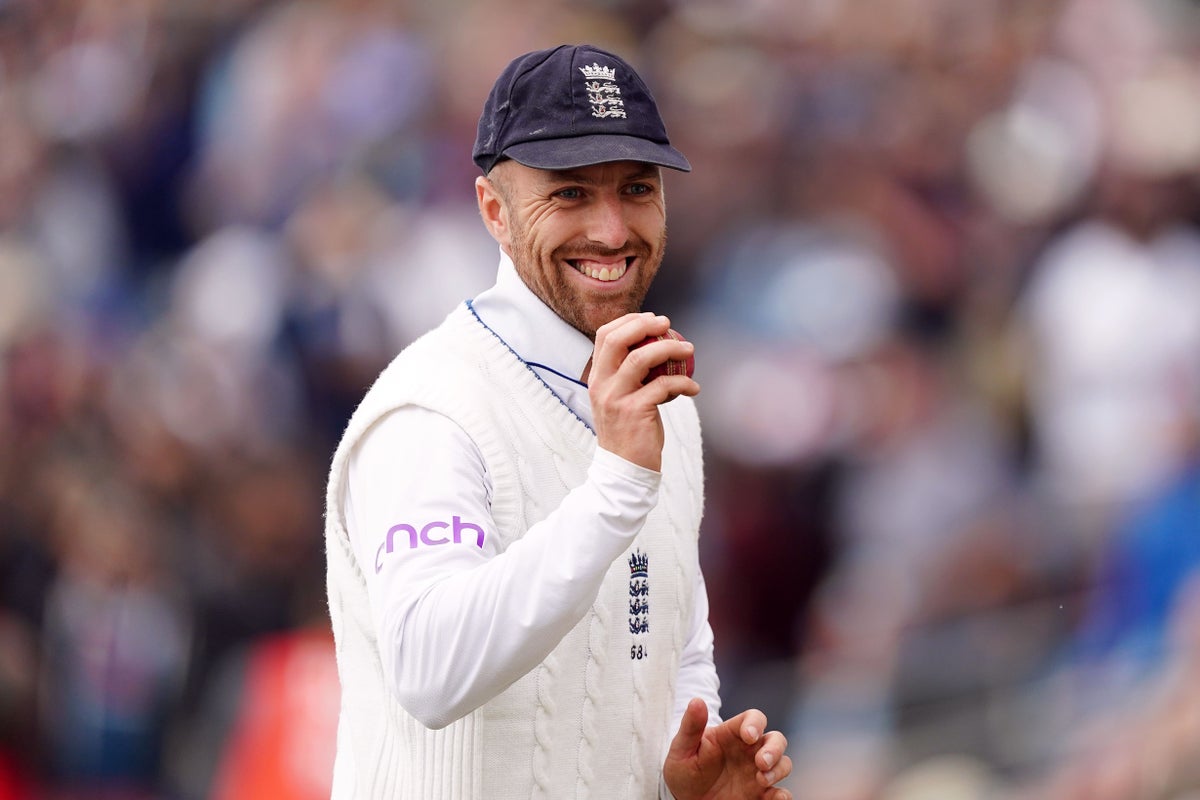 England met some stubborn New Zeland After practicing the continuation in their second Tests that decided the series in Wellington, resistance and Jack Leach to thank the two castles in the last session.
Captain Ben Stokes After securing the lead on a 226-point first inning on the third morning, he promptly sent the hosts back, but met with real determination in the form of an opening stand of 149 out of 149. Tom Latham and Devon Conway.
As England rallied to split three from New Zealand 202 after tea, Leach took 53 unfortunate spins before finally leaving, with Ollie Pope holding on to Conway on the short leg.
The Somerset spinner bowled Will Young in a classic way and Joe Root trapped Latham for a well-reviewed 83, but with the 24 clear and seven wickets in hand, the Black Caps were back admirably.
There may be some controversy yet over Stokes' decision to keep them on, but while the tactic has been somewhat outdated in recent years, it totally fits his brand of proactive cricket and has certainly never been in doubt.
Broad had previously given his captain a choice by taking the last three bases of the first innings to quad bank figures for 61.
Continuing at seven in 138, they were knocked down in 209, captain Tim Southee made a brisk 73. Fifty of them arrived with 31 cannons in the morning, three sixes in Leach and another thrown into Ollie Robinson's stands.
An off-Broad skier finished Southee's fun with a career-best score four shorts when he made his debut against England in 2008. at a short ball.
All eyes were on Stokes and whether he would get the hosts into the game right away, but there should have been absolutely little doubt that he would hit the button. While he had a chance to force the problem and dictate the script, was he likely to do something else?
There was also logic as England had only scored 53.2 overs and new ball specialist James Anderson had not bowled yet that day. But Latham and Conway had their own ideas, negotiating 19 without a hitch before lunch, reaching 40 without a loss.
Few not-so-close misses in leg gouging and leg slippage were as close as England got half-chance, and things were equally vicious in the afternoon.
The Kiwi pair put in another 88 of 30 comfortable extras, and Anderson cast an excellent research spell that brought nothing more dramatic than a few dying edges in front of the chips.
Latham himself and Conway played at their own pace rather than England's, making 50 on 124 and 121 balls respectively, becoming the seventh New Zealander to make 5,000 Test runs. England's bowlers were visibly weakening, and Stokes was notable for his absence in the attack.
Finally, at the beginning of the evening session, he entered the equation, with more than 50 frustrations. It was a chaotic cameo, starting with nine balls, and the steady stream of bouncers saw referee Chris Gaffaney call it one wide and two balls.
The latter saw a shorter pitched bowling, but Leach pushed the long-awaited breakthrough at the other extreme before it became clear how much Stokes would push his luck with the officials.
A bat-pad chance from a left-arm player, albeit from an increasingly weak field, had long seemed like the most likely knockout mode, and it turned out well after 17 times of trying to spot an opportunity.
Conway nudged forward, saw a thin edge protrude from his front leg, and watched Pope devour him on the short leg. He was not in the mood to let this simpler luck stray, since he had captured two magnificent one-handed on the second day.
Stokes said goodbye and threw the ball at Root, who reunited Conway with Latham and trapped the second lbw in a 61 sweep. Root couldn't quite believe his luck, returning at the celebration before asking the referee for approval.
Despite the opening couple's lengthy challenge show worth a total of 327 deliveries, both men were off the stage with their sides still 71 laps behind. So far England have risen noticeably and take third, thanks to Leach's classic spin bowling game.
New batsman Will Young thought he had his stumps closed in defense, but saw the ball gripped and past the outside edge, clipping his top. Kane Williamson and Henry Nicholls continued New Zealand's fight until the close, leaving some tough work still to be done for the traveling team.