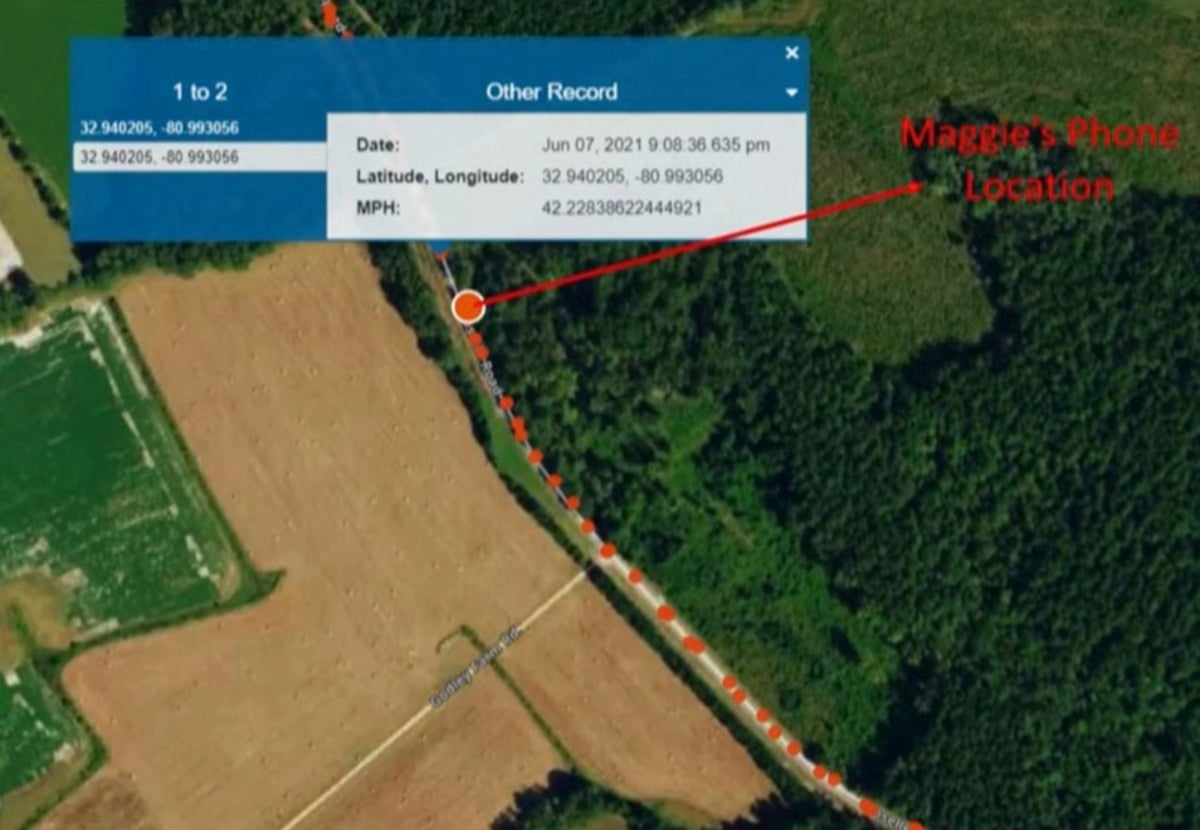 Newly acquired car data has been placed Alex Murdaugh at the site where his wife's phone was later found dumped – before speeding away from the scene.
The records, released by General Motors last week, show the disgraced heir to the legal dynasty left the family home in his 2021 Chevy Suburban at 9:07 p.m. on the night of June 7, 2021 — just minutes after he allegedly shot and killed his wife Maggie and son Paul.
A minute later, while driving at a speed of 42 mph, his car passed the very spot along the Mosel Road where Maggie's cell phone was retrieved from the bush the next day.
After passing that spot, his car then picked up speed, reaching 52 km/h just one minute later at 9:09 p.m., and continued to drive at high speed all the way to his mother's house.
"After passing that location, the defendant's vehicle accelerates," SLED Agent Peter Rudofski testified.
Jurors were previously told that Maggie's cell phone was found by investigators a day after the murders, dumped on the side of a road about a quarter mile from the Murdaugh property.
Prosecutors allege Murdaugh took her phone after killing her and Paul and then threw it out the window of his car as he drove to his mother's home to build an alibi for himself.
In earlier testimony from SLED Lt. Britt Dove, who works at the computer crime center, jurors heard how the last change in orientation — or movement — of Maggie's phone was at 9:06 p.m.
Then, at 9:07 p.m., the screen had gone off and on as if in someone's hand.
The screen didn't come back up until 9.31pm when the phone received an incoming call.
Lt Dove testified that an orientation change can only be recorded if the screen is on, meaning the phone could have been thrown from the car between those times and no change would have been recorded.
Now the new car data places Mr Murdaugh at the location of the phone's dumping just one minute after the phone was last known to have been handled.
This new revelation came as Agent Rudofski took the witness stand at the Colleton County Courthouse in South Carolina on Friday, becoming the last witness for the high-profile prosecution murder trial.
He told jurors his role in the investigation was to piece together all the data into a timeline showing what happened on the day of the murders.
Agent Rudofski revealed that General Motors had contacted law enforcement last week to hand over a trove of data from Murdaugh's 2021 Chevy Suburban, including never-before-seen speed and GPS data.
This came after another law enforcement official testified about the SUV's movements — and, in turn, what it shows about Murdaugh's movements and his alibi for the brutal murders.
Jurors were shown detailed maps of the disgraced legal dynasty heir's car movements, covering his speed and location at specific points that day.
In another bombshell moment, he revealed that less than 20 seconds passed between Mr Murdaugh's car arriving at the doghouse and the start of his 911 call in which he claimed to have found Maggie and Paul's bodies.
During the 911 call — and in interviews Murdaugh gave in the aftermath of the murders — he claimed he had touched the bodies of both his wife and son to check for signs of life before calling 911.
He also claimed that when he moved Paul, "his mobile phone popped out of his pocket". He said he picked it up but then put it back on his son.
The records show Murdaugh's car arrived at the kennels at 10:05:57 p.m., he said.
Murdaugh called 911 on 6/22/14 – just 17 seconds after his car crashed into the kennel.
As well as the detailed car data, the agent also used data from mobile phones belonging to Maggie, Paul and Mr Murdaugh to locate all their movements on the fateful day.
Agent Rudofski testified that records show Murdaugh left the family home at 12:07 that day and drove to work at his law firm PMPED, arriving at 12:21.
He then left work at 18.24 and arrived home at 18.42.
This contradicts the version of events Murdaugh gave to police in the aftermath of the murders – claiming he had gone to work in the morning and returned home at 5.30pm.
Murdaugh then drove to his parents' home at 21.07 and arrived at 21.22.
He left 21 minutes later at 9.43pm – again contradicting Murdaugh's claim during multiple police interviews that he stayed between 45 minutes and an hour.
Muschelle "Shelly" Smith, who worked as a caregiver for Murdaugh's mother Libby beginning in October 2019, previously told jurors that Murdaugh only stayed at the home for 20 minutes.
A few days after the murders, she testified that he told her to tell authorities that he had been there twice as long. He also offered to "help her" pay for her upcoming wedding and put in a good word for her with her other job, she testified.
As well as casting doubt on his timeline of the day's events, the records also reveal a change in behavior in the time since the murders – particularly the speed he was driving.
On his journeys to and from his law firm, he drove at maximum speeds of 60mph and 54mph, jurors heard.
His top speeds to and from his parents' home were 74 mph and 80 mph.
The records show that Mr. Murdaugh returned to the family home at 22.00 and then drove to the kennels at 22.05.
He has claimed that he drove to the kennels after discovering that Maggie and Paul were not there.
Once there, he claims he discovered their bodies and called 911.
Jurors were reminded of mobile phone data previously revealed in court, including the last text messages and phone calls Paul and Maggie made or saw before their brutal murders.
On the night of June 7, Paul made a call on his mobile phone to friend Rogan Gibson at 8.40pm, which lasted four minutes, followed by a second call at 8.44pm. The second was the last incoming message Mr Gibson received from Paul's mobile phone.
Five minutes later, at 8:49 p.m., Gibson texted Paul: "See if you can get a good picture of it. Marion wants to send it to a girl we know is a vet. Make him sit and stay. He shouldn't move too much."
The message – believed to be about a dog Paul took care of for him – went unanswered.
Maggie read a message on her phone that was sent to the family group at 8:49 p.m.
From that point on, neither Paul nor his mother Maggie answered any messages or calls on their cell phones.
Prosecutors claim Paul was shot dead only at 8.50pm and Maggie moments later. Their cell phones had no activity from 8:49 p.m. onwards.
The prosecution theory is that Mr Murdaugh shot Maggie and Paul dead from the doghouses on the family's sprawling Islandton estate, to distract from his string of alleged scandals and financial crimes.
Murdaugh, 54, faces life in prison for the murders of his wife and son. He has pleaded not guilty.