The release of The Last of Us Part 1 for PC is just around the corner, and ahead of its March 28 release, Naughty Dog has revealed its platform-specific enhancements and system requirements.
How detailed on the PlayStation BlogThe Last of Us Part 1 will feature a full set of customizable graphics options on PC, allowing players to tweak frame rate caps, texture quality, shadows, reflections, and environmental occlusion in search of optimal performance.
There is also 21:9 Ultrawide and 32:9 Super Ultrawide monitor support, as well as compatibility with various technologies, including AMD FSR 2.2, Nvidia DLSS Super Resolution and 3D audio.
As for input options, Sony (as you can imagine) advertises support for the wired DualSense controller, but notes that The Last of Us Part 1 also works with many other gamepads, in addition to keyboard and mouse. It promises a choice of control customization options, including control remapping, primary and secondary bindings for keyboard and mouse control, and an adaptive mode that combines keyboard and controller input.
And that's pretty much it for the new PC-focused features, but Sony has also detailed The Last of Us Part 1 PC system requirements for target performance.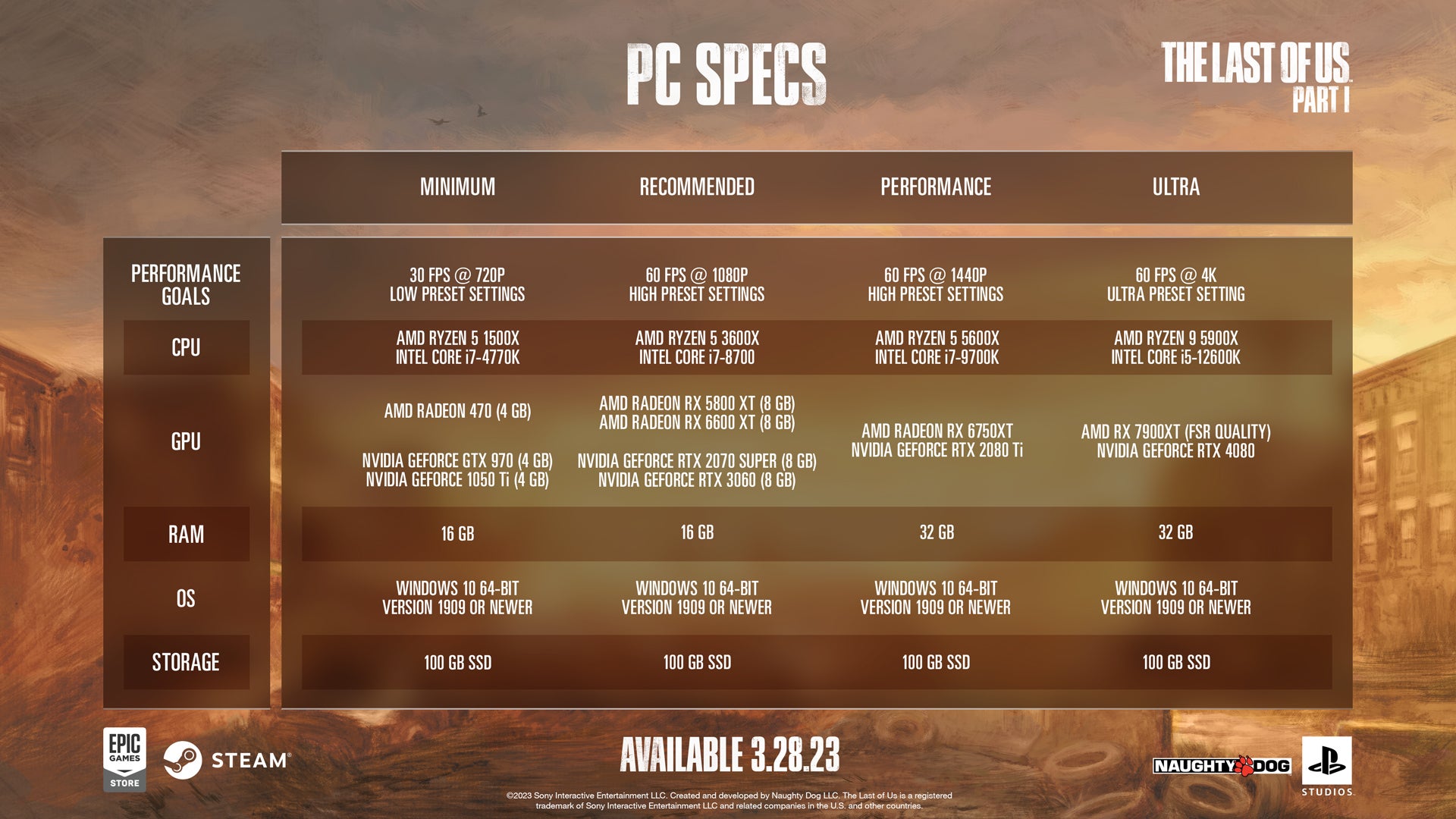 At the lower "minimal" end of the scale, gamers can expect 30fps at 720p using Low settings on a Radeon 470 or GTX 970/1050 Ti, while gamers meeting Sony's recommended specs can expect 60fps at 1080p using the High preset. And finally, right at the "Ultra" end – where an RX 7900XT or Nvidia RTX 4080 is recommended – 60fps at 4K using the Ultra preset should be possible. It's also worth noting that The Last of Us Part 1 requires a fairly substantial 100GB SSD, regardless of settings.
The Last of Us Part 1 is coming to PC on March 28th, but if that all seems too overwhelming, you can always just save yourself a ton of time by reading Eurogamer's news reporter Victoria Kennedy a comprehensive weekly recap of HBO's television adaptation. You will feel like there!