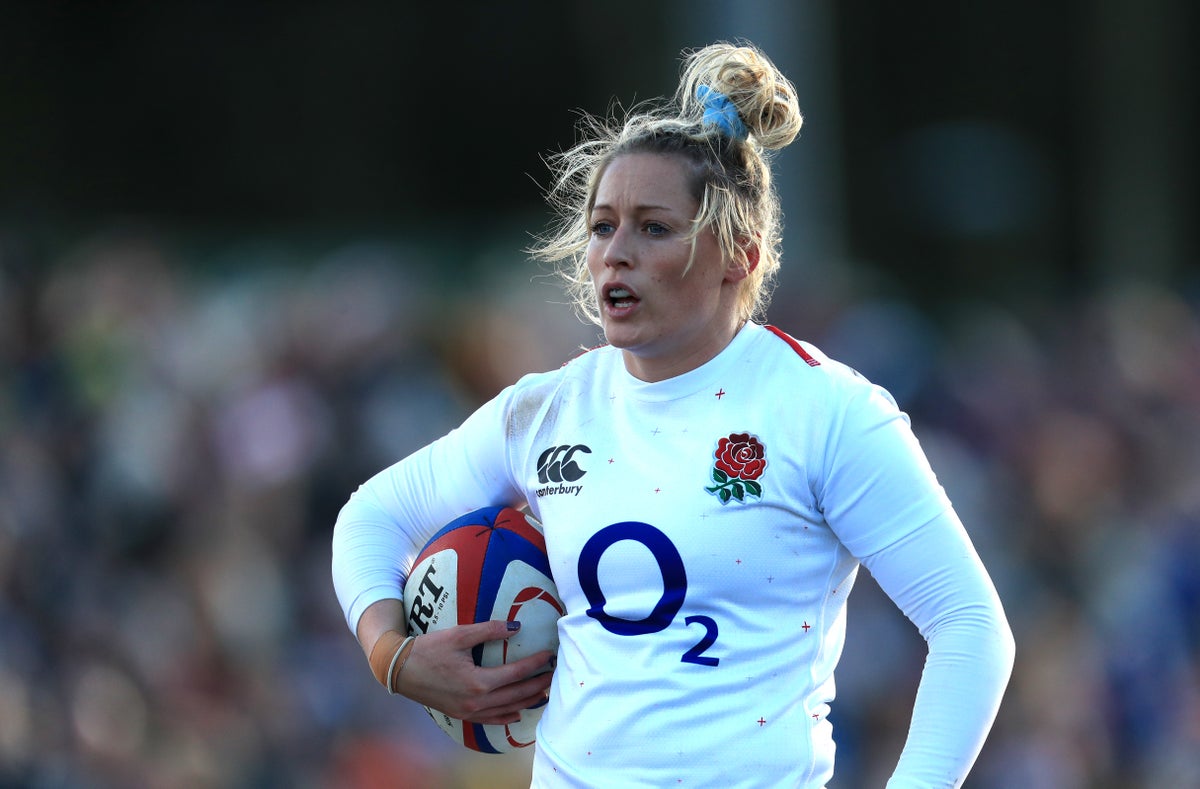 Gloucester-Hartpury halftime Natasha Hunt is back England for staff Women's Six Nations.
The hunt is out He was a member of the World Cup squad last September and said he was "heartbroken" by the neglect. Simon Middletonteam continued lost to host New Zealand to finish the world-record 30-game winning streak in the final.
However, Hunt's fantastic form Premier 15s This season has given him a way back into the international order. Among his impressive stats, he has 19 trial assists in just 12 games.
There are also comebacks for Sarah Beckett, prop Bryony Cleall and center Amber Reed, all missing a World Cup spot.
Elsewhere in the 42-player training roster, Holly Aitchison's name is mentioned, and then she can start halfway through. Zoe Harrison left the squad with an ACL injury.
Sarah Hunter will become co-captain of the team along with Marlie Packer and regular vice-captain Emily Scarratt is injured. Lock Abbie Ward, who announced that she was pregnant at the beginning of the season, is not in the cast. Scarratt and Ward will be on the roster throughout the tournament with coaching support.
Along with Hannah Botterman, Vicky Fleetwood, Vickii Cornborough, and Laura Keates, there are other big names unavailable for injury or personal reasons.
Middleton, who entered his final tournament as head coach and will replace the RFU in the coming weeks, has selected nine free agents, including Saracens' May Campbell, Sale Sharks' Elizabeth Duffy and Exeter Chiefs' Nancy McGillivray.
England begin their championship defense against Scotland on March 25.
Middleton said: "There are a lot of new faces on this roster and while experienced players are missing, this is a great opportunity for the young players and we look forward to working with them.
"After every World Cup there is always a period of renewal and this one is no different. The chosen ones performed very well in the Allianz Premier 15s and they deserved this opportunity.
"Sarah Hunter and Marlie Packer will co-captain the team. Sarah has made it clear that she will not be participating as a player at the 2025 World Cup, so it's critical that we continue to develop our leadership quality and depth. Marlie is already an integral part of our leadership group, so this is a natural progression for her to be co-captain for the side and continue to develop her leadership skills.
England roster for the Women's Six Nations
Striker: Zoe Aldcroft (Gloucester-Hartpury, 38 times), Sarah Beckett (Gloucester-Hartpury, 25 times), Sarah Bern (Bristol Bears, 52 times), May Campbell (Saracens, capless), Bryony Cleall (Harlequins, 7 times), Poppy Cleall (Saracens, 63 times), Kelsey Clifford (Saracens, capless), Amy Cokayne (Harlequins, 70 times), Liz Crake (Wasps, capless), Lark Davies (Bristol Bears, 44 times), Rosie Galligan (Harlequins, 9 times) ), Detysha Harper (Loughborough Lightning, 5 times), Sarah Hunter (CC; Loughborough Lightning, 140 times), Sadia Kabeya (Loughborough Lightning, 8 times), Poppy Leitch (Exeter Chiefs, 7 times), Alex Matthews (Gloucester-Hartpury ), 56 times), Maud Muir (Gloucester-Hartpury, 17 times), Cath O'Donnell (Loughborough Lightning, 24 times), Marlie Packer (CC; Saracens, 89 times), Connie Powell (Gloucester-Hartpury, 7 times) , Emily Robinson (Harlequins, capless), Hannah Sims (Harlequins, capless), Morwenna Talling (Loughborough Lightning, 5 times).
ridges: Holly Aitchison (Saracens, 15 people), Jess Breach (Saracens, 24 people), Abby Dow (Harlequins, 30 people), Elizabeth Duffy (Sale Sharks, capless), Tatyana Heard (Gloucester-Hartpury, 9 people), Natasha Hunt ( Gloucester-Hartpury, 60 times), Leanne Infante (Saracens, 57 times), Ellie Kildunne (Harlequins, 31 times), Claudia MacDonald (Exeter Chiefs, 24 times), Nancy McGillivray (Exeter Chiefs, no cover), Sarah McKenna (Saracens, 43 times), Lucy Packer (Harlequins, 9 times), Amber Reed (Bristol Bears, 62 times), Helena Rowland (Loughborough Lightning, 22 times), Ellie Rugman (Gloucester-Hartpury, open), Emma Sing (Gloucester-Hartpury, 2 times), Lydia Thompson (Worcester Warriors, 58 times), Lagi Tuima (Harlequins, 12 times), Ella Wyrwas (Saracens, open).