Key events
48 min "When my kids were little (late 80s/early 90s) in North Carolina," says Barry Ragin, "they and their cousins ​​(based in New York) would play this game using e Beetles as spotted object. I don't remember this from my own childhood. The first person to see a VW would declare 'punch baggy (car color) no punchbacks!" while punching you in the shoulder."
We're going to start a dead hand epidemic here. I'm for it!
46 min Let's go again – when Amrabat joins us – Croatia replaced the probably injured Vlašić Pašalić
"One factor in how energetic the games were was the lack of travel," says Kári Tulinius. "Teams don't get on a plane every three days and spend hours in the air. Instead, I can rest and relax."
World Championship in London! Let's chat now! As soon as this is done, I call Fifa and Sadiq.
I love MBM part 1. Just kidding, part 74,502. Here's how Fredrik Lorentzson answers Question by Michel Lacquiere: "ISO 3166-1 alpha-3 codes are the three-letter country codes used. Often – almost always – derived from English names, but sometimes from another language, guess which one? Ivory Coast is CIV, Morocco is MAR, Romania is ROU."
Great stuff, thanks.
"Morocco may have Bono in goal," says Joe Shelton, "but Croatia seem to have the advantage in midfield…sorry."
Arf. I can't lie, I made a mental note to find an appropriate pun, but you nailed it. On a related note, Bono recently did an interview with Vogue – he's wild in many ways – but what really tickled me was that he forgot his wife's birthday and then wrote her a sorry song… the Sweetest Thing . Imagine it: Bono tells you he wrote you a song, and it's this dirge. He would be furious! And the piece is worth clicking, because after that yarn comes one of the great sequels, a real netbuster.
Halftime Email: "I'd also like commentators to use accents," says David Hopkins, "but why not go one step further? I'd love to hear the commentators adopt the appropriate regional accent depending on which English player is on the ball – North East for Pickford or Henderson, North West for Rashford, Brummie for Grealish etc. It would be easier now than in 1990 of course if half the team needed him very heavy Geordie accent."
It's especially great when a player has a name ideal for their cadence – Terknee Merrbrey achieves the perfect aspect.
It was a fast and intense half, but a lack of quality in the final third – and some decent saves – means that we didn't have much in the way of goalmouth action. Should open up after the break though as both sides try to win.
HALFTIME: Morocco 0-0 Croatia
That was pleasant.
45+2 min Croatia comes again, Aguerd blocks Brozović's shot, and the lost ball flies to Modrić, who throws it just over the top with his left foot from 20 yards.
45 min There will be two added minutes. Is that it?
45 min Here's Croatia on the left, Perišić finds Sosa who crosses well and low … and here's Vlašić who cuts in front of his man! He also makes a decent connection, solid with the outside of his right boot, but Bono is down at his near post to save and hold on. I think it's our first shot on goal.
44 min Vlasic is fine to continue and Morocco go again, Ziyech gets down to the right for Ounahi, but Guardiol comes across and covers well.
42 min Vlašić has some kind of calf situation. Not the first! "Choose that sequel," as the great Rob Smyth likes to say.
41 min Ziyech hits the first man and Croatia clears.
40 min A clever ball from Ziyech, ctrl c, ctrl v, slides into Ounahi – down on the right of the box – who makes a mistake not uncommon in international football: he immediately tries to pick out the star. His return is miles off target, but Morocco withstand the onslaught and Hakimi is pulled down the right. Free kick and a decent chance for a decent cross.
40 min "I definitely think you're right about the pace," says Thomas Krantz. "Most of the players are on from the first minute, which is a stark contrast to what it usually looks like."
38 min Hahahahaha! Brozović turns past Amrabat, who is making his way through him as if it were a school corridor. It's a tricky trick indeed, because the equivalent level of violence applied to the legs is definitely yellow; this, however, only allows him to escape with a counter free kick.
37 min Nice legs from Brozović in the middle, skipping the challenge and spreading to Vlašić on the right. But Saiss quickly got off him, and Morocco are now back in the running.
35 min "Did we really all agree that Croatia's jersey is the best?" challenges Rory Davies. "I was never obsessed with it. Throw it across the table and throw in a bottle of Chianti with a candle in it and I can see the appeal. Like a soccer kit? No Thanks. Anyway, everyone knows that Italy always have the best kit at the World Cup – oh wait…"
I guess because the war in Yugoslavia is still fresh in the memory, so what the flag represents is always there, in addition to being unique – both as a flag and as a soccer jersey. But yes, Italy boasts some celebrations.
34 min Juranovic, who we haven't seen much of, goes forward for what seems like the first time and crosses low, but again Saiss moves in sharply, sliding in to intercept.
33 min It's a bit shabby outside. I haven't particularly felt it in other low-scoring, entertaining games we've seen, but this one could use a goal.
31 min "I notice that ITV (and probably not the host broadcaster) has in its little results icon in the top left corner, the letters 'MAR' for Morocco, probably to reflect that it is known as 'Maroc' in at least one of its native languages, " notes Michael Lacquiere. "In the interest of pedantry, my mind is therefore suitably puzzled as to why Croatia is not marked with HRV or some similar abbreviation of Croatia. Indeed, I wonder if we can look forward to seeing DEU when Germany later appears, or 남한 when South Korea is in action?"
That would be amazing. In a similar vein, I often wonder about accents when I put them in front of commentators, because they only do it with French and Spanish, but by that reasoning they should be used for Scots, Welsh and so on.
29 min Amallah finds some space, then Brozović his ankles. This is a comfortable encounter so far with Morocco having a slight edge, but as we know, Croatia's passers are capable of taking over the game when it falters in the second half.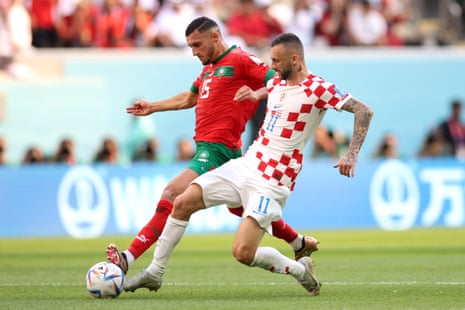 28 min "You should try the Yellow Car in France," says Richard Hirst, "where the post cars/vans are yellow. And there are many postal vehicles in France!"
I was floored last weekend when my daughter saw a yellow bus in a picture at a friend's house. Which now makes me wonder if I could print out such a thing, carry it in my pocket and pull it out whenever the mood takes me.
26 min Kramarić pulls to the right, and as a result, when he scampers over the cross, there is no one in the middle to attack him.
25 min Amrabat, out on the left, cleverly sends over the top into the penalty area, where En Nesyri made a clever run towards the line. But Lovren, who initially lost it, follows up well, so he's there to make a challenge when the ball drops.
24 min I wonder if the World Cup in the middle of the season improves the quality of football because, although there is a lack of players who would be in the summer edition because they had time to recover, those who are fit are not exhausted. I say this because the pace of the games was different from the international tournaments of the recent past – although it is also true that the game has probably accelerated in recent years.
22 min The corner is half kicked out, and Croatia returns to the ball and starts its pass again.
21 min It's Ziyech, who kicks straight into the wall, then Croatia break with Kramarić who loses the ball, returns it and passes inside for Vlašić from the right … but a timely challenge from I'm not sure who sends it behind for a corner.
19 min Hakimi stutters across the face of D and Modrić enters the challenge, gets hit on the ball and the entire boot in the metatarsal. Free kick Morocco, 25 yards, dead center. Ziyech likes it and so does Hakimi…
18 min Nice from Morocco, Hakimi and Ziyech exchange passes after a quick throw before Ziyech ziyechs, curling a beautiful cross into the middle and En Nesyri is up! But he misses the header, which is a significant miss.
1 s min "THE PLACE OF THE YELLOW CAR!?" roared deeply offended Matin Cain. "Everybody knows this is called 'Cheese on Wheels' – you see a yellow car and you say 'cheese on wheels' for real." The bonus for the yellow mini is a 'mini shot, no return'.
17 min Amallah feeds the ball to Perisic in midfield and he advances and then frees it, a twisting, floating effort that falls just short of the crossbar, but Bono has it covered.
15 min Perišić wears number 4 and plays on the left wing – I'm afraid not, I informed Haag – and finds Modrić on the outside, who swings his man with a step-up before drilling low across the face. But that lack of a central striker is visible, no one gambles to get to the end.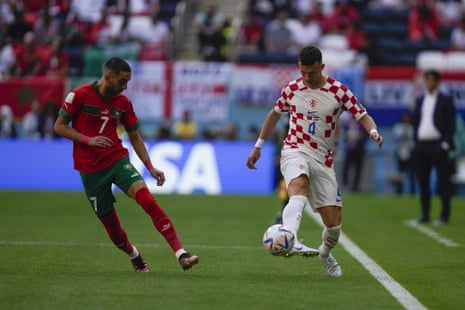 13 min Vlašić heads, and Kramarić collects nicely, but it's him against 17 defenders and he quickly relieves himself. Then Morocco executes a counterattack, Ziyech catches with his left foot and shoots… but Lovren blocks from the first, then Hakimi sweeps to the right and crosses low, but the rebound returns the ball to Livkovic. this game has a decent pace, although still not that high quality.
11 min Great work from Ziyech, who catches Kovacic in possession and finds Ounahi, but when the ball comes back, Guardiol is on hand to make the challenge. On Guardiola, by the way, I'm told he could be very special, but I haven't seen much of Leipzig; do those who have think so?
10 min I suppose it makes sense for Morocco to try to get to Croatia's back four, as that is the best way to prevent them from getting the ball into midfield – their biggest weapon and exactly what they are trying to do.
9 min Morocco press Croatia high – that's interesting and should speed up the game – but Ziyech then leaves one on Guardiola who, by the way, is wearing a mask.
7 min "I'd like to mention a fun addition to Yellow Car Punch," says Kieran McHugh. "Namely Green Car Hair Skruffle. Especially good if the younger participants are too small to pull someone's hair. You also seem to have forgotten to mention the 'No Returns' rule which is essential to avoid anarchy."
I wonder what Bakunin and Proudhon would say about that. But in our house, "No turning back" is just assumed because the rule is to punish whoever sees the car first, not anyone who sees it at any time. Even though my daughter started hitting me beforehand, when she knows there is one she follows.