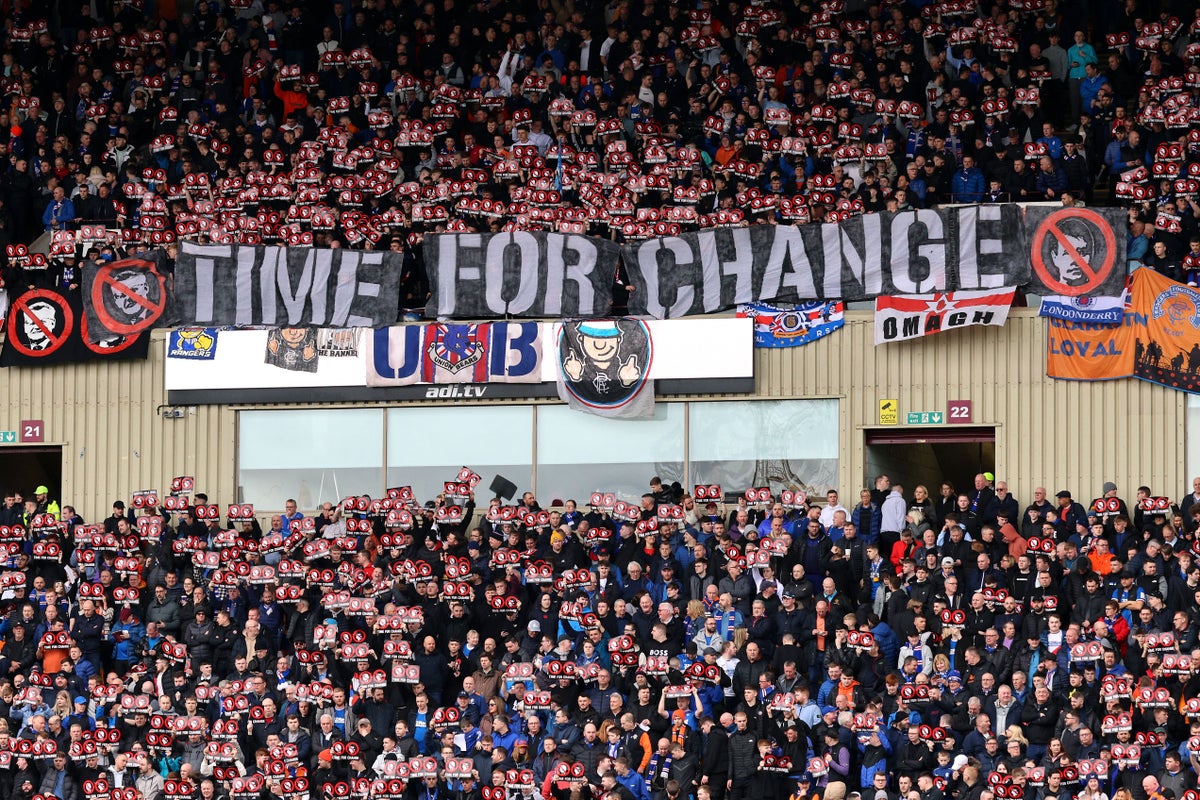 Michael Beale praised Ross Wilson's virtues after another protest by Rangers fans against the sporting director of the Ibrox club.
before 4-2 Premier League to win mother well At Fir Park, away fans held up banners with Wilson's faces, and general manager Stewart Robertson crossed out alongside the phrase 'time for change', a continuation of a theme among an episode of Gers support this season.
Goals from James TavernierFashion Sakala, Todd Cantwell and Malik Tillman scored three points as Kevin van Veen and Bevis Mugabi recorded the home side, who sent Callum Slattery off for the second yellow card in the 76th minute.
And after his team's win, former Rangers assistant coach Beale – lost once in 19 games since returning to the club, took over as boss. Giovanni van Bronckhorst In November – spoke about Wilson in positive terms.
"I've always worked well with Ross. He came when I was at the club before and was instrumental in bringing me back.
"We work exceptionally well together every day. 24/7 football people, like me, so we have the same energy.
"We are working and looking at the players. We both control the atmosphere on the training ground. We are the two main figures there.
"I understand the disappointment of the fans, but they do not know everything that is going on at the club and the work done.
"I understand that they paid for and collected every away game at home and in Europe.
"They have the right to – properly – express their opinions. But since my return, the team's form has been really good.
"Before, they might be disgruntled. But now we look forward and move forward. I would prefer that if we were on the same page.
"I think the work going on behind the scenes into next season is exciting. Everything is inexplicable now.
"We try to make the fans happy. I understand their frustration, but I think we are much stronger when we are all together.
"There are enough people outside of the rangers who don't want us to do well, so let's make sure we're together."
Beale insists the discontent did not affect the Gers team, but points out the very public nature of the protests.
"This is not something that went into the locker room," said the former QPR boss, who urged his side to be more "brutal" in front of goal.
"We know the campaign is disappointing at times, but all we can do is keep winning the next game and win well.
"It's not something that affects the group just because we're winning.
"But today it was so visual that it's there for all to see."
It was Stuart Kettlewell's first defeat since taking over from Steven Hammell last month.
Kettlewell sought clarity on Sakala's 2-1 lead over the Rangers and Slattery's dismissal as he tried to fend off Cantwell with his arm.
He said: "I need some clarity. Sakala's offside for the third goal was a big moment in the match.
"I also want Calum Slattery's second yellow card cleared. There is contact but he is trying to cover the ball and is unaware of the man behind him and the contact is made on Cantwell's shoulder.
"This is really frustrating.
"I'm not calling out to anyone, I really want clarity. But the third goal, according to me from the pictures I've seen, is our player Dan Casey, the blue line behind the red line Sakala.
"From what I can see, it looks like offside. We never scolded the referee or the fourth official, we are not hitting the system in any way, but it's a big goal in a big time."