Matildas finished the year with Tony Gustavsson's longest streak as manager, beating Thailand 2-0, with positive marks at home ahead of next year's World Cup.
The final scoreboard did not reflect Matildas' dominance in a game characterized by missed opportunities.
Australia finished Tuesday night's game at Central Coast Stadium with 31 shots on goal compared to Thailand's five, but they needed 14 to eventually break out of the stalemate.
Thailand battled for the preliminary third place, so there was never really a risk of upsetting the hosts as they prepare for more friendly games in 2023 as the World Cup approaches.
Captain Sam Kerr had three real chances to score in 10 minutes and Hayley Raso and Cortnee Vine were constantly threatening with their speed on the flanks, but the score remained 0-0 until 40 minutes.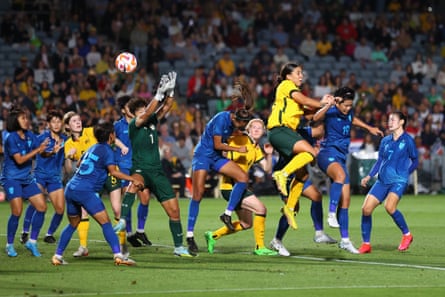 Thailand's luck finally ran out when Kerr threw the Katrina Gorry corner behind the net, giving Matildas the advantage at the timeout.
Gustavsson made no changes to the starting lineup that swept Sweden over the past week, but Mary Fowler, Larissa Crummer and Emily Van Egmond came into the game after the break.
A natural forward, Crummer replaced defender Charlotte Grant, who seemed to have taken a hit during the countdown at halftime.
Just two minutes later, Raso tore through the Thai defence, showing no sign of the mushroomy thighs he experienced as he blew up Australia's second half in the first half.
Kerr scored early in the 62nd minute, replaced by Alex Chidiac and the Australians were unable to score again, although they continued to enjoy the majority of the chances.
Defender Clare Polkinghorne joins Cheryl Sainsbury as the most capped Matilda of all time in her 151st appearance for the national team.
Gustavsson made her debut for Matilda McNamara in the final 10 minutes as Elise Kellond-Knight returned from an injury break of two and a half years before the Tokyo Olympics.
Australia have won their last four games and are undefeated in their nine matches against Thailand.