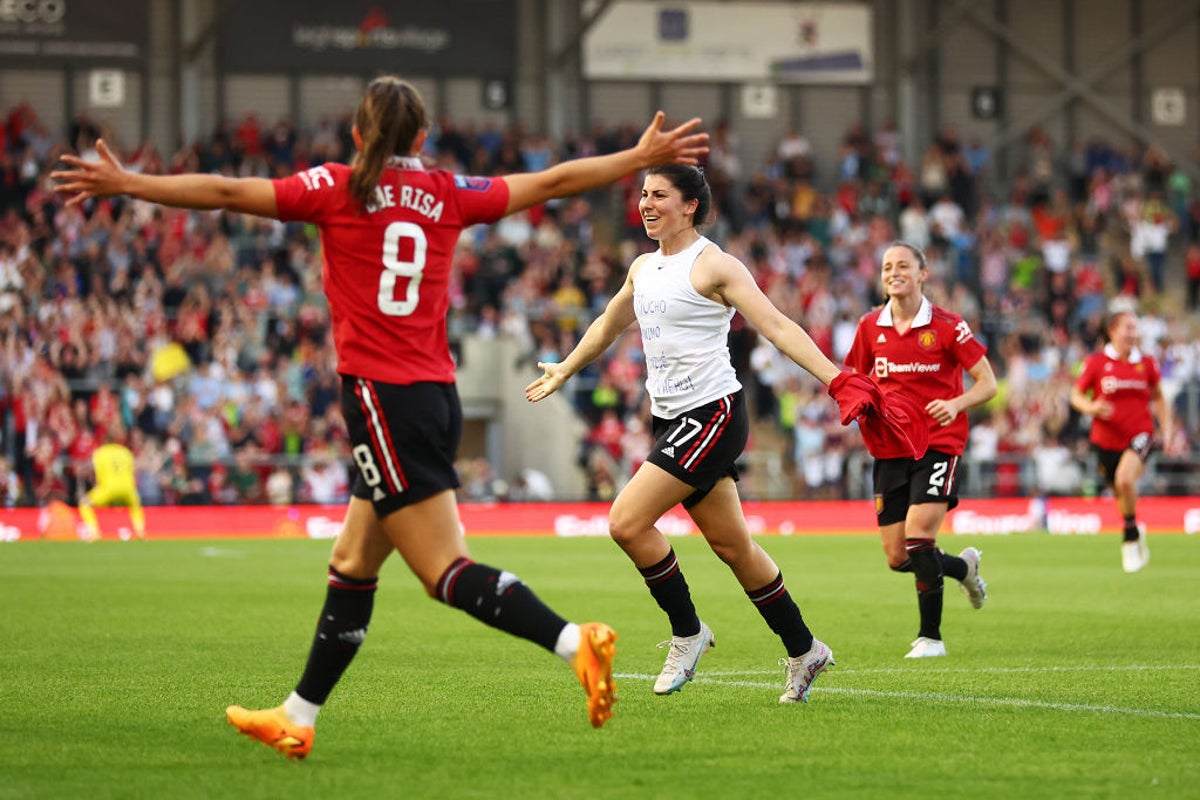 Manchester United 10 women vs stop time winner Manchester City Moving the Women's Super League championship fight to the last day.
Chelsea put pressure on their opponents with halftime goals from Guro Reiten and captain Magda Eriksson gave them a 2-0 home win over Arsenal and a five-point advantage earlier in the day.
The Blues surprised previous leaders United and Marc Skinner's side knew that only their first WSL derby victory against their city rivals would be enough to take the fight to the final day next weekend.
Hayley Ladd took a long-range shot in just the second minute to take the home's lead, and City was down to 10 players at halftime when goalkeeper Ellie Roebuck knocked out Nikita Parris.
But Filippa Angeldahl's crossover attempt flew over Mary Earps for an equalizer in the 68th minute, and City came close to winning before Lucia Garcia took United's second kick in the first minute of extra time.
Earlier, Reiten put Chelsea ahead with a goal in the 22nd minute, and Eriksson, who announced earlier this week that he would leave the club at the end of the season, added a finish just before the break.
Katie McCabe had a chance to retract the goal with a penalty in an hour but widened the lead.
Emma Hayes' side could clinch their fourth consecutive title against Reading next Saturday, as United, who clinched their Champions League qualifiers for the first time, will face Liverpool.
The defeats to Arsenal and fourth-placed City mean that the Artillery remains three points open in their third Champions League qualifying spot race – with a much better goal difference.
After Leicester's 2-1 loss to West Ham, the relegation battle will go to the last game of the season.
Leicester could have relegated Reading with a win, but Sophie Howard's own goal put Hammers ahead and Dagny Brynjarsdottir split them in two with a point kick.
Ruby Mace received her second yellow card for Foxes in extra time, but Hannah Cain still had time to draw a card from the penalty spot.
Rachel Daly extended her lead with another goal in the Golden Boot race against Khadija Shaw in Aston Villa's 3-3 draw with Liverpool.
Kirsty Hanson put Villa ahead in the seventh minute and the sides moved to halftime after Katie Stengel and Natasha Dowie scored for Liverpool in quick succession before Daly scored.
Stengel then put Liverpool back in the lead in the 62nd minute, but Hanson equalized eight minutes later.
Confident to finish in sixth place ahead of their city rivals, Everton defeated Brighton 2-1.
Hanna Bennison recorded an overtime win after Brighton's Katie Robinson canceled Katja Snoeijs' opening.
[pub1]