Key events
21 min: But hold on! VAR wants to see a possible penalty! One of the Rodri nods clattered to Henrichs on his right arm, which was far away from his body. The referee walks over to the screen, makes his decision, draws a TV in the air and points to the spot! Henrichs is booked and Haaland takes.
19 min: … the corner leads to a game of pinball in Leipzig's six yards. Rodri heads. Akanji takes a shot. Rodri sets off again. The ball drops to Haaland, but he can't get a shot off, with Raum getting away in the end. What an escape!
18 min: Silva rolls down the right for De Bruyne, who has an awful lot of joy out on this wing. De Bruyne passes deep from the touchline. Blaswich calmly asserts but then, trying to play out from the back, shakes a simple pass out of play for a corner. It's almost a horribly expensive mistake too, because…
17 min: Grealish dribbles down the left and slides in Ake on the overlap. Ake cuts back for De Bruyne, who has his back to goal and so deflects the ball into Grealish's path. Grealish opens his body and looks up the right. The shot pings off Orban's knee and out to a corner, from which nothing comes. But what a lovely fluid move by the hosts there. It would have been a picture box target.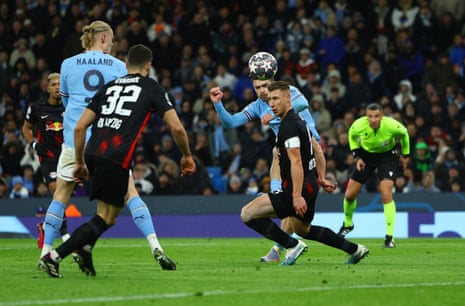 15 min: Dias plays a bad ball from behind. It is intercepted by Szoboszlai, who sends Raum into space to the lower left. Raum makes a low cross in the box. Ederson goes down to choke. A better cross there, and City, despite their excellent start, would have been in a world of pain.
13 min: De Bruyne drives with great determination down the right touchline. He barely has space to play with, under intense defensive pressure, but still manages to dig out a cross towards the far post. Blaswich asserts confidently. City come to Leipzig from all angles.
11 min: Åke sails a lovely long pass down the inside left channel to release Haaland. The big man enters the box first, with the help of a little nudge in the back from Guardiol, and tries to poke first time past the onrushing keeper. Blaswich manages to stick a leg out to block and the ball is hoovered away by Orban. Even closer! City could possibly be a couple of goals up already.
9 min: City stroked it around the middle in dominant style. Then Grealish suddenly picks up speed down the left and almost runs a defence-splitting one-two with Gundogan. Not quite, but then again, City are very close to getting things very right.
7 min: From the resulting throw, Grealish and Haaland combine down the left. The ball rolled back to Åke, who rolls onto the pitch. His cross sails behind Haaland, but not by much. City are in the mood to create some chances tonight.
6 min: Orban blows what should have been a simple pass out of play, under pressure from the City press. Anything Leipzig can do, City can do just as well, if not better.
4 min: Silva wins the first corner of the evening down to the right. Leipzig handle it easily, despite Akanji winning a header at the far post.
3 min: On the outside line, Pep is already feverishly making tweaks. Whatever he says pays off almost immediately, as Silva slips De Bruyne into space down the right. De Bruyne whips to the far post, where Gundogan leans back and fires over from 12 yards. It was a chance. Not easy, but a chance. It would have been a hell of a goal.
2 min: Leipzig came out pressing, much like Marco Rose promised. Kampl looks for Werner with a wedged pass into the middle but his team-mate knows he's miles offside and doesn't even bother to chase it.
Manchester City v RB Leipzig (grudge: 1-1)
City get the ball rolling. Blue Moon rings around the stadium. A proper European atmosphere under the lights!
A laser show, the coda from Hey Jude, the performative booing of Uefa's version of Zadok the Priest, and out comes the law! Manchester City wear their sky blue shirts, Leipzig third choice black and red. Last up in the tunnel, Pep and Marco, arm in arm, the best friends. We're leaving in a minute!
Postbag before match. "I think I'd have an easier time winning the Powerball than correctly predicting one of Pep's lineups" – Blake Mitchell
"Marco Rose's comments don't really lead me to believe that Leipzig are coming out with the intention of being trampled, nor are they setting themselves up for exciting heroics in this tie. It seems they are quite content to let the game flow at City's pace and bend like an arrow, as Taylor Swift once sang about, but probably not with the artistic inspiration of Big Cup football" – Bill Preston
"Should be an interesting second leg in the liquid gold derby. The smell of crude will likely prove too much for the sugary energy drink, but hey, it's football and anything can happen. I'll go with Pep Guardiola as I nervously open a plastic bottle of drinking water, takes a distracted drag and screws the cap back on with excessive force" – Peter Oh
Pep Guardiola talks to BT. "We will give defenders help in the build-up … everyone is available and ready … all four (defenders) can play in different shapes so we are ready for that … they start with a lot of players inside … they might will change their shape but we'll see after five minutes."
Leipzig coach Marco Rose talks to BT. "We have to defend a lot of situations but we also want to attack … the midfield is of course an important part of the game … in Leipzig we saw how it didn't work and how it could work … we were more active and pressed them … we made them problems … we have to try to get possession … it's not easy but if you just run towards the ball it will be difficult … Erling is Erling and he will try to score today against me and my team … we have no special plan against him but we have to do everything at the highest possible level because he is really dangerous … we are really confident, that's why we come here … we played a good first round and we can be confident … the winner goes to the next stage … we want to play a good game and see what we get."
Manchester City make two changes to the XI named to start the first leg in Leipzig. John Stones and Kevin De Bruyne come in for Kyle Walker and Riyad Mahrez, who both drop to the bench.
Leipzig make four changes to their starting XI from the first round. Amadou Haidara, David Raum, Benjamin Henrichs and Kevin Kampl come in for Lukas Klostermann, André Silva and Marcel Halstenberg, who drop to the bench, and the injured Xaver Schlager. Christopher Nkunku, who came on as a sub in the first leg, also misses out through injury.
Manchester United: Ederson, Stones, Akanji, Dias, Ake, Rodrigo, De Bruyne, Gundogan, Bernardo, Grealish, Haaland.
Subs: Ortega, Carson, Walker, Phillips, Laporte, Álvarez, Gómez, Mahrez, Perrone, Foden, Palmer, Lewis.
RB Leipzig: Blaswich, Henrichs, Orbán, Gvardiol, Raum, Laimer, Haidara, Szoboszlai, Kampl, Forsberg, Werner.
Subs: Nyland, Nickisch, Simakan, Olmo, Poulsen, Klostermann, Silva, Halstenberg, Ba.
Judge: Slavko Vinčić (Slovenia).
Three weeks ago this happened…
… but 18 months ago this happened …
… in other words Manchester City should be comfortably confident of advancing to the quarter-finals tonight. However, they must be better than they were in the second half in Germany. Kick-off at the Etihad is 20:00 GMT. It's on!