Meet the electric SUV with magnetic appeal.
Lucid Group unveiled its next project, the Gravity SUV, during the AutoMobility Auto Show in Los Angeles. The automaker also released additional versions of the popular Lucid Air sedan – Air Pure and Air Touring.
Both models offer future-ready DreamDrive Pro driver assistance systems powered by the NVIDIA DRIVE platform.
Lucid launched Air at the end of last year to acclaim. The luxury sedan wins MotorTrend's 2022 Car of the Year award with a record range of up to 516 miles and fast charging.
Newly introduced options provide updated features for a wider audience. The Air Pure is engineered for agility, with a lightweight, compact battery and industry-leading aerodynamics.
The Air Touring is at the heart of the lineup, offering more power and battery range than the Pure and more flexibility in customer options.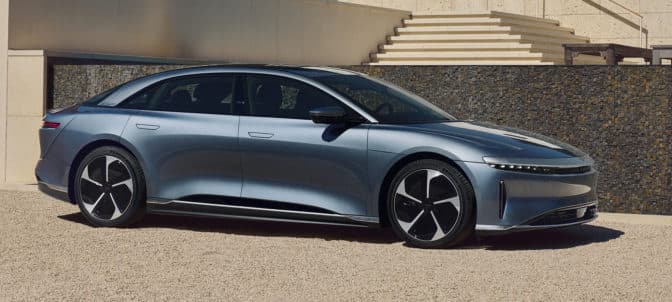 Gravity builds on this stellar reputation with an aerodynamic, spacious, and intelligent design supported by high-performance NVIDIA DRIVE centralized computing.
"Just as Lucid Air redefined the sedan category, Gravity will impact the world of luxury SUVs by setting new benchmarks across the board," said Lucid Group CEO and CTO Peter Rawlinson.
Capable and pleasant
DreamDrive Pro is defined by software and is constantly being improved through over-the-air software updates.
It uses a rich set of 14 cameras, one lidar, five radars and 12 ultrasonic sensors powered by NVIDIA DRIVE for reliable automated driving and intelligent cab features including surround view monitoring, blind spot display and roadside assistance.
In addition to sensor diversity, Lucid's dual-channel power system and proprietary Ethernet ring provide a high degree of redundancy for key systems such as braking and steering.
"Lucid Air is at its core a software-defined vehicle, which means that most of the experience is provided by software," Rawlinson said. "It makes Lucid Air more functional and enjoyable with every new update."
Get ready to launch
These new Lucid vehicles are almost ready to go.
Production of the Lucid Air Touring has already begun and the Air Pure will begin in December, with customer deliveries to follow shortly.
The automaker will open bookings for the Lucid Gravity in the spring, with deliveries starting in 2024.