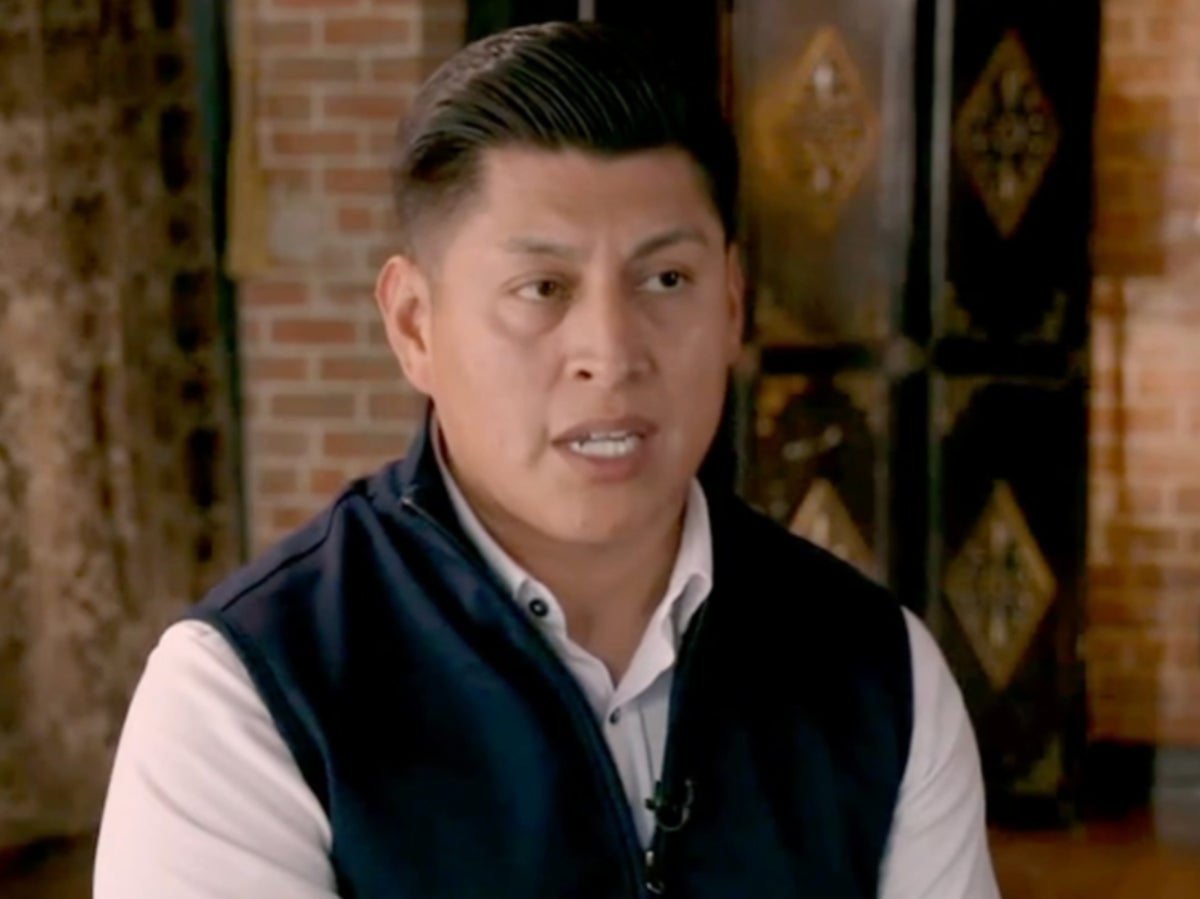 The last juror to vote to convict Lori Vallow of all the charges in her trial for the murders of her children and her husband's late wife have spoken.
In a ABC News exclusive interview that aired on Good morning America on Wednesday, Saul Hernandez, one of the 12 jurors out of a panel of 18 including six alternates, gave his account of their deliberations.
Hernandez was the lone holdout on the panel before ultimately changing his position on day two of deliberations to find Vallow guilty of all charges.
On Friday, May 12, Vallow was found guilty of first-degree murder, conspiracy and grand larceny for the deaths of her daughter Tylee Ryan, 16, son Joshua "JJ" Vallow, seven, and for conspiracy to murder Tammy Daybell, 49, her new husband Chad Daybellfirst wife, at the Ada County Courthouse in Boise, Idaho.
Tylee and JJ were last seen in September 2019. In June 2020, their remains were found buried in shallow graves on the Daybell property. Tammy died a month after their disappearance in October 2019 and her death was later ruled a homicide by suffocation.
Over six weeks, prosecutors alleged Vallow conspired with Mr Daybell and her brother Alex Cox to kill the three victims, motivated by greed and their doomsday cult beliefs.
Of the experience of being on the jury, Hernandez said, "I don't think as a human being you're ever really prepared to experience this."
When asked why he initially held off on sentencing Vallow, he explained, "I just didn't feel like at that timeline with Tylee (Vallow) we were quite there yet, and if we were, maybe I missed it."
Speaking about the bizarre religious beliefs that appear to have partially underpinned the motive for the murders and whether the defendant had truly believed them, Hernandez said of Vallow, "I think she started with maybe curiosity and explored what her original beliefs were. And once Chad came into the picture she followed."
Hernandez told ABC News that he otherwise found Vallow "strangely stoic" during the six-week trial.
Asked what went through his mind when the court was shown pictures of Vallow and Mr Daybell dancing on a beach in Hawaii at their wedding while her children were buried in his backyard, Hernandez said: "I was disgusted. I didn't want to look at them. I just couldn't believe how anyone could be so happy when your kids are in the ground and the person who was the key to all of this is sitting across from you, smiling at you and dancing with you on a beach."
Poignantly, Hernandez said, "As the case progressed, as the evidence came out, testimony was shared, it was harder to look at her. Growing up, we learn good and evil, God and evil, and I think for the first time in my life has put evil in its face."
Earlier, a deputy broke her silence, talking to Law & Crime. Juror Tiffany, who was not on the final panel of 12 but served as an alternate and was presented with all the evidence over the course of the six-week trial, said she felt she could be impartial based on her experience in the military as a neutral person who do not judge people directly.
She also admitted that she knew nothing about the case going on but was wary that it was about the murder of children, being a mother herself. The key for her was watching Vallow's reaction when the evidence came out – at critical moments, Tiffany said she felt Vallow was "unemotional".
Tiffany said she definitely would have voted to convict Vallow but added that she would have needed more time to consider Vallow's involvement in the conspiracy to murder Tammy Daybell.
"I felt pretty solid on the other charges, but the one on Tammy Daybell I didn't feel solid on. I didn't feel like there was solid evidence for her charges as opposed to the other charges," she said, explaining that the evidence was there but that she needed time to talk about it.
Asked if she felt Mr Daybell had killed his wife as prosecutors suggested, she said: "I feel he definitely had a heavier hand in it, I do."
As for the children's murder, Tiffany said the prosecutor's argument about the money motive — Vallow switched Social Security payments because of the children to her accounts — was key because it showed she had learned a lesson from her husband's death when she hadn't. been the beneficiary of his life insurance. It showed that she had been preparing for Tylee's death in particular.
When asked if she believed that it was Alex Cox who had actually killed the children, Tiffany says that she did, noting that his fingerprints and palm prints were found on the plastic bag wrapped around JJ, and his cell phone records placed him at the location where the bodies were buried. and led the police to find the graves.
Tiffany was sure Vallow encouraged her Cox to commit crimes but is not sure she knew exactly what happened to the children but was aware they were dead.
After reflecting on two of the most powerful pieces of evidence, Vallow's jailhouse phone calls with her surviving son Colby Ryan and sister Summer Shiflet, Tiffany says they were hard to hear because there was so much emotion from them but none from Vallow.
Tiffany says she was surprised there was no defense case to claim Vallow had been manipulated by Mr Daybell and felt the closing argument was too little too late.
[pub1]