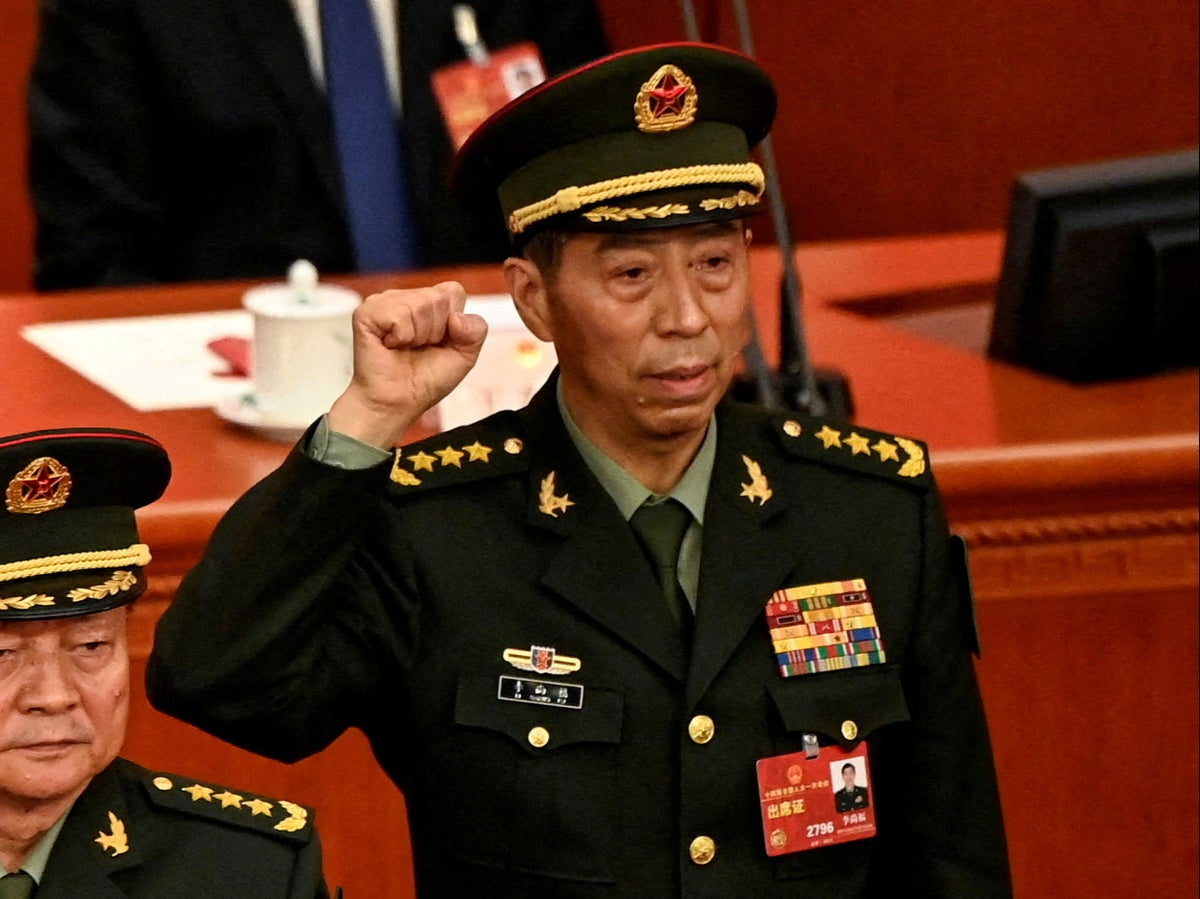 China has named a US-sanctioned general as its new Minister of Defence in a decision that may involve more difficulties for already strained ties between the US and China.
Li Shangfu, an aviation expert, was unanimously voted in by the country's parliament, the National People's Congress, on Sunday to replace outgoing defense chief Wei Fenghe.
Li, 65, was sanctioned by the US State Department in 2018 for buying Russian weapons, including 10 Su-35 fighter jets and equipment related to the S-400 surface-to-air missile system.
He took charge amid a stark warning from the foreign minister Qin gang where he said there will "certainly be conflict" with the United States if it does not change course.
Last meeting is part of a larger cabinet reshuffle by Xi Jinping, who was formally given an unprecedented third term as president.
Experts said the sanctions against the new defense minister are not a deal-breaker for future meetings, but add a potential complication that could give China's military leadership leverage.
While China's defense minister has little power and the post is seen as largely diplomatic and ceremonial, his actions will be closely watched by the United States and its allies because of his past history with Washington.
Li is an aeronautical engineer by profession and has worked with China's satellite program. His credits include modernizing the People's Liberation Army (PLA) and accelerating the development of China's space and cyber warfare capabilities.
James Char, a security researcher at Singapore's S Rajaratnam School of International Studies, told Reuters he could play a key role as president Xi Jinpings goal to become "a world-class military".
"The operational and technical background of the next Chinese defense minister is particularly relevant given that the PLA aims to become a world-class military by 2049," Char said.
In 2016, he was appointed deputy commander of the PLA's Strategic Support Force, an elite agency tasked with developing space and cyber warfare capabilities. He was later appointed head of the Equipment Development Department of the Central Military Commission, China's governing defense body headed by Xi.
Speaking about Mr Li's rise to the top defense post, Pentagon spokesman Lieutenant Colonel Marty Meiners said the US military could not comment on media reports of changes in China's leadership.
He said the US had been clear about wanting to maintain communications with the PLA. "Open lines of communication can help us manage risk, avoid miscalculations and deal with competition responsibly," Meiners said.
Other senior appointments included the introduction of four new vice premiers: Ding Xuexiang, He Lifeng, Zhang Guoqing and Liu Guozhong.
The Deputy Prime Ministers were appointed after nomination by new Prime Minister Li Qiang and will sit on the State Council, the body tasked with reviving the Chinese economy.
In another major reshuffle, China unexpectedly retained its central bank governor and finance minister.
Xi broke with convention to keep Yi Gang, 65, as governor of the People's Bank of China and Liu Kun, 66, as finance minister.
Both men have reached the official retirement age of 65.
Additional reporting from authorities